Replace AV Buyer's Guide
From Carbon Black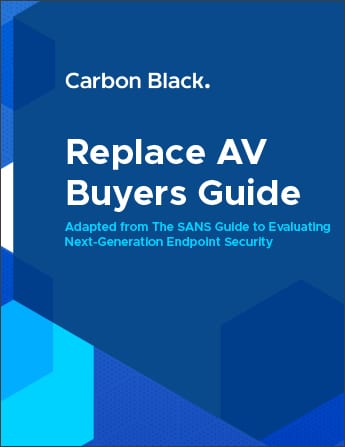 Today's businesses face a unique set of security challenges.
You want security that works and is easy to implement and manage, but you're working with a limited budget and resources. Many organizations know their current antivirus solution has gaps, but don't know where to begin in the search for something new. According to ESG Research, 65% of organizations believe that the skill level of their security team could use improvement and 48% are using more than 25 security products. This leads to more overworked people and, ultimately, less effective security.
Not every endpoint security solution can meet your needs. Finding the right solution that is easy to deploy, easy to manage and can cost-effectively protect your growing business is critical.
To help teams rapidly assess endpoint security options, SANS created a detailed guide to evaluating solutions including next generation antivirus (NGAV). The guide outlines the necessary requirements companies should look for, as well as how to prepare to run a test.
To assist you in rapidly assessing your options for replacing your antivirus software, we've pulled out and adapted key sections from the SANS Buyers Guide, including the core evaluation checklist, guiding questions to frame your evaluation, and 7 steps to conducting your test drive.
Fill out the following to download this resource from Carbon Black