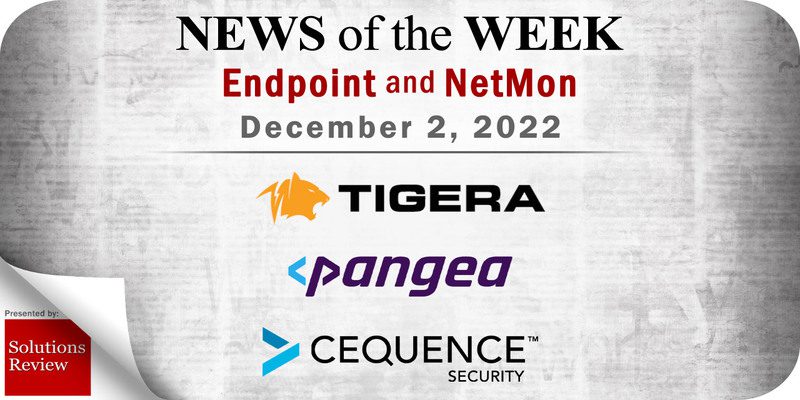 The editors at Solutions Review have curated this list of the most noteworthy endpoint security and network monitoring news for the week of December 2. This curated list features endpoint security and network monitoring vendors such as Tigera, Pangea Cyber, Cequence, and more.
Keeping tabs on all the most relevant endpoint security and network monitoring news can be a time-consuming task. As a result, our editorial team aims to provide a summary of the top headlines from the last month in this space. Solutions Review editors will curate vendor product news, mergers and acquisitions, venture capital funding, talent acquisition, and other noteworthy endpoint security and network monitoring news items.
Endpoint Security and Network Monitoring News for the Week of December 2
---
Tigera Announces New Capabilities to Calico Platform
Tigera, a multi-cloud security solutions provider, announced enhancements to its cluster mesh capabilities for managing multi-cluster environments with Calico. As large and leading-edge enterprises accelerate deployments to enhance their services at scale, they have encountered management challenges that can put their environments at risk. Calico provides an operationally simple solution to create a Kubernetes cluster mesh to ensure enterprise infrastructure can run multi-cluster environments efficiently, securely, and compliantly, no matter its complexity.
Open Systems Acquires Tiberium for Automation and Collaboration Technology
Open Systems, a provider of managed detection and response (MDR) services, announced its acquisition of Tiberium, a U.K.-based provider of highly automated managed security services based on Microsoft security solutions. Open Systems will leverage Tiberium's advanced automation and collaboration capabilities to help customers prioritize, decide and act on reducing their risk and mitigating cyberthreats faster than ever before.
Surfshark Research: "Significant Increase of Cyberthreats Post-Black Friday"
New research from Surfshark, a VPN platform, reveals which countries are most vulnerable to cyberthreats during the holidays. The research also looks at trending threats, spikes, and tips and tricks to protect your business from malicious players.
GitLab Announces GitLab Dedicated
This week, GitLab Inc., a DevSecOps platform, officially announced the limited availability of GitLab Dedicated as a single-tenant software as a service (SaaS) solution. The new offering will provide all the benefits of an enterprise DevSecOps platform with a focus on data residency, isolation, and private networking to meet complex compliance needs. Additionally, users can leverage the efficiency of the cloud while working in an isolated instance, and remove the overhead of platform and infrastructure management.
Perception Point Introduces New Partner Program
Perception Point, a provider of advanced threat prevention across digital channels, announced the introduction of its new partner program to provide partners with more advanced tools and resources to grow their customer base and accelerate resell opportunities. In the past six months Perception Point has doubled its number of partners, and its enhanced partner program has been launched to power projected global expansion in 2023, as the company looks to focus on a channel-first strategy.
Versa Networks Security Achieves Highest Rating by CyberRatings.org
Versa Networks, a SASE solutions vendor, announced it has achieved the highest possible rating of "AAA" in the industry's "first-of-its-kind" Cloud Network Firewall comparative test. The evaluation was conducted by CyberRatings.org, a non-profit member organization that provides transparency and expert guidance on cybersecurity risks through research and objective product testing. Versa was also recognized for having the lowest price per Mbps value over the competitive field tested.
Pangea Cyber Closes $26M Series B from GV, Decibel, and Okta Ventures
This week, Pangea Cyber announced its $26 million Series B funding to accelerate the delivery of its API-based security services. The Series B round is led by GV, with participation from Decibel and Okta Ventures. They join existing investors Ballistic Ventures and SYN Ventures. This brings total funding raised for the one year old company to $52 million. Pangea plans to use the funding for product development and to drive developer and builder adoption.
Sophos Launches New MDR Platform
Sophos, a global leader in cybersecurity, announced this week the general availability of Sophos Managed Detection and Response (MDR) with new "industry-first" threat detection and response capabilities. The new platform integrates vendor agnostic telemetry from third-party security technologies, providing visibility and detection across diverse operating environments. Sophos also introduced the Sophos Marketplace and $1 million Sophos Breach Protection Warranty.
Panelists Finalized for Executive Roundtables at the #InfoSecInsightJam
The InfoSec Insight Jam is a community web event that shares expert insights and proven best practices for evaluating, deploying, and using Identity Management, Endpoint Security, and InfoSec solutions. The Solutions Review editors are bringing the best and brightest minds in the InfoSec industry together for a one-day social media gathering. Participants will include industry analysts, experts, influencers, practitioners, and software solution providers under the hashtag #InfoSecInsightJam.
Cequence Security Strengthens Executive Team with the Appointment of New Chief Financial Officer
Cequence Security, a provider of Unified Application Program Interface (API) Protection, shared details this week of its record growth during the first half of FY22 and the appointment of Wei Wang as Chief Financial Officer (CFO). Cequence Security's unique approach to uncovering and preventing API threats that can lead to fraud and data loss has resulted in the company protecting $1.3 trillion in assets among Fortune 500 companies and more than two billion user accounts worldwide. With over a decade of experience in the technology sector at both start-ups and Fortune 500 companies including Cohesity, Juniper and Ordr, Wang's addition to the leadership team comes at a pivotal time for the company as it experiences increased growth among U.S. and international customers. In her capacity as CFO, Wang will lead Cequence Security's financial strategy and processes to empower its next chapter of growth within the API protection market.
---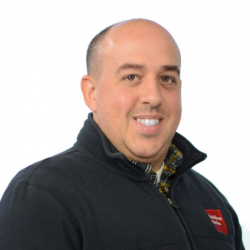 Latest posts by Mike Costello
(see all)