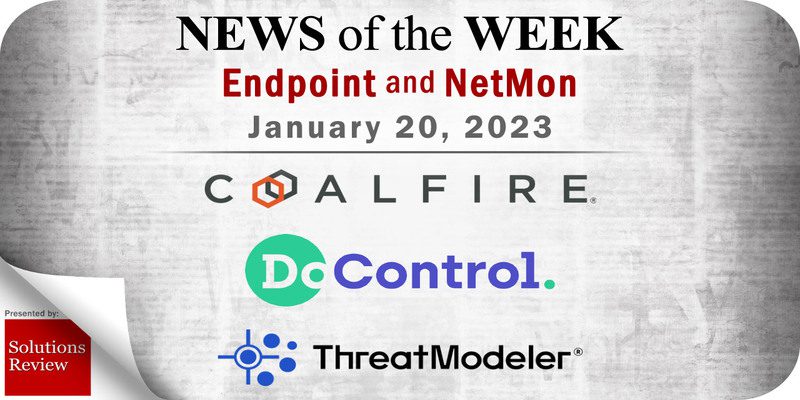 The editors at Solutions Review have curated this list of the most noteworthy endpoint security and network monitoring news for the week of January 20. This curated list features endpoint security and network monitoring vendors such as Coalfire, DoControl, ThreatModeler, and more.
Keeping tabs on all the most relevant endpoint security and network monitoring news can be a time-consuming task. As a result, our editorial team aims to provide a summary of the top headlines from the last month in this space. Solutions Review editors will curate vendor product news, mergers and acquisitions, venture capital funding, talent acquisition, and other noteworthy endpoint security and network monitoring news items.
Endpoint Security and Network Monitoring News for the Week of January 20
---
New Coalfire Report Reveals CISOs Rising Influence
In partnership with the Dark Reading research team, global cybersecurity solutions provider Coalfire this week unveiled its second annual State of CISO Influence report, which explores the expanding influence of Chief Information Security Officers (CISOs) and other security leaders. The report revealed that the CISO role is maturing quickly, and the position is experiencing more equity in the boardroom. In the last year alone, there was a 10-point uptick in CISOs doing monthly reporting to the board. These positive outcomes likely stem from the increasingly metrics-driven reporting CISOs provide, where data is more effectively leveraged to connect security outcomes to business objectives.
Seraphic Adds Christof Baumgärtner as Chief Revenue Officer
Seraphic Security announced this week the appointment of Christof Baumgärtner as Chief Revenue Officer. In this role, Baumgärtner will be overseeing business development efforts around the globe while enabling Seraphic's vision to deliver enterprise-grade browser security to protect organizations worldwide. Before joining Seraphic, Baumgärtner spent a decade with enterprise security platform MobileIron, where he built the company's EMEA business from the ground up to $100 million in annual recurring revenue (ARR). Later in his tenure with MobileIron, Baumgärtner took on the role of CRO, helping the business cross the $200 million ARR threshold.
Mailchimp Discloses Information on Recent Data Breach
On January 11, the Mailchimp Security team identified an unauthorized actor accessing one of our tools used by Mailchimp customer-facing teams for customer support and account administration. The unauthorized actor conducted a social engineering attack on Mailchimp employees and contractors, and obtained access to select Mailchimp accounts using employee credentials compromised in that attack. Based on their investigation, this targeted incident has been limited to 133 Mailchimp accounts. There is no evidence at this time that this compromise affected Intuit systems or customer data beyond these Mailchimp accounts.
Versa Networks Earns Frost & Sullivan's 2022 SASE Leadership Award
Versa Networks, the recognized leader of single-vendor Secure Access Service Edge (SASE), announced it has earned the 2022 SASE Global Enabling Technology Leadership Award for its industry-leading SASE solution from Frost & Sullivan, an industry analyst firm. Each year, Frost & Sullivan presents the Global Enabling Technology Leadership Award to a company that has developed a pioneering technology that not only enhances current products, but also enables the development of new products and applications.
Contrast Security Hires Andrew Vallila as its New CRO
Contrast Security (Contrast), the code security platform built for developers and trusted by security, announced the appointment of Andrew (Andy) Vallila as the company's new Chief Revenue Officer (CRO). Vallila is a proven cybersecurity executive that brings a wealth of high growth and expansion-related experience worldwide from his time spent at start-ups and large established organizations. Prior to joining Contrast, he served as Securonix's CRO, where he was instrumental in scaling the company's ARR by more than four times, helped obtain over hundreds of new logo wins, and significantly increased Securonix's valuation. Securonix's rapid growth resulted in the company's acquisition by Vista Equity Partners. Vallila has also served as a sales leader at Sun Microsystems, Oracle Corporation and Dell Security.
Fortinet Research: "Supply Chain Attack Using Identical PyPI Packages"
The FortiGuard Labs team has discovered a new 0-day attack embedded in three PyPI packages (Python Package Index) called 'colorslib', 'httpslib', and "libhttps". They were found on January 10, 2023, by monitoring an open-source ecosystem. The Python packages "colorslib" and "httpslib" were published on January 7, 2023, and "libhttps" was published on January 12, 2023. All three were published by the same author, 'Lolip0p', as shown in the official PyPI repository. 'Lolip0p' joined the repository close to the publish date. All versions of these packages are malicious.
DoControl Announces Shadow Apps Module Launch
DoControl, an SaaS cybersecurity solutions provider, announced a platform expansion with the launch of its comprehensive Shadow Apps solution. Building on prior innovations that address mission-critical use cases, DoControl's newest module introduces shadow SaaS application discovery, monitoring, and remediation to better protect businesses from SaaS supply chain attacks. The Shadow Applications Module is currently available to existing customers and will enter general availability in Q1 of 2023.
Aqua Security Named Best Cloud Native Security Solution
Aqua Security, a cloud native security provider, announced that it has been named the "Best Cloud Native Security Solution/Service" in Techstrong Group's DevOps Dozen Awards. Aqua was honored for its innovative Cloud Native Application Protection Platform (CNAPP) and influential commitment to the DevOps and security community. The DevOps Dozen Tools and Services category recognizes the companies who create and deliver outstanding solutions to empower developers, DevOps and IT operations teams. This award comes on the heels of several other innovation accolades. In the second half of 2022, Aqua Security was named the "Top Innovation Leader" in the Frost & Sullivan Global Cloud-Native Application Protection Platform Report, a Leader in the 2022 GigaOm Radar Report for Vulnerability Management, and was named CyberSecurity Company of the Year.
ThreatModeler Launches "Industry-First" Threat Model Marketplace
ThreatModeler, a threat modeling and cloud infrastructure security provider, launched Threat Model Marketplace, a "first-of-its-kind" cybersecurity asset marketplace offering pre-built, field-tested threat models to be downloaded — free for a limited time — and incorporated into new and ongoing threat modeling initiatives. With Threat Model Marketplace, enterprises can rapidly accelerate efforts to visualize attack surfaces, understand security requirements and prioritize steps to mitigate threats across environments, including AWS, Azure, and the Google Cloud Platform.
---
Expert Insights Section
Watch this space each week as Solutions Review editors will use it to share new Expert Insights Series articles, Contributed Shorts videos, Expert Roundtable and event replays, and other curated content to help you gain a forward-thinking analysis and remain on-trend. All to meet the demand for what its editors do best: bring industry experts together to publish the web's leading insights for enterprise technology practitioners.
Strong Security: Knowing What Assets You Need to Protect
As we've learned from experience, organizations that come up short on security pay a steep price. Breaches can not only make or break the operations of an existing company, but they now also impact careers and create headaches long after a security incident has occurred. Consider the recent example of Drizly. After the alcohol delivery company suffered a data breach that exposed the personal information of about 2.5 million customers, the FTC issued an order that will follow company CEO James Cory Rellas throughout the rest of his career. The agency order requires him to put in place a security program at any company he oversees which collects data from more than 25,000 people.
Solutions Review Set to Host Monte Carlo for Data Observability 101 Virtual Spotlight Event on January 26
During this presentation, we will discuss how some of today's best data leaders implement observability across their data lake ecosystem and share best practices for data teams seeking to achieve end-to-end visibility into their data at scale.
Solutions Review Launches New Expert Video Shorts Series on YouTube
Solutions Review launched this new Expert Video Shorts Series to meet the demand for what its editors do best: bring industry experts together to publish the web's leading insights for enterprise technology practitioners. The Expert Video Shorts Series will live on the shorts tab on Solutions Review's YouTube channel and be shared socially, like during the Insight Jam!
---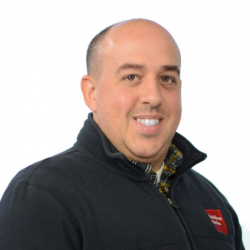 Latest posts by Mike Costello
(see all)