Endpoint Security and Network Monitoring News for the Week of July 28; Protect AI, Mimecast, EPAM, and More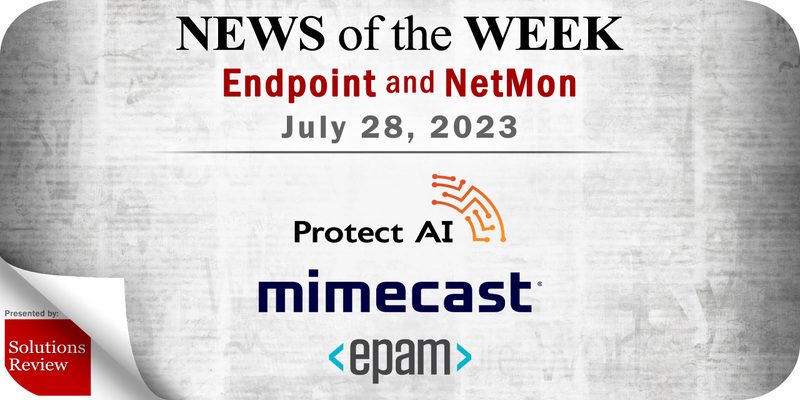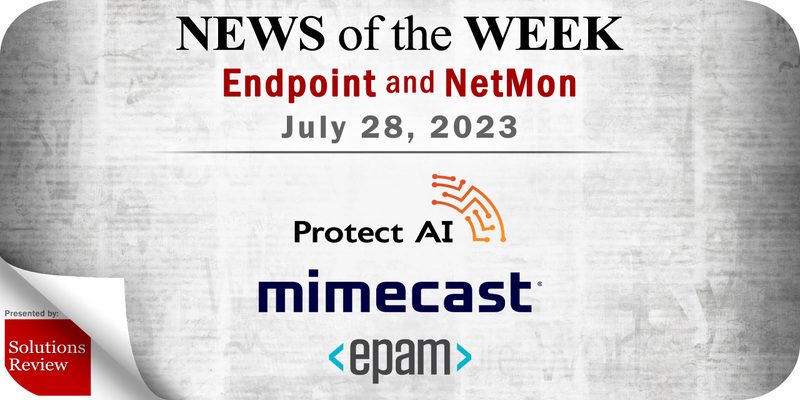 The editors at Solutions Review have curated this list of the most noteworthy endpoint security and network monitoring news for the week of July 28. This curated list features endpoint security and network monitoring vendors such as Protect AI, Mimecast, EPAM, and more.
Keeping tabs on all the most relevant endpoint security and network monitoring news can be a time-consuming task. As a result, our editorial team aims to provide a summary of the top headlines from the last month in this space. Solutions Review editors will curate vendor product news, mergers and acquisitions, venture capital funding, talent acquisition, and other noteworthy endpoint security and network monitoring news items.
Endpoint Security and Network Monitoring News for the Week of July 28
---
Protect AI Raises $35M in Series A Financing
Protect AI, an AI/ML security company, this week announced it has closed a $35M Series A round of funding led by Evolution Equity Partners with participation from Salesforce Ventures and existing investors Acrew Capital, boldstart ventures, Knollwood Capital and Pelion Ventures. To date, the company has raised a total of $48.5M to help organizations protect ML systems and AI applications from unique security vulnerabilities, data breaches and emerging threats.
Palo Alto Networks Introduces CI/CD Security Module
This week, Palo Alto Networks introduced the CI/CD Security module to provide integrated software delivery pipeline security as part of their code-to-cloud capabilities in Prisma Cloud's CNAPP platform. The CI/CD Security module enables DevOps and security teams to better collaborate and improve security outcomes throughout the application life cycle.
Mimecast Announces Protection for Microsoft Teams
Mimecast Limited (Mimecast), an advanced email and collaboration security company, this week announced an August 2023 release of Protection for Microsoft Teams for its Email Security Cloud Integrated customers. Security solutions for additional collaboration channels, such as Microsoft SharePoint, Microsoft OneDrive, Slack, and Google Workspace will follow.
DocuSign, PresentID, and Microsoft All Announce New Face Biometrics Capabilities
Among those launching verification products is DocuSign, the U.S. electronic signature and agreements management company. In a release, DocuSign said it has upgraded its Liveness Detection for ID Verification tool, which can now detect spoofing, "confirm signers are who they say they are, are physically present at signing and that their IDs are valid." The software was developed with United Kingdom-based identity verification firm Onfido and compares video selfies to photo IDs. In France, deep-tech cybersecurity firm PresentID says it's integrating face liveness and voice biometrics into its remote identity verification software. A company release says that its software works for financial institutions, marketplaces, dating apps and other platforms. A post on Microsoft's documentation site outlines how its Azure AI Face provides face biometrics services and technologies across the verification industry. Azure AI Face performs ID-to-face matching for more efficient onboarding, verification and other identification processes. Its face detection API locates faces and analyzes landmarks and attributes, such as head position or the presence of jewelry or glasses. It also accounts for signal noise, occlusion and blur. The post specifies that "the values returned by the API for each attribute are predictions of the perceived attributes and are best used to make aggregated approximations of attribute representation rather than individual assessments."
EPAM Takes Home U.S. Migrate Partner of the Year Award
EPAM Systems, Inc., a leading digital transformation services and product engineering company, this week announced it has won the 2023 Microsoft U.S. Azure Migration Partner of the Year Award. The Company was honored among a global field of top Microsoft partners for demonstrating excellence in innovation and implementing customer solutions based on Microsoft technology. EPAM also secured the global finalist position in the Industry, Retail and Consumer Goods category for exceptional contributions at Estée Lauder Companies and Ahold Delhaize and placed as a U.S. finalist in the Global Retail and Consumer Goods category. Additionally, EPAM achieved the U.S. finalist position in Azure Modernize for its work at Ahold Delhaize.
---
Expert Insights Section
Watch this space each week as Solutions Review editors will use it to share new Expert Insights Series articles, Contributed Shorts videos, Expert Roundtable and event replays, and other curated content to help you gain a forward-thinking analysis and remain on-trend. All to meet the demand for what its editors do best: bring industry experts together to publish the web's leading insights for enterprise technology practitioners.
Solutions Review Set to Host Infinidat for Exclusive Spotlight Webinar on August 15
With the next Solutions Spotlight event, the team at Solutions Review has partnered with leading enterprise data and cloud solution provider Infinidat. This session will demonstrate how easily enterprises can create cyber-resilient storage environments that can withstand and recover from cyber-attacks.
Navigating Cyber Complexity with an Integration Mindset
Julian Martin of Mimecast takes the helm and helps navigate through the waves of cyber complexity by applying an integration mindset. The complexity afflicting cybersecurity teams far and wide is well-documented. From widespread staffing shortages to bloated tool sprawl, cloud-based hybrid enterprises are navigating a sea of complications when defending against highly sophisticated threats. In response, the concept of tool consolidation has emerged as a hot-button buzzword– the silver bullet for finding a simplified solution to the complexity problem. But beneath the surface and beyond the untrained eye, the situation isn't really that simple.
The MOVEit Effect: Protecting Public-Facing Applications
Kiran Chinnagangannagari of Securin looks at the impact of the MOVEit exploit for answers in protecting public-facing applications. Organizations globally use public-facing applications every day to keep their businesses running. Servers, virtual private networks (VPNs), and application programming interfaces (APIs) are all common forms of third-party, public-facing applications that make accessing a service or completing work more efficient — but less secure. Many of these web-based applications can be used as a point of entry by bad actors to exploit vulnerabilities, gain access to proprietary information, and hold systems for ransom. Organizations involving strict compliance laws – like healthcare or finance – can be at elevated risk of damages from a data breach.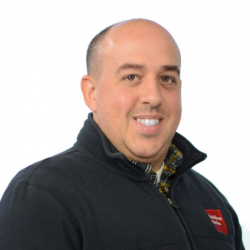 Latest posts by Mike Costello
(see all)