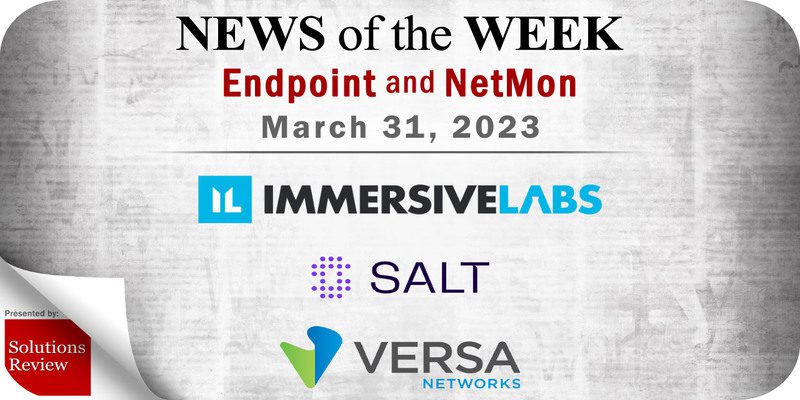 The editors at Solutions Review have curated this list of the most noteworthy endpoint security and network monitoring news for the week of March 31. This curated list features endpoint security and network monitoring vendors such as Immersive Labs, Salt Security, Versa Networks, and more.
Keeping tabs on all the most relevant endpoint security and network monitoring news can be a time-consuming task. As a result, our editorial team aims to provide a summary of the top headlines from the last month in this space. Solutions Review editors will curate vendor product news, mergers and acquisitions, venture capital funding, talent acquisition, and other noteworthy endpoint security and network monitoring news items.
Endpoint Security and Network Monitoring News for the Week of March 31
---
Immersive Labs Announces New Executive Leadership Hires
Immersive Labs, a cyber resilience solutions provider, this week announced it has appointed Eric Johnson to its executive leadership team as Chief Revenue Officer (CRO) and named Julie Chapman, Senior Vice President of Customer Experience. Johnson is a highly-experienced CRO and Board member with over two decades of experience leading high-growth, enterprise-level companies to meet and exceed their revenue goals. He recently served as CRO at Interos Inc.; Chief Sales Officer (CSO) at Marketo; President of Americas at Qlik; and President of Global Sales at Blackberry. Previously, Johnson spent a decade with Sybase (acquired by SAP in 2010) in multiple leadership roles culminating in his running the global database and technology business. He also serves as a Board member for Televerde and The New York Pops. Chapman is a seasoned customer experience executive leading high-performing teams in the technology industry for more than 20 years, from scaling up start-ups to managing expansion for large global brands. She has held leadership roles at IBM, Adobe, Marketo, and Interos.
NetSPI Uncovers Cross-Tenant Azure Vulnerability in Power Platform Connectors
NetSPI, a cybersecurity solutions provider, this week disclosed the threat research findings of Vice President of Research Nick Landers who discovered and reported a cross-tenant compromise in Power Platform Connectors, a first party provider hosted in Microsoft Azure. In close collaboration with NetSPI, Microsoft quickly fixed the issue. Due to the cross-tenant implications of this vulnerability, if it were left unresolved, malicious attackers could have jumped between tenants using the Power Platform Connectors backend and gained access to sensitive data, Azure access tokens, and more.
Salt Security Report: "400 Percent Increase in Attackers, Finds API Security has Become a C-level Discussion"
Salt Security, an API security company, released the Salt Labs State of API Security Report for Q1 2023. This fifth edition of the report found that attackers have upped their activity, with Salt customer data showing a 400 percent increase in unique attackers in the last six months. In addition, about 80 percent of attacks happened over authenticated APIs. Not surprisingly, nearly half (48 percent) of respondents now state that API security has become a C-level discussion within their organization. The report also revealed that 94 percent of survey respondents experienced security problems in production APIs in the past year, with 17 percent stating their organizations suffered a data breach as a result of security gaps in APIs. The findings from Salt Labs highlight why 2023 has been dubbed the "Year of API Security."
JFrog Welcomes Aran Azarzar as Chief Information Officer
JFrog, a software supply chain security solutions provider, this week announced Aran Azarzar will join as the company's global Chief Information Officer (CIO), effective immediately. In this role, Azarzar will lead the strategy and operations for JFrog's Information Technology organization, reporting directly to co-Founder and CEO, Shlomi Ben Haim. Azarzar brings nearly two decades of extensive experience in information technology and cybersecurity to JFrog, including multiple IT leadership positions at various companies including Amdocs and Zerto. More recently, he served as CIO at NSO Group and HUB Security, where he helped establish the global systems and technology strategy for improving applications and security processes throughout the organization that led to outstanding operational performance and a better customer experience. At JFrog, Azarzar will oversee development of the company's IT infrastructure for cloud, business intelligence, and data management, further enhancing its ability to scale and deliver better value to customers.
'Dr. Zero Trust' Chase Cunningham Joins Traceable as an Advisor
Traceable AI, an API security company, this week announced that "Dr. Zero Trust" Chase Cunningham will join the company as an advisor. Cunningham will work alongside Zero Trust creator John Kindervag, also named an advisor this month, to define the intersection of API security and Zero Trust. Together, they bring nearly 50 years of combined cybersecurity experience and unparalleled expertise in the application of Zero Trust frameworks. Cunningham joins Traceable ahead of this year's RSA Conference, where he will attend alongside the Traceable team and fellow advisor Kindervag. Cunningham has extensive experience in all aspects of enterprise security. Most notably, he is the creator of the Zero Trust eXtended framework (ZTX). His decades of operational experience supporting the NSA, U.S. Navy, FBI Cyber, and more gives him both a unique insight into the mentality of attackers and an acute understanding of the threats the industry and Traceable's customers are facing.
Lacework Celebrates Inspiring "Secured by Women" Leaders
Lacework, a cloud security company, this week announced five inspirational CISOs and security leaders selected as part of the "Secured by Women" initiative: Ami Dave Bansal, Chief Information Security Officer, Fanatics, Inc.; Julie Chickillo, VP, Head of Cybersecurity, Guild Education; Helen McLaughlin, Head of Security Enablement & Culture, Mambu; Melina Scotto, Vice President Cybersecurity, CISO, Hilton; and Erika Voss, Vice President of Cloud Architecture, Engineering, Capital One. Secured by Women is designed to bring visibility to women who have been leading the way in the security industry and celebrate their accomplishments. The women celebrated today exemplify true excellence in their field, paving the way for security of the future.
Dell'Oro Group Ranks Versa Networks as Market Share Leader for Second Year in a Row
Versa Networks, a leader of Unified Secure Access Service Edge (SASE) solutions, this week announced that it has been ranked as the Unified SASE market share leader for the second year in a row, according to the Dell'Oro Group 4Q22 SASE and SD-WAN Quarterly Report published this month. Dell'Oro Group is the trusted source of market information about the telecommunications, security, networks, and data center infrastructure industries. Dell'Oro Group's annual SASE market share report ranked Versa as the number one Unified SASE vendor, based on 2022 worldwide revenue. Dell'Oro Group defines Unified SASE as networking and security services integrated in a single, tightly integrated product platform with all SASE components coming from the same vendor. As per this report, Unified SASE has significant benefits over Disaggregated SASE – where networking and security services are not tightly integrated – including less operational burden, no inter-vendor disputes, tighter integration between components, and clearer service level agreements.
---
Expert Insights Section
Watch this space each week as Solutions Review editors will use it to share new Expert Insights Series articles, Contributed Shorts videos, Expert Roundtable and event replays, and other curated content to help you gain a forward-thinking analysis and remain on-trend. All to meet the demand for what its editors do best: bring industry experts together to publish the web's leading insights for enterprise technology practitioners.
Mitigating Cybersecurity Risks During Mergers and Acquisitions
Corporate mergers and acquisitions are bound to increase during these uncertain economic times. As fledgling companies struggle to secure loans and investments at higher interest rates, more established companies will capitalize on the opportunity to buy them. However, typical M&A activity, such as reviewing balance sheets, contracts, intellectual property, and so forth, often overlooks cybersecurity risk until later in the process and struggles to gain visibility into the newly acquired company. When one company acquires another, it inherits its cybersecurity risk– and this risk can be significant. For example, when Verizon was acquiring Yahoo, two massive Yahoo breaches resulted in a $350 million price cut. Recently, Activision confirmed a data breach that occurred during its acquisition by Microsoft. Even if a breach does not occur, the lack of visibility into cybersecurity risk can delay integration between both companies, negatively impacting productivity. When a company is being acquired, it is often reluctant to open access to its networks until the deal is done; sometimes because of mistrust and other times because the company getting acquired doesn't want to be exposed for lack of best practices.
Understanding 5G: Expansion, Connectivity, and Cybersecurity
In the wireless communications world, the vision of the opportunities for new revenue-generating services has been effectively shared with an ever-growing customer base. For customers, wireless services that started as "nice to have" turned into "must-have" capabilities. This drives the network operators to offer services with higher throughput and lower latency to meet these demands creating a snowball effect in the industry. For some time now, it has been assumed that every mobile device needed Wi-Fi access in order to provide maximum data throughput. That is starting to change. The aggressive deployment of mid-band 5G service is decreasing the reliance on Wi-Fi as more 5G-compatible devices become available. This trend will increase rapidly once mmWave 5G becomes ubiquitous. This is especially true for indoor coverage. It is well known that most mobile communications requiring high bandwidth occur in localized environments such as stadiums, convention centers, hotels, office buildings, etc.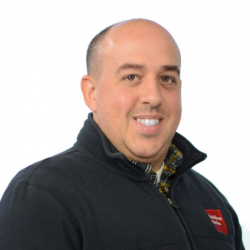 Latest posts by Mike Costello
(see all)