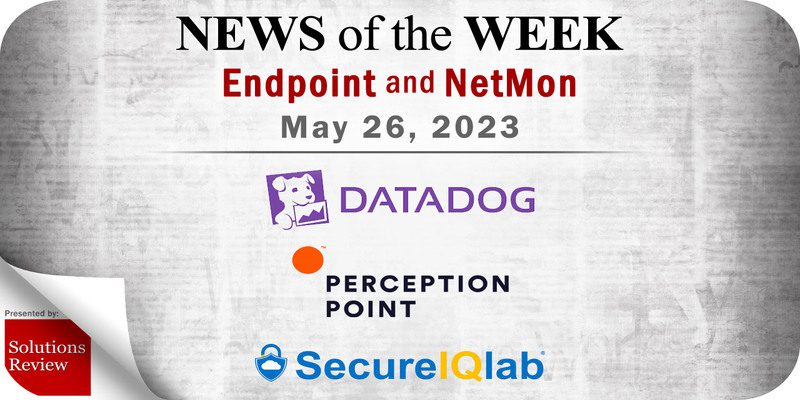 The editors at Solutions Review have curated this list of the most noteworthy endpoint security and network monitoring news for the week of May 26. This curated list features endpoint security and network monitoring vendors such as Perception Point, Datadog, SecureIQLab, and more.
Keeping tabs on all the most relevant endpoint security and network monitoring news can be a time-consuming task. As a result, our editorial team aims to provide a summary of the top headlines from the last month in this space. Solutions Review editors will curate vendor product news, mergers and acquisitions, venture capital funding, talent acquisition, and other noteworthy endpoint security and network monitoring news items.
Endpoint Security and Network Monitoring News for the Week of May 26
---
Perception Point Report: Phishing Attacks Grew by 356 Percent in 2022
A report published this week by Perception Point, a cybersecurity solutions provider, has identified a 356 percent growth in the amount of advanced phishing attacks attempted by threat actors in 2022. Overall, the total number of attacks increased by 87 percent, highlighting the growing threat that cyber attacks now pose to organizations. Perception Point's '2023 Annual Report: Cybersecurity Trends & Insights' examines cyber threats based on intelligence gathered from the company's Advanced Threat Prevention solutions, which intercept attacks across email, web browsers, and cloud collaboration apps.
New OT Malware Possibly Related To Russian Emergency Response Exercises
Mandiant, a cybersecurity solutions provider, identified novel operational technology (OT) / industrial control system (ICS)-oriented malware, which they track as COSMICENERGY, uploaded to a public malware scanning utility in December 2021 by a submitter in Russia. The malware is designed to cause electric power disruption by interacting with IEC 60870-5-104 (IEC-104) devices, such as remote terminal units (RTUs), that are commonly leveraged in electric transmission and distribution operations in Europe, the Middle East, and Asia. COSMICENERGY is the latest example of specialized OT malware capable of causing cyber physical impacts, which are rarely discovered or disclosed. What makes COSMICENERGY unique is that based on Mandiant's analysis, a contractor may have developed it as a red teaming tool for simulated power disruption exercises hosted by Rostelecom-Solar, a Russian cyber security company. Analysis into the malware and its functionality reveals that its capabilities are comparable to those employed in previous incidents and malware, such as INDUSTROYER and INDUSTROYER.V2, which were both malware variants deployed in the past to impact electricity transmission and distribution via IEC-104.
Datadog Announces New Capabilities and Integrations with Microsoft Azure
Datadog, Inc., a cloud app monitoring and security platform, announced new capabilities and integrations for Microsoft Azure at Microsoft Build today. The announcements include support for Azure OpenAI Service, Azure Arc, Cloudcraft for Azure and Cloud Cost Management for Azure.
Appdome Launches Build-to-Test, A New Automated Testing Option for Mobile Apps
Appdome, a mobile app security solutions provider, this week announced Build-to-Test which enables mobile developers to streamline the testing of cybersecurity features in mobile apps. The new capability allows Appdome-protected mobile apps to recognize when automated mobile app testing suites are in use and securely completed without interruption by a vendor, logging all security events for the developer to track and monitor. The Build-to-Test service is part of Appdome's Dev2Cyber initiative and will accelerate the delivery of secure mobile apps globally.
SecureIQLab Announces Partnership with Omdia
SecureIQLab, a cloud validation provider, this week announced its partnership with global technology research organization, Omdia, to provide enterprises with evaluations of comprehensive extended detection and response (XDR) solutions beginning in June 2023. By combining the power of analyst research and third-party test validation, the collaboration will produce richer data sets for XDR solutions with deeper insights than ever before.
---
Expert Insights Section
Watch this space each week as Solutions Review editors will use it to share new Expert Insights Series articles, Contributed Shorts videos, Expert Roundtable and event replays, and other curated content to help you gain a forward-thinking analysis and remain on-trend. All to meet the demand for what its editors do best: bring industry experts together to publish the web's leading insights for enterprise technology practitioners.
Cybersecurity in 2023: Look Back to Look Forward
Candid Wüest of Acronis walks us through cybersecurity in 2023, and why sometimes we need to look back to move forward. In today's modern cyber threat landscape, keeping up with the latest cyber threats can feel like a full-time job, and getting ahead can seem like an impossible task. Revaluating your security strategy is no small feat, but with recent reports showing that new threats are constantly emerging, it remains a crucial step for businesses this year. Specifically for enterprises, due to the growing frequency, sophistication, and magnitude of cyber-crime, it's becoming more difficult to safeguard from breaches and ransomware attacks. As a result, security teams on the frontlines need to look to the past to create a more secure future – or they'll be actively courting danger.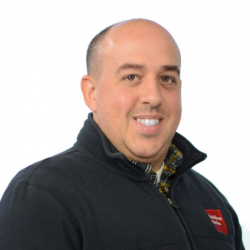 Latest posts by Mike Costello
(see all)