Endpoint Security and Network Monitoring News for the Week of November 10; Ribbon Communications, Checkmarx, Boldyn Networks, and More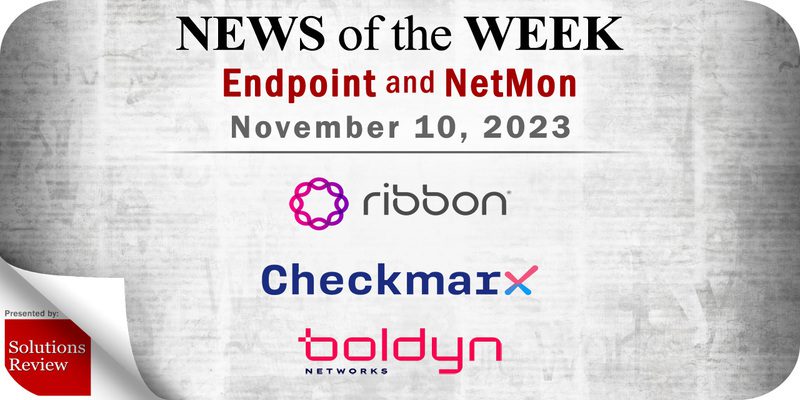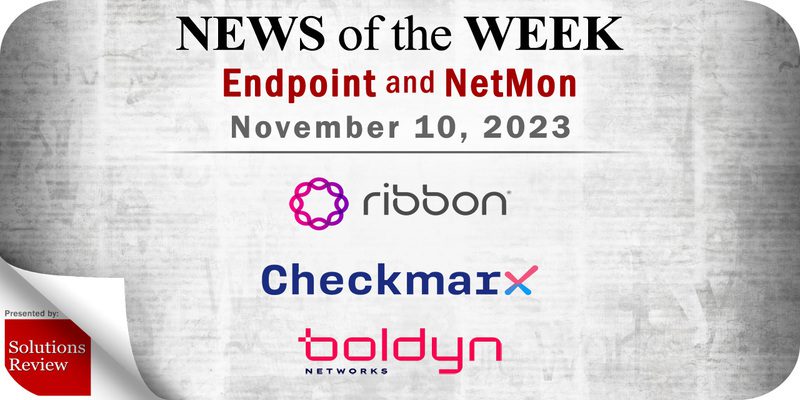 The editors at Solutions Review have curated this list of the most noteworthy endpoint security and network monitoring news for the week of November 10. This curated list features endpoint security and network monitoring vendors such as Ribbon Communications, Checkmarx, Boldyn Networks, and more.
Keeping tabs on all the most relevant endpoint security and network monitoring news can be a time-consuming task. As a result, our editorial team aims to provide a summary of the top headlines from the last month in this space. Solutions Review editors will curate vendor product news, mergers and acquisitions, venture capital funding, talent acquisition, and other noteworthy endpoint security and network monitoring news items.
Endpoint Security and Network Monitoring News for the Week of November 10
---
W3TEL Selects Ribbon Communications for Network Expansion and Regulatory Compliance
Ribbon Communications Inc., a global provider of real time communications technology and IP optical networking solutions announced this week that W3TEL a French provider of communications services to enterprises, has selected Ribbon's solutions to "support its growth, simplify its network operations and fulfill French government mandates around call security."
Malwarebytes Launches New Endpoint Security Platform, ThreatDown
Malwarebytes, a global leader in cybersecurity solutions, this week announced the launch of ThreatDown, the product family that "protects IT-constrained organizations with effective, easy-to-use cybersecurity." Formerly named Malwarebytes for Business, ThreatDown solutions are purpose-built to overpower threats through easy-to-use, effective technologies like the new Security Advisor dashboard and ThreatDown Bundles that combine the technologies and services needed to protect organizations from today's sophisticated cyber landscape.
Checkmarx Announces Integration with Mobb to Expand SAST Platform Capabilities
Checkmarx, an industry leader in cloud-native application security for the enterprise, announced this week an integration with Mobb, an automated vulnerability protection platform, to streamline application security testing and remediation within familiar developer workflows. Checkmarx customers can now deploy Mobb's auto-remediation solution for vulnerabilities identified during scans with Checkmarx SAST. This new capability represents an expansion of Checkmarx' auto-remediation offerings for SCA (software composition analysis) and IaC (infrastructure-as-code) Security.
Robokiller Insights: "Drastic Spike in Robotexts and Robocalls in October"
Robotexts reached 12.8 billion while robocalls soared to 4.8 billion in October, a combined 6 percent month-over-month increase, according to Robokiller Insights. The simultaneous spike can be attributed to scammers shifting their tactics— they're inundating Americans with well-timed scams surrounding current events like holiday shopping and student loan repayments.
Boldyn Agrees to Acquire Cellnex's Private Networks Business Unit
Boldyn Networks (Boldyn), one of the largest shared network infrastructure providers in the world, has agreed to acquire Cellnex's private networks business unit. This largely includes EDZCOM, a Finnish pioneer and European market leader that designs, builds, and operates private 4G and 5G networks, predominantly for industrial clients in manufacturing, ports, oil and gas, energy generation, and mining. The agreement further advances Boldyn's private networks strategy and puts it at the forefront of "driving digital transformations and industry 4.0 innovation."
AI Moment: Solutions Review Set to Host Monte Carlo & Salesforce for Exclusive GenAI Event on November 30
With the next Spotlight event, the team at Solutions Review has partnered with Monte Carlo (and their partner Salesforce) for an informative webinar show. While GenAI has its fair share of hype, data leaders are being tasked by executives with investing in AI across the business. But how can we ensure that these technologies are actually useful and impactful?
Solutions Review's William Jepma Compiles Definitive Guide on the White House's New EO on AI, Through Quotes
As you can expect, there was a lot of discussion around the Executive Order, what it might mean for AI regulation, and how it will affect the trends involved in governing, developing, and using AI in enterprises across industries. See key commentary from industry experts who shared their thoughts on the EO and how it will change AI's role in business.
---
Expert Insights Section
Watch this space each week as our editors will share upcoming events, new thought leadership, and the best resources from Insight Jam, Solutions Review's enterprise tech community for business software pros. The goal? To help you gain a forward-thinking analysis and remain on-trend through expert advice, best practices, trends and predictions, and vendor-neutral software evaluation tools.
Zero Trust: Implementing A Path Forward
Chaim Mazal of Gigamon helps pave the path forward for standardizing zero-trust architecture with these best practices to consider. Zero trust has been making waves in the cybersecurity community for more than a decade, but there's still so much ambiguity around the concept and how to achieve it. The ultimate goal of implementing a zero-trust architecture is to remove any implicit trust in an organization's network. Basically, the network should assume you are a malicious player unless you prove otherwise. This approach moves an organization's security strategy away from perimeter-based controls to distributed controls across the network, including within your hybrid cloud environment. Since the onset of this concept, it's long been thought of as a distant priority or an idealistic end goal organizations would strive to achieve one day. There was little momentum in making a true zero-trust implementation a reality, so achieving this felt unattainable. Until now.
DNS Security and Protecting School Networks
Renée Burton of Infoblox says class is in session and educates us on how DNS security can help protect school networks. Advancements in IoT technologies have revolutionized the education sector, bringing about unprecedented opportunities for learning and collaboration. Online classrooms, digital resources, and interactive learning platforms have enriched learning experiences and expanded educational access for students. The reliance on wi-fi connected devices to modernize education has made IT infrastructure and network performance, in particular, mission-critical for schools. But it has also exposed schools to cyber-attacks, with ransomware looming as a significant threat. In fact, the education sector has become the top target for hackers. Personally, I experienced this firsthand when my children's credentials were stolen from their school database. As a high school student, our kid was alerted that one of their gaming accounts had been compromised. After some investigation, it turned out that the school's database of names, accounts, and passwords had been compromised. Attackers were able to correlate different pieces of information to exploit a number of students' home accounts for different services. It was suspected that the initial access came from a phishing email to a staff member. Initially surprised that cyber-criminals had taken advantage of a small school system to gain access to other accounts, I learned that this was fairly common. According to the White House, "In the 2022-23 academic year alone, eight K-12 school districts throughout the country were impacted by significant cyber-attacks – four of which left schools having to cancel classes or close completely." In addition to the monetary losses, the costs include days of missed learning for students and months of additional recovery time. The good news is that schools can get ahead of cyber-attacks before they happen– by uniting their network services and DNS security.