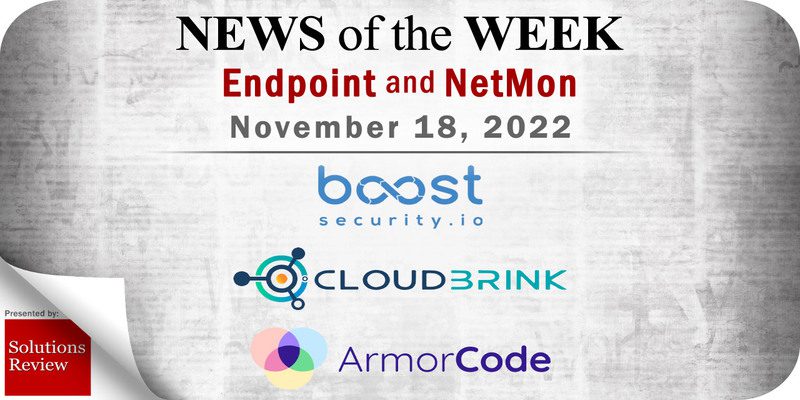 The editors at Solutions Review have curated this list of the most noteworthy endpoint security and network monitoring news for the week of November 18. This curated list features endpoint security and network monitoring vendors such as BoostSecurity, Cloudbrink, ArmorCode, and more.
Keeping tabs on all the most relevant endpoint security and network monitoring news can be a time-consuming task. As a result, our editorial team aims to provide a summary of the top headlines from the last month in this space. Solutions Review editors will curate vendor product news, mergers and acquisitions, venture capital funding, talent acquisition, and other noteworthy endpoint security and network monitoring news items.
Endpoint Security and Network Monitoring News for the Week of November 18
---
BoostSecurity Exits Stealth with $12M in Seed Funding
BoostSecurity, a DevSecOps automation platform,, has emerged from stealth with $12 million in seed funding. Led by Sorenson Capital, with additional support from Hoxton Ventures, Golden Ventures, Firebolt Ventures and Transform VC, the investment will be used to accelerate the platform's go-to-market and engineering initiatives.
Palo Alto Networks Announces PAN-OS 11.0 Nova
Palo Alto Networks, a cybersecurity leader, announced PAN-OS 11.0 Nova, the latest version of its industry leading PAN-OS software, unleashing 50+ product updates and innovations. Amongst them are the new Advanced WildFire cloud-delivered security service that brings protection against evasive malware and the Advanced Threat Prevention (ATP) service which now protects against zero-day injection attacks. PAN-OS 11.0 and most of the security services will be available in November. New ML-Powered NGFW platforms will be available in December, and SSPM will be available on the NGFW platforms in January. Most security services including Advanced WildFire will be compatible with previous versions of PAN-OS.
Onapsis Unveils New and Enhanced Capabilities to Streamline ERP Security for Customers
Onapsis, a business application cybersecurity and compliance solutions vendor, announced an expansion of its platform with a suite of new and enhanced ERP security capabilities. Following Onapsis Research Labs' recent milestone of 1,000 discovered zero-day vulnerabilities and the launch of its Threat Intel Center, these new capabilities and platform updates continue to build on their unique threat intelligence and insights to enable customers to more seamlessly and efficiently protect their business-critical ERP applications.
Cloudbrink Emerges from Stealth with $25 million
Cloudbrink announced $25 million in venture funding led by Highland and The Fabric co-creation studio to launch the "industry's first" hybrid access as a service (HAaaS). The Cloudbrink service delivers enterprise-grade network performance, reliability and security to the hybrid workforce. Cloudbrink instantly transforms any home Internet or cellular connection to deliver business-grade in-office performance with robust reliability and zero trust security to users wherever they are.
Creator of the Zero Trust Security Model, John Kindervag, Joins Cybersecurity Startup Cerby as Advisor
Cerby, a security platform for unmanageable applications, announced that John Kindervag, one of the world's foremost cybersecurity experts, has joined its Advisory Board. Kindervag is the creator of the Zero Trust model that has revolutionized the cybersecurity industry. In this role, Kindervag will help the company focus its efforts on some of the greatest dangers in the IT universe today— unmanageable applications. A $400B problem, these are applications that lack support for critical standards such as single sign-on, role based access control and security APIs, which are required for companies to implement Zero Trust principles.
Kaspersky Research: "Advanced Persistent Threats in 2023"
Kaspersky researchers presented their vision of the future for advanced persistent threats (APTs), defining the changes in threat landscape that will emerge in 2023. Attacks on satellite technologies, mail servers, the rise of destructive attacks and leaks, drone hacking and the next big cyber epidemic are among some of the predictions for the next year.
Solutions Review Secures Megan Bickford, Scott Gerlach, and Gil Dror for Panels
With the 4th Annual InfoSec Insight Jam just around the corner, Solutions Review is pleased to announce Megan Bickford of DoControl, Scott Gerlach of StackHawk, and Gil Dror of SmartSense are scheduled to appear December 12th as part of an exclusive executive roundtable event.
Aqua Security Launches eBPF Lightning Enforcer
Aqua Security, a cloud native security provider, announced its new Lightning Enforcer to stop zero-day attacks and shield critical vulnerabilities in production until a patch can be applied. With its new eBPF technology, Aqua's Lightning Enforcer provides total visibility into running workloads and allows security professionals to quickly and easily identify and stop the most advanced attacks in real time.
ArmorCode Secures $14 Million Series A Investment to Scale AppSecOps Platform
ArmorCode, an AppSecOps platform, announced it secured a $14 million Series A investment led by Ballistic Ventures, the venture capital firm solely focused on backing cybersecurity startups, founded by Kevin Mandia, Barmak Meftah, Ted Schlein, Jake Seid, and Roger Thornton. Other investors include Sierra Ventures, Cervin, and industry luminaries such as John Donovan, the former CEO of AT&T Communications, Oliver Friedrichs, founder and former CEO of Phantom Cyber (acquired by Splunk), John M. Jack, current board member at Contrast Security and Illumio, among others, and Tom Reilly, former CEO of Cloudera and ArcSight. Founded in July 2020, ArmorCode's Series A brings its total funding to $25 million, underscoring its momentum, which includes a seven-figure annual recurring revenue within its first financial year and revenue doubling in consecutive quarters with customers that include Fortune 100 enterprises.
---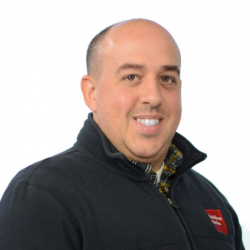 Latest posts by Mike Costello
(see all)