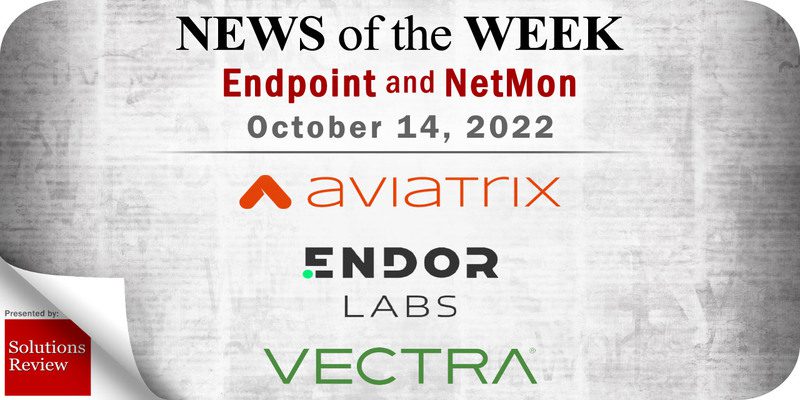 The editors at Solutions Review have curated this list of the most noteworthy endpoint security and network monitoring news for the week of October 14. This curated list features endpoint security and network monitoring vendors such as Aviatrix, Endor Labs, Vectra AI, and more.
Keeping tabs on all the most relevant endpoint security and network monitoring news can be a time-consuming task. As a result, our editorial team aims to provide a summary of the top headlines from the last month in this space. Solutions Review editors will curate vendor product news, mergers and acquisitions, venture capital funding, talent acquisition, and other noteworthy endpoint security and network monitoring news items.
Endpoint Security and Network Monitoring News for the Week of October 14
---
Aviatrix Named Leader in 2022 Futuriom Secure Multicloud Networking Report
Aviatrix, a cloud networking platform, announced it has been named a leader in Futuriom's 2022 Secure Multicloud Networking Report. Aviatrix was recognized for its customer and revenue traction, and for having the broadest platform and largest feature set of any multicloud networking vendor.
Russian-Speaking Hackers Knock Multiple US Airport Websites Offline
More than a dozen public-facing airport websites, including those for some of the nation's largest airports, appeared inaccessible earlier this week, and Russian-speaking hackers claimed responsibility. The hacking group known as Killnet listed multiple US airports as targets. It stepped up activity to target organizations in NATO countries after Russia's February invasion of Ukraine. The loosely organized "hacktivists" are politically motivated to support the Kremlin but ties to Moscow are unknown.
Zerify Partners with Vation Ventures
Zerify Inc., the 21-year-old cyber security company focused on secure video conferencing solutions, announced it has partnered with Vation Ventures to accelerate the growth of Zerify's Partner Program. Vation Ventures helps innovative companies navigate the emerging technology landscape with an end-to-end solution that fast-tracks the company's time to market through channel partners. It will also help build pipelines and ultimately drive increased revenue for Zerify.
Immersive Labs Secures $66 Million in New Capital
Immersive Labs announced this week that it has raised $66 million in capital to continue its growth and investment in its Cyber Workforce Resilience platform. Ten Eleven Ventures led the latest raise supporting the company's efforts to help organizations around the world assess, build, and prove their resilience to cyber threats of all kinds. Existing investors Goldman Sachs Asset Management, Summit Partners, Insight Partners, Menlo Ventures, and Citi Ventures all participated in the round.
Beachhead Solutions Adds Windows Security Management to the BeachheadSecure Platform
Beachhead Solutions, a provider of cloud-managed PC & mobile device encryption, security, and data access control, today announced that the BeachheadSecure platform now includes account-wide Windows Security management at no additional cost. With this launch, BeachheadSecure directly manages and leverages Microsoft Defender Antivirus, Microsoft Defender Firewall, and Microsoft Controlled Folder Access in tandem with BeachheadSecure's own RiskResponder capabilities to automate access controls and secure devices and data before threats can strike.
Endor Labs Launches with $25M Seed Financing to Tackle Massive Sprawl of Open Source Software
Endor Labs officially came out of stealth this week, launching the company with a Dependency Lifecycle Management Platform that helps development and security teams maximize software reuse by safely evaluating, maintaining, and updating dependencies. This lifecycle approach to dependency management means it becomes easier than ever to reuse software across the organization. The result is increased productivity for development and security teams, and significantly reduced supply chain risk.
Contrast Security's Alliance Team Hires Three Industry Veterans
Contrast Security, a code security platform, announced this week that it has hired three industry veterans and has promoted an internal expert to help drive technology, system integrators and integration engineering alliances and partnerships in North America and EMEA. The new hires, as well as the industry expert, will be part of the Partner Alliance Team as announced today by Contrast Security.
DomainTools Launches Global Partner Program
This week, DomainTools, an Internet intelligence vendor, launched its Global Partner Program led by Tim Durant, the recently appointed Vice President, Global Channels and Alliances. The DomainTools Global Partner Program features the company's threat intelligence solutions, providing channel partners with the tools needed to help enterprise security teams proactively detect emerging threats and attackers lurking in their networks.
Traceable Named 'Leader' in New GigaOm Radar Report on API Security
Traceable, an API security and observability company, announced that it was named a "Leader" by GigaOm in its "2022 GigaOm Radar Report: API Security." This industry report recognizes the company's comprehensive API Security Platform, giving its API discovery and protection high marks as well as a nod to its API catalog and threat hunting capabilities.
Outpost24 Announces Expansion of Penetration Testing Offerings to North America
Outpost24 announced the introduction of its Penetration Testing as a Service (PTaaS) solutions to the North American market to better empower businesses to understand and address threats in their web application attack surface. Outpost24's PTaaS solutions provide companies with on-demand, continuous monitoring, ensuring organizations are fully protected against threats in their application attack surface.
CircleCI Introduces a New Suite of Features and Integrations
CircleCI, a continuous integration and continuous delivery (CI/CD) platform, announced new features and integrations to enhance security and automation practices for today's software developers. The new self-hosted container runner is designed to provide more flexibility and security to help developers ease the burden of infrastructure management with greater traceability.
Vectra advances Security AI to Deliver Attack Signal Intelligence
Vectra AI, a provider of Security AI-driven hybrid cloud threat detection and response, announced Attack Signal Intelligence – a platform that automates threat detection, triage and prioritization for SOC teams. Vectra Attack Signal Intelligence continuously and automatically monitors for attacker methods with a set of Security AI models programmed with an understanding of attacker TTPs. The results run through another layer of AI which combines an understanding of the organization's environment with threat models and human threat intelligence, to automatically surface and prioritize threats based on severity and impact.
---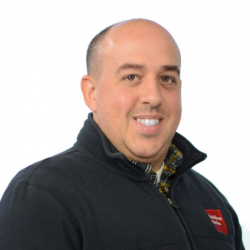 Latest posts by Mike Costello
(see all)