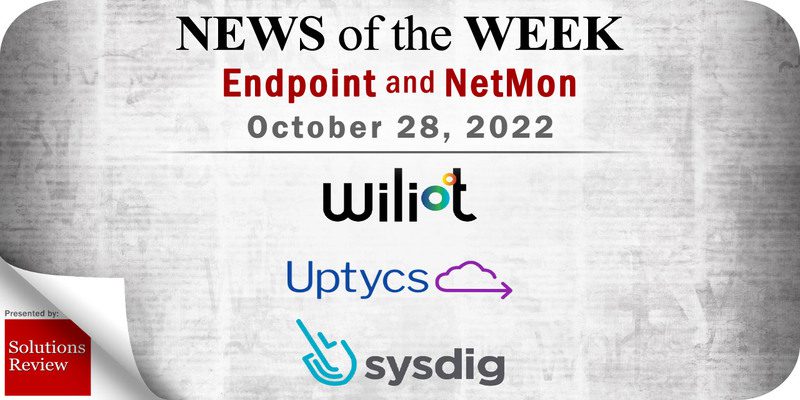 The editors at Solutions Review have curated this list of the most noteworthy endpoint security and network monitoring news for the week of October 28. This curated list features endpoint security and network monitoring vendors such as Wiliot, Uptycs, Sysdig, and more.
Keeping tabs on all the most relevant endpoint security and network monitoring news can be a time-consuming task. As a result, our editorial team aims to provide a summary of the top headlines from the last month in this space. Solutions Review editors will curate vendor product news, mergers and acquisitions, venture capital funding, talent acquisition, and other noteworthy endpoint security and network monitoring news items.
Endpoint Security and Network Monitoring News for the Week of October 28
---
Wiliot Partners with Identiv to Manufacture Initial Order of 25 Million Units of its IoT Pixel Tags
Wiliot, an IoT solutions vendor, announced its largest-ever single order for the company's breakthrough IoT Pixel tags. The order represents an important milestone for Wiliot and the Ambient IoT ecosystem – which is poised to revolutionize supply chain efficiency, sustainability, and productivity. The 25 million IoT Pixels will be manufactured by Identiv, one of the world's largest producers of specialty RFID tags, inlays, and labels, and is the first part of an even larger order to be delivered to a major new customer.
Calix ProtectIQ Wins 2022 Cloud Computing Security Excellence Award From TMC
Calix, Inc. announced this week that TMC, a global, integrated media company and publisher of Cloud Computing magazine, has named ProtectIQ a 2022 Cloud Computing Security Excellence Award winner. This is the second industry award ProtectIQ has won in 2022. The award recognizes companies that have most effectively leveraged cloud computing in their efforts to bring new, differentiated offerings to market. ProtectIQ is a Calix Revenue EDGE managed service that enables broadband service providers (BSPs) to deliver home network security protection on top of their managed Wi-Fi offerings. Calix-partnered BSPs used ProtectIQ to stop millions of intrusions from entering subscribers' networks this year, about one every four seconds. ProtectIQ is designed to simplify home network protection for subscribers, delivered by their trusted regional BSP. Subscribers access ProtectIQ through the BSP's mobile app, built on the Calix CommandIQ app, which BSPs can customize with their brand. The app sends push notifications and reports on threats blocked directly to the palm of the subscriber's hand. This reinforces the value BSPs provide daily and increases subscriber loyalty.
Uptycs Introduces "Industry-First" Detections that Correlate Threat Activity from the Kubernetes Control Plane and Container Runtime
Uptycs, an XDR solution, announced enhanced Kubernetes and container security capabilities. These new features provide threat detection for container runtime correlated with the Kubernetes control plane attacks alongside scanning of container images in registries for vulnerabilities, malware, credentials, secret keys, and other sensitive information.
SkyKick Launches Security Manager to Help 100,000 Microsoft Cloud ITSPs 
SkyKick, a global provider of cloud automation and management software for information technology services providers (ITSPs), announced this week the release of Security Manager, the fourth addition to its growing suite of Cloud Management applications. Security Manager is purpose-built to help IT partners better protect customers in the cloud and accelerate growth by reducing the cost and complexity of delivering security services for their customers. Security Manager is a powerful application for partners to efficiently deliver and monetize cloud security in their Microsoft 365 business. With Security Manager, partners can easily discover risks, vulnerabilities, and opportunities across all customers under management. It transforms millions of security signals into actionable insights through a single pane of glass. The application enables frontline ITSP support staff to easily remediate security issues across all their customers. Security Manager also provides advanced automation capabilities for partners to monitor, automate and scale their security practice.
GitLab Security and Governance Solution Helps Secure Organizations' End-to-End Software Supply Chains
This week at KubeCon + CloudNativeCon North America, GitLab Inc., provider of The One DevOps Platform, announced enhancements to its Security and Governance solution which enables organizations to integrate security and compliance in every step of the software development lifecycle (SDLC) and secure their software supply chain. GitLab's 2022 Global DevSecOps Survey found that security was the highest priority investment area for organizations, with 57 percent of security professionals surveyed stating that their organizations have already shifted security left or plan to this year. To meet growing security needs, GitLab is enhancing its Security and Governance solution to provide visibility and management over security findings and compliance requirements.
Sysdig TRT uncovers massive cryptomining operation leveraging GitHub Actions
The Sysdig Threat Research Team (Sysdig TRT) recently uncovered an extensive and sophisticated active cryptomining operation in which a threat actor is using some of the largest cloud and continuous integration and deployment (CI/CD) service providers; including GitHub, Heroku, Buddy.works, and others to build, run, scale, and operate their massive cloud operation.
Illumio CloudSecure And Illumio Core Now Available in Microsoft Azure Marketplace
Illumio,  a zero trust solutions provider, this week announced Illumio CloudSecure and Illumio Core are available in the Microsoft Azure Marketplace, an online store providing applications and services for use on Azure. Azure customers can now easily access two pillars of the Illumio Zero Trust Segmentation (ZTS) platform, extending mission-critical segmentation capabilities to the cloud and data center with ease.
Solutions Review Announces 4th-Annual InfoSec Insight Jam 2022
The InfoSec Insight Jam is a community web event that shares expert insights and proven best practices for evaluating, deploying, and using Identity Management, Endpoint Security, and InfoSec solutions. The Solutions Review editors are bringing the best and brightest minds in the InfoSec industry together for a one-day social media gathering. Participants will include industry analysts, experts, influencers, practitioners, and software solution providers under the hashtag #InfoSecInsightJam.
Aqua Security Named a Leader in the 2022 GigaOm Radar Report for Vulnerability Management
Aqua Security, a cloud native security provider, announced that it has been named a leader in GigaOm's 2022 Radar Report for Vulnerability Management. Solutions were compared based on feature coverage and product execution, top vendor strengths and challenges, and the analyst's take on the current and future Continuous Vulnerability Management market.
---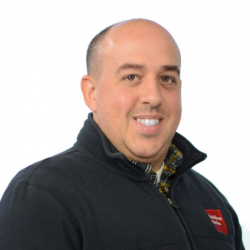 Latest posts by Mike Costello
(see all)