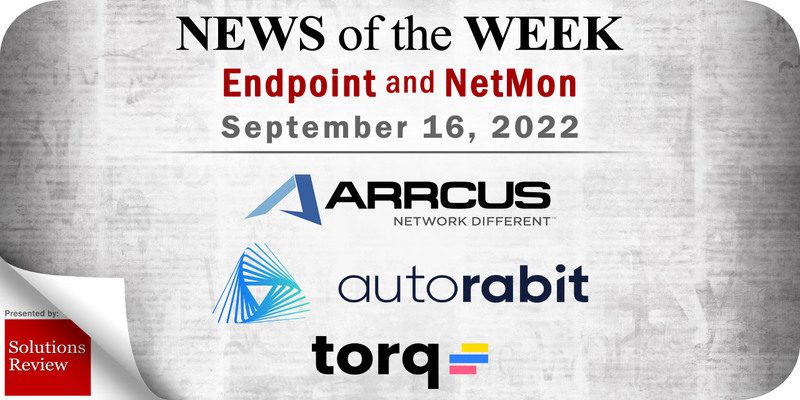 The editors at Solutions Review have curated this list of the most noteworthy endpoint security and network monitoring news for the week of September 16. This curated list features endpoint security and network monitoring vendors such as Arrcus, AutoRabit, Torq.io, and more.
Keeping tabs on all the most relevant endpoint security and network monitoring news can be a time-consuming task. As a result, our editorial team aims to provide a summary of the top headlines from the last month in this space. Solutions Review editors will curate vendor product news, mergers and acquisitions, venture capital funding, talent acquisition, and other noteworthy endpoint security and network monitoring news items.
Endpoint Security and Network Monitoring News for the Week of September 16
---
Arrcus Announces the Availability of FlexMCN, A Multi-Cloud Networking Solution Built for the Distributed Cloud Era
Arrcus, the hyper-scale networking software company, announced the availability of Arrcus FlexMCN, a flexible multi-cloud networking solution. CSPs, co-location providers, and telcos can leverage FlexMCN to deliver multi-cloud connectivity as a managed service to enterprises. FlexMCN, built on Arrcus' ACE platform, is available in an array of form factors – in containers, virtual machines, software on white box hardware, and via the cloud.
The White House Issues New Guidance on Software Supply Chain Security
This week, the Office of Management and Budget issued guidance to ensure Federal agencies utilize software that has been built following common cybersecurity practices. The guidance, developed with input from the public and private sector as well as academia, directs agencies to use only software that complies with secure software development standards, creates a self-attestation form for software producers and agencies, and will allow the federal government to quickly identify security gaps when new vulnerabilities are discovered.
MSP360 Partners with Deep Instinct to Fully Integrate Deep Learning Cybersecurity Framework Solution
MSP360, a provider of simple and reliable backup and IT management solutions for managed services providers (MSPs) and IT departments worldwide, is now fully integrated with Deep Instinct, a prevention-first approach to stopping ransomware and other malware using the world's first deep learning cybersecurity framework. With a click of a button, MSP360 customers can access the Deep Instinct platform through either MSP360 Managed Backup or MSP360 RMM.
Blumira Launches Detection Filters, Enabling Organizations to Easily Customize Detection Rules
Blumira, a cybersecurity provider of automated threat detection and response technology, announced the launch of Detection Filters. This new feature empowers small and mid-sized business (SMB) customers to customize detection rules based on their organizations' needs. Customized detection rules significantly reduce the number of noisy alerts, so small IT and security teams can focus on critical and priority alerts to prevent breaches and ransomware attacks.
novoShield Emerges from Stealth to Power the Next-Generation of Mobile Phishing Protection Solution
novoShield, a mobile phishing protection solution, launched its iPhone phishing protection app on the App Store earlier this week. Designed to defend against a new era of digital threats, novoShield's solution detects malicious websites in real-time and blocks users from accessing them, while also providing users with live on-screen indications that reassure them when they're browsing safe websites. novoShield's security solution is designed to be affordable, accessible, and easy to use for individuals, families, and businesses. Once the app is downloaded from the App Store, it takes under a minute to set up, requires no training to use, and is constantly updated with the latest security protocols.
AutoRabit Launches DevSecOps Tool for Salesforce Environments
DevSecOps firm AutoRabit looks to address security issues arising from policy changes and misconfigurations in Salesforce environments with its new offering, CodeScan Shield. CodeScan Shield is the next iteration of AutoRabit's static code analysis tool, CodeScan, and elevates the capabilities of CodeScan with the help of a new module called OrgScan. The new module governs organizational policies by enforcing the security and compliance rules mandated for Salesforce environments. CodeScan Shield enables admins and developers to scan Salesforce profiles, permission sets, user settings, session settings, and more. Users can check for 100 percent adherence to native and custom Salesforce policies, supporting regulatory compliance standards. The no-code interface of OrgScan can be used without needing extensive coding knowledge, the company said.
ThreatModeler Announces Version 6.0
ThreatModeler, a platform for threat modeling and securing cloud infrastructure, announced the release of ThreatModeler 6.0, a platform update bringing several new capabilities to bolster and streamline the threat modeling process for security and DevOps teams. ThreatModeler 6.0 represents a complete redesign of the platform's interface, workflows, model building, and reporting based on user feedback over time. The primary goal of this update is to make threat modeling easy for developers and add more powerful features to accomplish a variety of tasks on a single platform.
STUDY: 90 Percent of Security Leaders Believe Their Organization is Falling Short in Addressing Cybersecurity Risk
Foundry (formerly IDG Communications), a media, martech, and data firm for the tech community, released the 2022 Security Priorities Study, which looks at the security-related priorities IT and security leaders are focused on now and in the near future. In its sixth year, the study shares insights into the security structure of organizations, perceived risks, continued challenges, and investments being made to better secure organizations. The research found that an overwhelming majority (90 percent) of security leaders believe their organization is falling short in addressing cybersecurity risk. Those surveyed experienced these pitfalls from different issues, such as convincing the severity of risk to all or parts of their organization (27 percent) and believing their organization isn't investing enough resources to address risks (26 percent).
Passengers Exposed to Hacking via Vulnerabilities in Airplane Wi-Fi Devices
Researchers Thomas Knudsen and Samy Younsi of Necrum Security Labs identified the vulnerabilities in the Flexlan FX3000 and FX2000 series wireless LAN devices made by Contec, a Japan-based company specializing in embedded computing, industrial automation, and IoT communication technology. One of the security holes, CVE-2022-36158, is related to a hidden webpage that can be used to execute Linux commands on the device with root privileges. The device's web-based management interface does not provide a link to this hidden page.
Torq Delivers on the Promise of Parallel Execution
Torq debuted Parallel Execution this week. Parallel Execution is a significant evolution for no-code security automation that enables end-users to instantly create multiple branches within an automatic workflow and handle each concurrently before seamlessly merging back into a single flow. Parallel Execution allows users to drop in a simple step to branch workflows "horizontally," execute each branch in parallel, then instantly merge the output back into a single workflow. This functionality can exponentially speed up tasks like threat intelligence enrichment, enabling users to check multiple sources simultaneously. Instead of waiting for one check before moving to the next, each source is checked simultaneously, reducing total execution time from the cumulative total down to whichever the 'slowest' source is.
Editor's Choice in e-Learning and Online Training: Ethical Hacker, Udacity Nanodegree Program
You'll master the skills necessary to become a successful Ethical Hacker. Learn how to find and exploit vulnerabilities and weaknesses in various systems, design and execute a penetration testing plan, and report on test findings using valid evidence. Lessons include Penetration Testing & Red Teaming Operations.
For consideration in future news round-ups, send your announcements to mcostello@solutionsreview.com.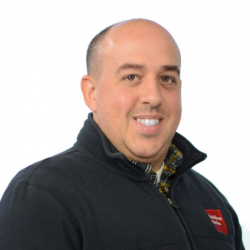 Latest posts by Mike Costello
(see all)