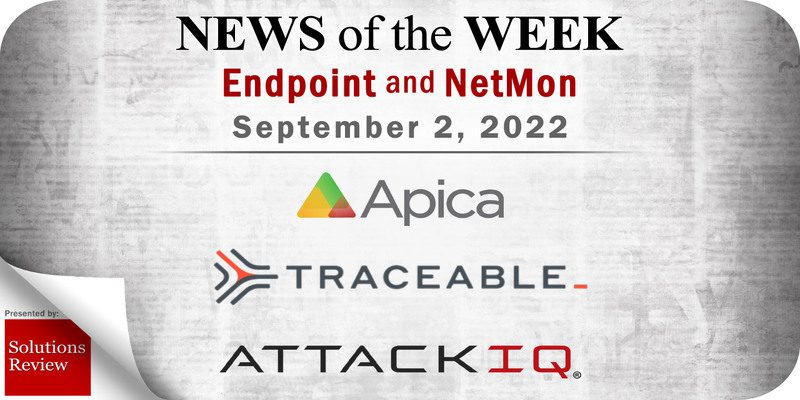 The editors at Solutions Review have curated this list of the most noteworthy endpoint security and network monitoring news items for the week of September 2. This curated list features endpoint security and network monitoring vendors such as Apica, Traceable AI, AttackIQ, and more.
Keeping tabs on all the most relevant endpoint security and network monitoring news can be a time-consuming task. As a result, our editorial team aims to provide a summary of the top headlines from the last month in this space. Solutions Review editors will curate vendor product news, mergers and acquisitions, venture capital funding, talent acquisition, and other noteworthy endpoint security and network monitoring news items.
Endpoint Security and Network Monitoring News for the Week of September 2
---
Apica Announces New Platform Name and Features to Help Organizations Look Toward a Web 3.0 World
Apica Systems, a leader in digital performance monitoring, announced enhanced capabilities to help customers reduce friction as they look toward a Web 3.0 world. Apica's product team has developed a forward-looking strategy to help align all product development to a Web 3.0 vision. This began late last year with the load testing and synthetic monitoring capabilities being combined into the Apica platform, now named Apica Ascent. These new improvements help reduce friction in dashboarding to help customers consume the data they want when and where they want it.
NVIDIA and Dell Technologies Deliver New Data Center Solution for Zero-Trust Security and the Era of AI
NVIDIA announced a new data center solution with Dell Technologies designed for the era of AI, bringing state-of-the-art AI training, AI inference, data processing, data science, and zero-trust security capabilities to enterprises worldwide. The solution combines Dell PowerEdge servers with NVIDIA BlueField DPUs, NVIDIA GPUs, and NVIDIA AI Enterprise software and is optimized for the also newly announced VMware vSphere 8 enterprise workload platform. Enterprises can experience the combination of these technologies on NVIDIA LaunchPad. This hands-on lab program provides access to hardware and software for end-to-end workflows in AI, data science, and more.
Folio Photonics Announces Breakthrough Multi-Layer Optical Disc Storage Technology
Folio Photonics, an immutable active archive platform, announced that it has achieved a significant breakthrough in multi-layer optical storage disc technology that will enable an unprecedented level of cost, security, and sustainability advantage. Leveraging patented advancements in materials science, Folio Photonics has developed the first economically viable, enterprise-scale optical storage discs with dynamic multi-layer write/read capabilities, which will enable the development of radically low-cost/high-capacity disc storage. Folio's technology milestone proves the feasibility of its materials, manufacturing, and optics and shifts the company from the research phase to product development. With disc availability targeted for 2024, Folio's multi-layer disc capacity is expected to start at 10TB per cartridge (1TB per disc) with an aggressive roadmap to multi-TB capacities. The roadmap is enabled by the additional layers due to its easily scalable polymer co-extrusion process as well as significant increases in capacity per layer.
Kim Anstett Appointed Trellix Chief Information Officer
Trellix, an endpoint security and extended detection and response (XDR) provider, announced Kim Anstett has joined Trellix as Chief Information Officer (CIO). As CIO, Anstett leads Trellix's global information and technology systems organization and joins the Executive Leadership Team (ELT). With more than 25 years of industry experience, Anstett was most recently Executive Vice President and Chief Technology Officer at Iron Mountain, leading teams across product development and innovation. Prior, she was CIO at Nielsen, focused on customer value and increased cybersecurity outcomes. She holds a B.S. from Tufts University and currently serves on the Board of Directors for Quotient Technology. Anstett begins at Trellix today and reports to CEO Bryan Palma.
Traceable AI Announces API Security Testing
Traceable AI, an API security and observability company, announced the general availability of its API Security Testing (xAST) solution in its API Security Platform. This comprehensive and seamless testing ability enables any API in pre-production to be tested for vulnerabilities, accuracy, reliability, and overall security — ensuring organizations are aligned with the highest API security standards before releasing APIs into production. This announcement reinforces Traceable's commitment to helping organizations ensure the highest level of API security throughout the entire software development lifecycle (SDLC).
Alaska Communications to Bring Cybersecurity Services to Alaska Businesses of All Size
With cyber-criminals becoming more sophisticated than ever, cyber-crime is a serious threat facing organizations of all sizes. Because of the complexity and risk associated with a cyber-attack, many businesses seek help from cybersecurity specialists. With Security as a Service from Alaska Communications, businesses gain access to mature technologies that are fully customized to meet their needs. Alaska Communications will also host a security solutions webinar series as a free service to businesses and the community. The company's first webinar in this series, "A Buyer's Guide to Cybersecurity Penetration Testing," is from 10-10:30 a.m. Thursday, Sept. 15.
Triden Group Hires Former FBI Special Agent as New CISO
Triden Group welcomed John Caruthers as their new Executive Vice President, CISO, in a recent announcement. John served 27 years in the FBI as an investigator and decorated leader of cybersecurity teams. Upon retiring from the FBI, John's subject matter expertise was leveraged in the life sciences and executive advisory sectors. His pedigree and depth of knowledge in the information security space will serve to accelerate Triden Group's growing Cybersecurity business.
AttackIQ Academy Wins 2022 SC Awards in Excellence for Best IT Security-related Training Program
AttackIQ, an independent vendor of Breach and Attack Simulation (BAS) systems, announced that AttackIQ Academy has won the 2022 SC Awards in Excellence for Best IT Security-related Training Program. The industry awards program is cybersecurity's most prestigious and competitive program, recognizing the solutions, organizations, and people driving innovation and success in information security. AttackIQ Academy is part of the Informed Defender Community and is provided as a public service. Since its launch, the student population has grown to 36,000+ students in 180+ countries, and more than 28,000 certificates have been awarded. Participants are eligible for (ISC)2 Continuing Professional Education (CPE) credits following completion of the curriculum.
For consideration in future news round-ups, send your announcements to mcostello@solutionsreview.com.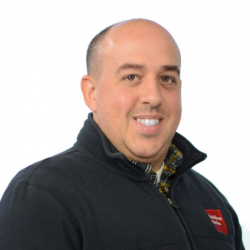 Latest posts by Mike Costello
(see all)