Endpoint Security and Network Monitoring News for the Week of September 29; Nord Security, T-Mobile, CrowdStrike, and More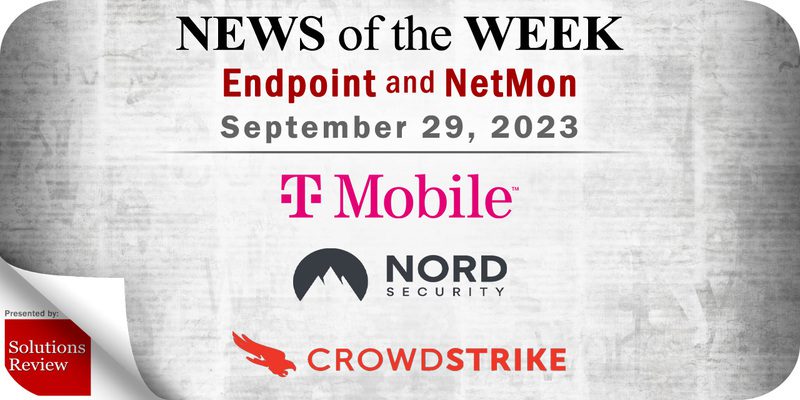 The editors at Solutions Review have curated this list of the most noteworthy endpoint security and network monitoring news for the week of September 29. This curated list features endpoint security and network monitoring vendors such as Nord Security, T-Mobile, CrowdStrike, and more.
Keeping tabs on all the most relevant endpoint security and network monitoring news can be a time-consuming task. As a result, our editorial team aims to provide a summary of the top headlines from the last month in this space. Solutions Review editors will curate vendor product news, mergers and acquisitions, venture capital funding, talent acquisition, and other noteworthy endpoint security and network monitoring news items.
Endpoint Security and Network Monitoring News for the Week of September 29
---
Nord Security Secures $100M in Funding
Nord Security, an Amsterdam, The Netherlands-based company which specializes in internet privacy and security solutions, raised $100M in funding, at a $3 Billion valuation. The round saw participation from Warburg Pincus, Novator Ventures and Burda Principal Investments. Chandler Reedy, Warburg Pincus' Managing Director, Head of Strategic Investments, and Co-Head of Business Services, joined Nord Security's board. The company intends to use the funds to expand its product offering and accelerate growth through strategic mergers and acquisitions.
EMA and Auvik Research: "Hybrid and Remote Work Increases Challenges to Remote Network Experiences"
New research by Enterprise Management Associates (EMA) and Auvik, a provider of cloud-based network management software, revealed that the ongoing shift to hybrid and remote work environments has resulted in key changes to the roles and priorities of network administrators in order to address new connectivity challenges and prioritize and preserve a secure, productive end-user experience. The report examined the remote and hybrid work paradigm through the lens of network operations teams– 73 percent of which reported an increase in workloads, either slightly or significantly, following the shift from traditional to hybrid work environments.
T-Mobile Debuts SASE Platform
This week, T-Mobile  introduced T-Mobile SASE, a network management and ZTNA (Zero Trust Network Access) platform that helps customers securely connect employees, systems and endpoints to remote networks, corporate applications and resources. Not only is it potentially the first SIM-based SASE solution, it's also "the nation's first solution to offer customers a secure network slice dedicated to SASE traffic." These components are designed to help make it easier for organizations to protect corporate data and network resources from nearly anywhere.
WatchGuard Acquires CyGlass Technology Services
WatchGuard Technologies, a global leader in unified cybersecurity, this week announced the acquisition of CyGlass Technology Services, a provider of Cloud and network-centric threat detection and response solutions. CyGlass's 100 percent cloud native platform utilizes advanced artificial intelligence (AI) and machine learning (ML) capabilities to deliver "enterprise-class" cyber defense across hybrid networks, to mid-sized and small organizations at an affordable cost and without hardware. The CyGlass technology will add to the WatchGuard Unified Security Platform architecture, delivering AI-based detection of network anomalies with a future Network Detection and Response (NDR) service, and will accelerate Open eXtended detection and response (XDR) capabilities within WatchGuard ThreatSync.
Appdome Launces Malware Protection Solutions for Android
Appdome, a mobile apps security solutions provider, this week announced new mobile anti-malware protections that detect Android Accessibility Service Malware such as Xenomorph, Brasdex, Octo, Sharkbot, Flubot, TeaBot, PixPirate, Sova, Spynote, Joker and more. These malware are used to carry out large scale, distributed attacks on mobile banking apps, crypto wallets, and other financial services apps. Appdome's Cyber Defense Automation platform for mobile apps allows developers and cyber teams to build protections against Accessibility Service Malware directly into any mobile app, all from within the DevOps CI/CD pipeline with no code or coding required.
CrowdStrike Set to Buy AppSec Startup, Bionic
This week, CrowdStrike announced it has agreed to acquire Bionic, an AppSec solutions provider. The combination will extend CrowdStrike's Cloud Native Application Protection Platform (CNAPP) with ASPM to deliver comprehensive risk visibility and protection across the entire cloud estate, from cloud infrastructure to the applications and services running inside of them.  Announced at the industry's marquee cybersecurity conference, CrowdStrike Fal.Con 2023, the signing of the deal comes on the heels of CrowdStrike's Q2 FY24 financial results, in which the company delivered a record quarter for its fast-growing cloud security business. In addition, ending ARR as of July 31, 2023 for CrowdStrike modules deployed in the public cloud grew to $296 million, up 70 percent year-over-year
---
Expert Insights Section
Watch this space each week as Solutions Review editors will use it to share new Contributed Content Series articles, Contributed Shorts videos, Expert Roundtable and event replays, and other curated content to help you gain a forward-thinking analysis and remain on-trend. All to meet the demand for what its editors do best: bring industry thought leaders together to publish the web's leading insights for enterprise technology practitioners.
What to Expect at Solutions Review's Solution Spotlight with Zscaler on October 5th
With the next Solution Spotlight event, the team at Solutions Review has partnered with Zscaler to provide viewers with a unique webinar called Deliver Fast and Secure Digital Experiences for the Modern Hybrid Workforce. In this webinar, attendees will hear how to efficiently detect, triage, and resolve IT incidents that have global, regional, or user-specific impact, at scale. Solutions Review's Solution Spotlights are exclusive webinar events for industry professionals across enterprise technology. Since its first virtual event in June 2020, Solutions Review has expanded its multimedia capabilities in response to the overwhelming demand for these kinds of events. Solutions Review's current menu of online offerings includes the Demo Day, Solution Spotlight, best practices or case study webinars, and panel discussions. And the best part about the "Spotlight" series? They are free to attend!
Two Sides of the AI Coin: Balancing Innovation and Business Continuity
Lee Waskevich of ePlus Technology notes that adapting AI requires striking a balance between innovation and business continuity. There's no question that artificial intelligence (AI) is radically transforming business and society as we know it, driving unprecedented innovation and unleashing creativity across virtually every sector– from healthcare to retail to manufacturing. Further, the generative AI market, which is expected to demonstrate an annual growth rate of 24.4 percent from 2023 to 2030, is just beginning to scratch the surface of what's possible. However, while the new wave of AI continues to make the previously impossible, possible, it is also accompanied by a host of new risks and security challenges. Landing in the right place when it comes to AI starts with striking a delicate balance between accelerating innovation and minimizing threats.
The Current State of Web Browsing is Wreaking Havoc on Cybersecurity
Dor Zvi of Red Access examines how the current state of web browsing is wreaking havoc on the world of cybersecurity. In just a few short years, web browsing has gone from something done primarily in our free time, to the primary activity underpinning all of our work. But, with this newfound has also come a great deal of unwanted attention. As web browsing plays an increasingly central role in the day-to-day operations of the enterprise, it simultaneously becomes a more and more attractive target to malicious actors. But, web browsing is changing in more ways than one, and already over-extended enterprise security teams are scrambling to keep up. In order to face this mounting challenge, organizations must begin by reimagining the idea of web browsing altogether — including how it is defined, where it takes place and what strategies are needed to secure it.