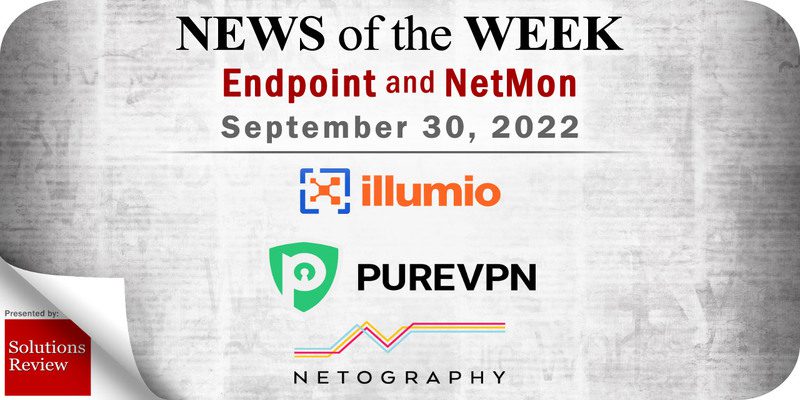 The editors at Solutions Review have curated this list of the most noteworthy endpoint security and network monitoring news for the week of September 30. This curated list features endpoint security and network monitoring vendors such as Illumio, PureVPN, Netography, and more.
Keeping tabs on all the most relevant endpoint security and network monitoring news can be a time-consuming task. As a result, our editorial team aims to provide a summary of the top headlines from the last month in this space. Solutions Review editors will curate vendor product news, mergers and acquisitions, venture capital funding, talent acquisition, and other noteworthy endpoint security and network monitoring news items.
Endpoint Security and Network Monitoring News for the Week of September 30
---
Illumio Introduces New Solution to Stop Endpoint Ransomware
Illumio, Inc., a Zero Trust Segmentation company, announced Illumio Endpoint, a reimagined way to prevent breaches from spreading to clouds and data centers from laptops. Hybrid work has expanded the attack surface, introducing new threats and making organizations more vulnerable, so it's become increasingly important for employees to have secure access to applications and data wherever they are located.
SentinelOne and Perception Point Partner for "Unparalleled" Advanced Threat Protection
Perception Point, a provider of advanced threat protection across digital channels, announced that it has partnered with SentinelOne, an autonomous cybersecurity platform company, to provide customers unparalleled advanced threat detection and rapid remediation across enterprise endpoints, email, and cloud collaboration channels. Perception Point's integration with SentinelOne offers users the unique ability to simplify and consolidate protection across these attack vectors, and rapidly remediate any threat autonomously across them.
NowSecure Delivers Update for Mobile Application Security Platform
NowSecure, a standards-based mobile app security and privacy software company, launched the latest iteration of the NowSecure Platform with new autonomous capabilities for productivity and auditability: Policy Engine and Guided Testing. NowSecure Platform Policy Engine is a first-of-its-kind mobile AppSec testing solution that enables organizations to seamlessly deploy, automate and enforce customized security policies and controls against industry established standards. Security teams can now ensure AppSec standardized compliance, enabling developers to code and deploy faster by knowing the "security rules" in advance. In addition, NowSecure Platform Guided Testing provides a new, more advanced mobile app security assessment hybrid approach by pairing highly accurate automated testing with expert analyst guidance, offering a more cost-effective alternative to manual pen testing.
DomainTools Presents "Patterns of Malicious Infrastructure (Re)Use in Ukraine-Themed Domains"
DomainTools, an Internet intelligence solutions vendor, announced that Aaron Gee-Clough and Tim Helming will be featured presenters at the mWISE Conference 2022 being held October 18-20, 2022, at the Washington Hilton in Washington, DC. In the session, Gee-Clough, DomainTools senior data engineer and Helming, security evangelist, will demonstrate real-world examples of a domain bloom. "Domain Blooms" are a rise in domain registrations containing a specific word, followed by a gradual decline. In this case, they will be examining a bloom where the domains contain the word "Ukraine," "Ukrainian," and the Cyrillic version of "Ukraine." This bloom corresponded with the Russian invasion of Ukraine. Their analysis shows an elevated risk level compared to the Internet as a whole, but perhaps more importantly, found "hotspots" of even more concentrated phishing, malware, and spam activity tied to certain features (IP address, name server, ASN, etc.).
PureVPN Joins Forces with Samsung to Build a Safer Online World
VPN provider PureVPN has joined forces with Samsung Electronics to build a safer online world together. The plan is to integrate Enhanced Privacy Protection (EPP) technology into Samsung's Secure Wi-Fi feature. Masking users' identity and traffic, it will add a layer of anonymity to secure against online threats, manipulation and misuse. Through its partnership with Samsung, PureVPN wants to bring smartphone data security to the next level.
SoundWay Consulting Announces Appointment to Conduct Certification Assessments and Supply Chain Compliance Training
SoundWay Consulting, Inc announced this week that it has been authorized by the Cyber Accreditation Body (The Cyber AB) as a CMMC Third-Party Assessment Organization (C3PAO). SoundWay was one of the first to be named a C3PAO candidate and is now among the first 25 authorized by The Cyber AB to conduct CMMC assessments. This authorization demonstrates SoundWay's subject matter expertise and ability to deliver CMMC assessments at Level 2. SoundWay has been helping government contractors prepare for CMMC assessments as a Registered Provider Organization (RPO) for over 1.5 years.
Large Percentage of Cybersecurity Professionals Feel They Are Losing Ground Against Cybercriminals
Trellix, an extended detection and response (XDR) platform, recently released global research revealing the cost of siloed security, weak spots in protection and lack of confidence amongst security operations teams. The study of 9,000 global cybersecurity professionals also looks to the future of security and the technology poised to revolutionize security operations. 89 percent of respondents describe their current security model as "siloed." Consequentially, three-quarters (73 percent) are likely allocating budget to advanced solutions, including XDR, to enable an integrated security approach.
Accedian and Cisco Team Up to Provide Network Performance Monitoring and Analytics for Zain Kuwait
This week, Accedian and Cisco announced that they are helping Zain Kuwait automate its network with increased network visibility and service assurance to deliver superior B2B customer experiences. Zain Kuwait, the leading digital service provider in the country, partnered with Accedian and Cisco to enhance visibility and insight into its network. With the integration of Accedian Skylight into Cisco's Crosswork Network Automation platform, Zain Kuwait gains a single view of its network and service performance at a per-customer granularity to help meet its B2B customers' needs proactively.
Traceable AI Taps Richard Bird as Chief Security Officer
Traceable, an API security and observability company, announced the appointment of Richard Bird as Chief Security Officer (CSO). In this role, he will lead Traceable's internal data security efforts and provide his unparalleled cybersecurity expertise to propel Traceable's mission to secure APIs across the globe with its API Security Platform. As a cybersecurity and IT operations industry veteran with nearly 30 years of experience, Richard has a proven track record in protecting the interests of SaaS and financial services companies as well as turning information security into a competitive advantage. In the corporate enterprise, Richard has been a CIO and a CISO and he is also the former global head of identity for JPMorgan Chase. Richard has held multiple c-level roles advising organizations of all sizes, while serving as the Chief Customer Information Officer for Ping Identity, building security solutions for the market as a Chief Product Officer.
Netography Upgrades Platform Across the Atomized Network
Netography announced this week further innovation to its Netography Fusion platform, delivering scalable, continuous network visibility and control required by security operations center (SOC) and cloud operations teams. Netography Fusion enables organizations to significantly reduce cyber threat risks and costly downtime in real-time with improved security and business context, as well as powerful remediation automation capabilities through alerts, custom detections, and integrations.
---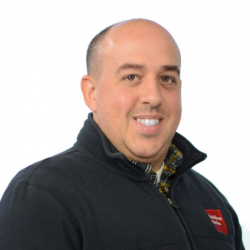 Latest posts by Mike Costello
(see all)