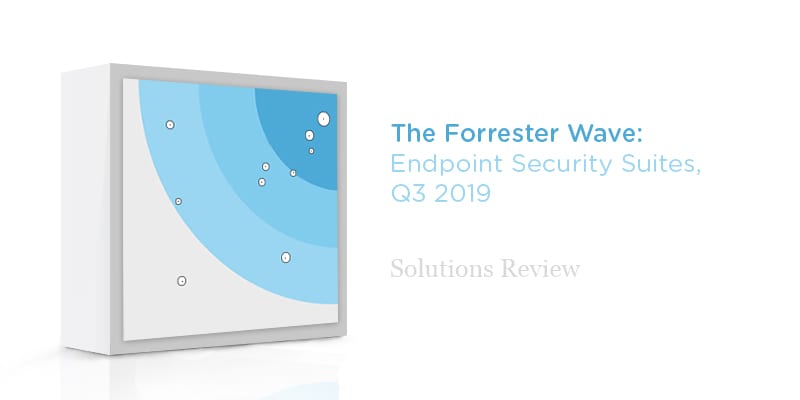 Disclaimer: The opinions described in this article belong to the researchers and editors of The Forrester Wave: Endpoint Security Suites, Q3 2019 report. Solutions Review does not expressly condone any individual solution or solution provider. 
Cambridge MA-based analyst house Forrester Research has released the latest iteration of its flagship Forrester Wave report; this report is entitled "The Forrester Wave: Endpoint Security Suites, Q3 2019." 
Our
Endpoint Security Buyer's Guide
helps you evaluate the best solution for your use case and features profiles of the leading solution providers and their key capabilities.
Researchers Chris Sherman, Stephanie Balaouras, Merritt Maxim, Matthew Flug, and Peggy Dostie created the 25 criterion report; through it, they identify the 15 most significant endpoint security suite providers. 
These 15 vendors are Bitdefender, BlackBerry Cylance, Carbon Black, Check Point, Cisco, CrowdStrike, ESET, FireEye, Kaspersky, McAfee, Microsoft, Palo Alto Networks, Sophos, Symantec, and Trend Micro. 
The Wave Report describes Forrester's findings; specifically, it examines how each provider meets its researchers' evaluation criteria. Thus, with this information, Forrester's researchers place each vendor on their Wave; the graph, in turn, positions each vendor as a Leader, Strong Performer, Contender, or Challenger in relation to one another. 
The editors of Solutions Review read The Forrester Wave: Endpoint Security Suites, Q3 2019 report. Here's what we found. 
Key Capabilities in Endpoint Security Suites, Q3 2019
Within the Forrester Wave Report, the researchers outline some of the key capabilities of modern endpoint security suites. 
First, the Forrester Wave notes the importance of behavioral protection, especially as legacy technology becomes outdated. Second, endpoint security suites in Q3 2019 offer operating systems support, which becomes essential as more devices connect to networks. Third, endpoint security with risk-based security policies. Indeed, security leaders are concerned with increasing complexity in endpoint environments that comes with multiple operating systems
Leaders, Strong Performers, and Contenders
In The Forrester Wave: Endpoint Security Suites, Q3 2019, no vendor received the title of Challenger. Cisco, Palo Alto Networks, and FireEye all received the label of Contenders. Additionally, Forrester labeled ESET, McAfee, Carbon Black, Bitdefender, and BlackBerry Cylance as Strong Performers. 
Therefore, that leaves seven solution providers as Leaders: CrowdStrike, Trend Micro, Symantec, Microsoft, Sophos, Kaspersky, and Check Point.
Here's why:
CrowdStrike receives the distinction for its endpoint detection and response (EDR) lineage. Also, Forrester notes CrowdStrike for its technology-sharing partnerships and complex AV replacement deals. 
Forrester lauds Trend Micro for its history of endpoint security success and integrated threat intelligence. Further, Trend Micro provides controls of email, endpoint, network, and cloud around a single agent. 
Symantec receives praise for addressing the gaps in its security portfolio and for improving its EDR and mobile security offerings. Also, Symantec garners attention for its data security, asset management, and behavior security offerings. 
Microsoft offers advanced enterprise security with capabilities meant to replace third-party endpoint protections. Microsoft also offers integrated threat prevention and detection.
As a leader, Sophos offers tight integration between endpoint, network, and cloud security. Additionally, Sophos offers automation between network and endpoint security as well as full-disk encryption.
Kaspersky's strongest capabilities include threat prevention, malicious behavior protection, and attack remediation. Moreover, Kaspersky offers granular and risk triggered policy engines alongside endpoint management capabilities.  
Finally, Check Point integrates endpoint security with network security. Also, they offer attack surface reduction, detection, and automatic remediation; they do provide asset management capabilities. 
You can read the full Forrester Wave: Endpoint Security Suites, Q3 2019 here.

Latest posts by Ben Canner
(see all)