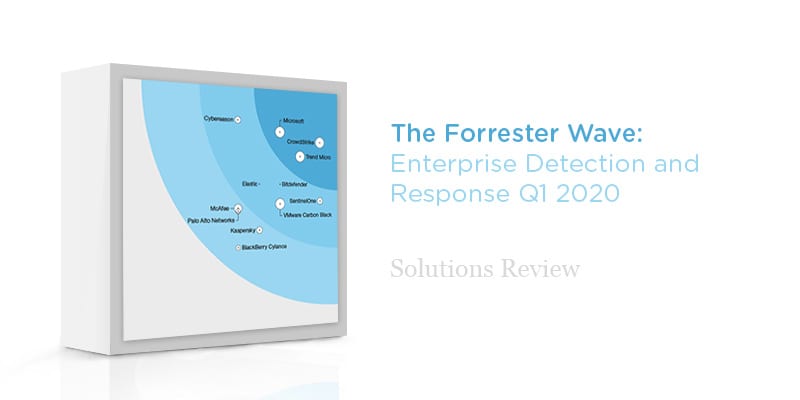 Disclaimer: The opinions described in this article belong to the researchers and editors of The Forrester Wave: Enterprise Detection and Response, Q1 2020.  Solutions Review does not expressly condone any individual solution or solution provider.
Yesterday, Cambridge MA-based analyst house Forrester Research released the latest iteration of its flagship Forrester Wave report; this report is entitled "The Forrester Wave: Enterprise Detection and Response, Q1 2020." 
Researchers Josh Zelonis, Joseph Blankenship, Matthew Flug, and Peggy Dostie created a 14 criterion report for analysis. Through it, they identify the 12 most significant security providers in this market. 
Our
Buyer's Guide for Endpoint Security
helps you evaluate the best solution for your use case and features profiles of the leading providers, as well as a category overview of the marketplace.
These 12 vendors are Bitdefender, BlackBerry Cylance, CrowdStrike, Cybereason, Elastic, Kaspersky, McAfee, Microsoft, Palo Alto Networks, SentinelOne, Trend Micro, and VMware Carbon Black.   
The Wave Report describes Forrester's findings concerning how each provider meets its researchers' evaluation criteria. Thus, with this information, Forrester's researchers place each vendor on their Wave; the graph, in turn, positions each vendor as a Leader, Strong Performer, Contender, or Challenger in relation to one another. 
The editors of Solutions Review read The Forrester Wave: Enterprise Detection and Response, Q1 2020. Here's what we found. 
Key Capabilities in Enterprise Detection and Response, Q1 2020
Enterprise detection and response, abbreviated to EDR, is actually another term for the much more familiar endpoint detection and response. These solutions and capabilities work to discover dwelling threats and malware which penetrated the digital perimeter. In fact, it operates in a similar manner to SIEM; it scans for threats and alerts your IT security team or security operations center (SOC). Then, you team can investigate thoroughly, using next-gen capabilities to freeze the suspicious programs. 
In the report, the Forrester researchers identify extended detection and response (XDR) as a major next-generation capability. Additionally, they note the importance of security analytics to successfully deliver detection, triage, and response capabilities. Ideally, enterprise detection and response should empower SOCs via incident-response security analytics. This can use root-cause analysis of the events of compromised systems. 
3 Leaders in the Forrester Wave for EDR
Forrester identifies three leaders in its Wave Report for EDR: CrowdStrike, Microsoft, and Trend Micro. 
CrowdStrike builds its service offerings to collect and enrich threat intelligence, which Forrester praises. Meanwhile, the researchers recognize Microsoft's focus on features and native integration (and gave note to its undo button on its remediation page). Finally, Trend Micro receives attention for its XDR capabilities and its work to prevent phishing attacks.   
As for the other vendors, SentinelOne, Cybereason, Bitdefender, VMware Carbon Black, and Elastic are Strong Performers. Researchers named Kaspersky, McAfee, Palo Alto Networks, and BlackBerry Cylance as Contenders. There were no Challengers in this report. 
You can learn more about The Forrester Wave: Enterprise Detection and Response Q1 2020 here. Also, you can learn more about the endpoint security market with our Buyer's Guide available for free download. 

Latest posts by Ben Canner
(see all)