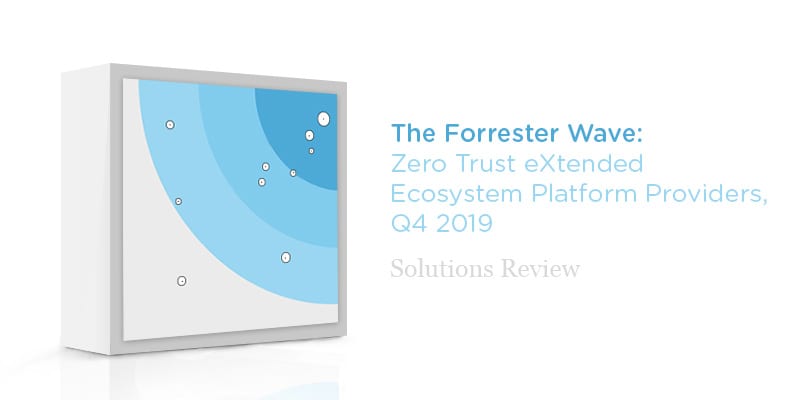 Disclaimer: The opinions described in this article belong to the researchers and editors of The Forrester Wave: Zero Trust eXtended Ecosystem Platform Providers, Q4 2019. Solutions Review does not expressly condone any individual solution or solution provider.  
Yesterday, Cambridge MA-based analyst house Forrester Research released the latest iteration of its flagship Forrester Wave report; this report is entitled "The Forrester Wave: Zero Trust eXtended Ecosystem Platform Providers, Q4 2019." 
Researchers Chase Cunningham, Joseph Blankenship, Matthew Flug, and Diane Lynch created the 16 criterion report; through it, they identify the 14 most significant zero trust providers.
These 14 vendors are Akamai Technologies, Check Point, Cisco, Cyxtera Technologies, Forcepoint, Forescout, Google, Illumio, MobileIron, Okta, Palo Alto Networks, Proofpoint, Symantec, and Unisys.
The Wave Report describes Forrester's findings; specifically, it examines how each provider meets its researchers' evaluation criteria. Thus, with this information, Forrester's researchers place each vendor on their Wave; the graph, in turn, positions each vendor as a Leader, Strong Performer, Contender, or Challenger in relation to one another. 
The editors of Solutions Review read The Forrester Wave: Zero Trust eXtended Ecosystem Platform Providers, Q4 2019. Here's what we found.
Key Capabilities in Zero Trust Providers in Q4 2019
Within the Forrester Wave Report, the researchers outline some of the key capabilities of modern zero trust platforms and providers.
First, Forrester emphasizes the importance of deploying Zero Trust through a singular vendor. Additionally, Forrester notes enterprises demand ease of use given the climate of difficult deployments in other solutions.
Forrester weighs rapid adoption of Zero Trust as a critical capability, as well as clear communication of cybersecurity strategy; security professionals must understand the benefits of Zero Trust to understand how it can help them achieve their objectives. Also, Zero Trust must support microsegmentation and universal policy enforcement even across disparate environments.
Finally, Zero Trust must provide identity beyond IAM, according to Forrester. These solutions must focus on the end-user, especially in bring-your-own-devices (BYOD) cultures.
Leaders, Strong Performers, and Contenders
In The Forrester Wave: Zero Trust eXtended Ecosystem Platform Providers, Q4 2019, no vendor received recognition as a Challenger. In fact, only one vendor—Proofpoint—even received the title of Contender. 
Indeed, Forrester named the majority of Zero Trust providers as Strong Performers and Leaders. Cyxtera Technologies, MobileIron, Symantec, Unisys Stealth, Forcepoint, Google, Check Point, and Forescout are all Strong Performers in Zero Trust. 
This leaves five vendors as Leaders in the Zero Trust eXtended Ecosystem Platform Providers Wave: Cisco, Illumio, Palo Alto Networks, Akamai Technologies, and Okta. 
Cisco garners praise for returning to the cybersecurity space, driven by Zero Trust technologies. It also receives attention for deployment and ease of use, as well as its integration of Duo. 
Illumio focuses on microsegmentation and can provide enterprises with a well-defined and clearly illuminated asset maps across the infrastructure. Also, this vendor can hook in encryption and mandate its use for legacy and newly discovered applications.     
Meanwhile, Palo Alto Networks—a forerunner of Zero Trust technologies—gains its Leader position for its acquired component technologies; it can extend Zero Trust to the cloud and to disparate workloads.
Additionally, Akamai Technologies provides enterprises with its own Zero Trust learning and education course to help familiarize them with specifics. It works to mitigate threats across the enterprise via shared credentials and excessive permissions. 
Finally, Okta—as an identity and access management provider—offers advanced Zero Trust technologies. It extends security-focused infrastructures to the end-user and for infrastructures of all environments. 
You can read the full Forrester Wave: Zero Trust eXtended Ecosystem Platform Providers, Q4 2019 report here. Also, you can learn more about Zero Trust in our 2019 Endpoint Security Buyer's Guide.

Latest posts by Ben Canner
(see all)