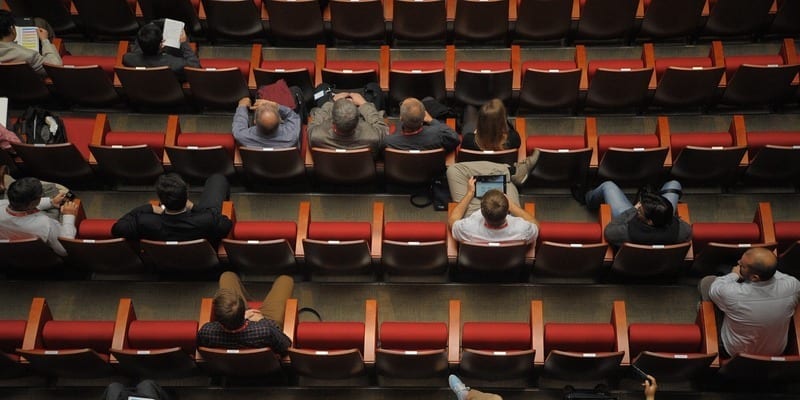 This is a directory of the best cybersecurity events and conferences. We do our best to provide readers with buyer and practitioner resources, including the Solutions Review Buyer's Guide. However, sometimes the best way to glean new information is to find it in person. 
What are the best cybersecurity conferences to attend in 2020? The editors at Solutions Review compiled the year's most anticipated InfoSec events based in the USA; these tech conferences offer some of the best insights in cybersecurity, including in endpoint security, SIEM, or identity management.
Cybersecurity conferences in 2020 promise to feature some of the most prominent names in the field sharing their findings. Additionally, these events offer you the opportunity to network with other buyers and practitioners, attend workshops, and gain hands-on experience. 
If you want to watch the most critical keynote speeches or experience pivotal best practices demonstrations, you need to start making your reservations. Therefore, we scoured the web and consulted with conference representatives to bring you the top 11 cybersecurity conferences of 2020.
Events are listed in chronological order and may include additional dates. Also, clicking More Information directs you to the event home page.
11 Must-Attend Cybersecurity Conferences in 2020
RSA Conference 
Date: February 24–28
Location: San Francisco, CA 
The RSA Conference focuses on fostering cybersecurity awareness and culture in companies. Additionally, the conference remains one of the largest in cybersecurity, and one of the longest-running (over 30 years).In 2019, The RSA Conference hosted 42,000 attendees and 700 speakers from around the world. Also, the conference features sessions, workshops, and 20 unique topical tracks. For 2020, scheduled keynote speakers include Mary O'Brien of IBM, astronaut Dr. Peggy Whitson and activist Tracy Edwards. 
Women in Cybersecurity
Date: March 12–14
Location: Aurora, CO
Established in 2012, the Women in Cybersecurity (WiCyS) serves as a non-profit organization for fostering a community of engagement, encouragement, and support for women technologists—whether they work in academia, research, or the cybersecurity industry. Additionally, WiCyS features presentations, keynotes, and hands-on workshops, as well as mentor matching and networking socials. Notably, the conference offers low-cost tickets and even further discounted student rates. 
InfoSec World
Date: March 30–April 1
Location: Lake Buena Vista, FL
InfoSec World, the conference which focuses on the business of cybersecurity, represents one of the longest-running in the world. It brings together expert speakers, security practitioners, and industry leaders to address today's digital threats. A common theme of InfoSec World is how to cultivate business while preventing and responding to security challenges; conference workshops explores wireless and DevSecOps. Additionally, speakers for InfoSec World 2020 include Matt Alderman of Security Weekly and Candy Alexander of ISSA.
Also, this conference allows opportunities to earn Continuing Professional Education credits and participate in "capture the flag" challenges.
IBM THINK 2020
Date: May 4–7 
Location: San Francisco, California
Last year, IBM THINK 2019 drew over 30,000 attendees. It offers 13 curriculum areas ranging from blockchain to mobile, as well as a dedicated track for security professionals. In addition to keynotes, trend talks, innovation stories, and demonstrations, the conference offers the Think Academy; this allows for hands-on lab experiences and technical certification in open technologies including hybrid multi-cloud and AI. Also, speakers in 2020 include human rights lawyer Amal Clooney, Jane McGonigal of the Institute for the Future, and Jim Whitehurst of Red Hat. 
41st IEEE Symposium on Security & Privacy
Date: May 18–20
Location: San Francisco, CA
This conference is organized by the Institute of Electrical and Electronics Engineers; it provides a forum for presenting developments in computer security and electronic privacy; in fact, this offers a conference dedicated to hard-hitting cybersecurity research. This year, workshops include the Internet of Safe Things, Deep Learning and Security, and Cyber Resilient Supply Chain Technologies. While the full agenda isn't announced yet, they will probably explore security theory, design, and verification.   
Gartner Security & Risk Management Summit
Date: June 1–4
Location: National Harbor, MD
One of the largest cybersecurity conferences in 2020 brings together security, risk management, and business continuity management leaders; it features over 3,500 attendees, 220 exhibitors, and 130 research-driven sessions. Also, the Gartner Security & Risk Management Summit 2020 offers valuable insights into security, risk, and resilience in addition to threat intelligence. The conference promises to explore best practices for cloud security and privacy and speeches by Gartner researchers.      
Identiverse
Date: June 8–11
Location: Denver, CO
Identiverse positions itself as one of the largest identity industry conferences. It devotes itself to the examination and discussion of the best practices of identity security. As such, Identiverse features keynotes by identity experts, information sessions, masterclasses, and exposure to the latest technologies. Based on years past, Identiverse promises over 2,000 attendees, 150 sessions, and 120 exhibitors. However, the full agenda for 2020 has not yet been released. Topics for 2020 may include new identity and privacy compliance mandates, authentication, and verification. 
Black Hat USA
Date: August 1–6 
Location: Las Vegas, NV
Black Hat USA offers a professional forum for cybersecurity—one with its own extensive history. It gathers InfoSec professionals, experts, hackers, industry leaders, executives, and more. Further, it provides presentations, keynotes, workshops, vendor booths, and after-hours parties. Black Hat USA discusses and dives into the latest in security research, development, and trends in a vendor-neutral environment. They accomplish this through their Black Hat Briefings.
DEF CON
Date: August 6–9
Location: Las Vegas, NV
Here, we present one of the longest-running cybersecurity conferences and one of the most famous. Attendees to this hacking conference not only includes hackers, but security researchers, industry professionals, and journalists. DEF CON features discussions on computer-and-hacking-related subjects as well as unique competitions and challenges. This conference may not resemble many of the others on this list of cybersecurity conferences in 2020. However, it is a unique experience. 
29th Usenix Security Symposium
Date: August 12–14
Location: Boston, MA
The Usenix Security Symposium gathers together researchers, practitioners, and system administrators to dive into the security and privacy realms. Usenix allows open access to research; indeed, the Symposium includes more than 80 refereed paper presentations as well as invited talks and various sessions. Moreover, their topics cover wireless security, hardware security, mobile security, and more.
GSX 2020
Date: September 21–23
Location: Atlanta, GA
The ASIS Global Security Exchange (GSX) is one of the leading conferences for security management professionals; it brings together cyber, operational, and physical security professionals from across the private and public sectors. Additionally, GSX provides attendees with networking opportunities and peer-reviewed learning experiences.  
In conclusion, to find out more about cybersecurity and other topics, check out our Endpoint Security Buyer's Guide. We cover the top providers and key capabilities in the market. 

Latest posts by Ben Canner
(see all)