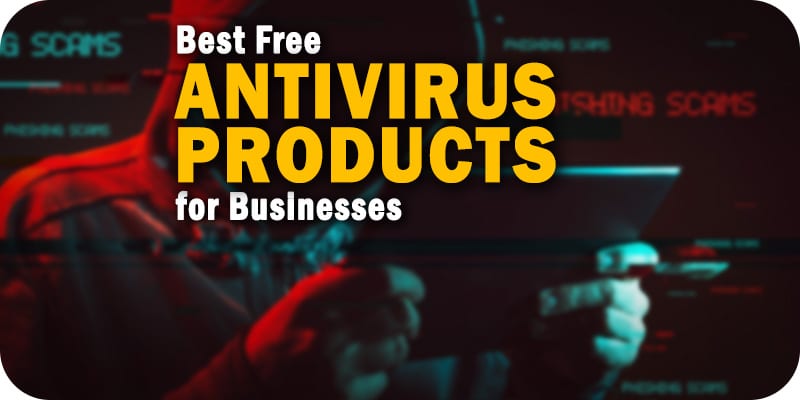 Should your enterprise seek out a free antivirus tool? What are the 10 best free antivirus products for businesses? How do they compare to enterprise-level endpoint security solutions?
Your enterprise faces perpetual cyber-attacks in a variety of forms: ransomware, cryptocurrency mining malware, fileless malware, and Trojans. Without an adequate digital perimeter, your enterprise leaves itself vulnerable to external threat actors.
However, selecting, deploying, and maintaining a full enterprise-level endpoint security solution can place a burden on smaller businesses. Moreover, many enterprises don't invest enough in their cybersecurity to select a comprehensive endpoint security solution.
For small-to-medium-sized businesses (SMBs) struggling with their InfoSec budgets, a free antivirus tool can help.   
Home and Business Free Antivirus Products
Unfortunately, the selection of free antivirus tools for businesses can feel limited; many solution providers only offer free antivirus products for consumers or home protections rather than for businesses.
However, SMBs can still reap the benefits of these free endpoint security alternatives. For example, enterprises with a limited number of connecting endpoints can download consumer-grade antivirus on each. Regardless of focus, each antivirus solution can block malware and other digital threats. Yet this too can present particular problems with consistent deployment.
Overall, your enterprise must decide whether the benefits of free security products balance with its potential pitfalls, which we discuss in depth below.
ALERT: Cyber threats don't rest even during pandemics. Our
Buyer's Guide for Endpoint Security
helps you evaluate the best solution for your use case and features profiles of the leading providers, as well as a category overview of the marketplace.
The 10 Best Free Antivirus Products
Avast Free Antivirus
Avast Free Antivirus offers real-time file analysis for detecting malware, as well as access to threat detection networks. In addition, it offers a machine-learning antivirus tool alongside Wifi and Browser Security.  
Panda Free Antivirus
Panda Free Antivirus operates on Windows, Mac. and Android and specializes in USB protections. It can scan all installed applications in real-time, and even offer some free VPN services.
ClamWin
One of the most well-known free antivirus products, ClamWin works best on Windows OS. It offers a virus scanner with scheduler, open-source code, and automatic downloads from its continually updated Virus Database.
Comodo
Comodo also provides fully-fledged endpoint security and draws from their solutions for their free antivirus. Thus their product can defend against unknown files before they gain access, receive real-time security updates, and remove dangerous websites.
Windows Defender/ Microsoft Security Essentials
The distinction here comes from the OS of your PCs. Regardless, this free antivirus usually comes included with the purchase of new PCs. Windows Defender operates in the background; it scans systems not currently in use to avoid disrupting your business processes.
Bitdefender Antivirus Free Edition
Bitdefender Antivirus Free Edition offers a solid, open-source antivirus solution requiring little technical skill. Additionally, it offers behavioral detection and active application monitoring.
FortiClient
FortiClient reduces the risk of malware, blocks spam URLs, and block exploits kits. Moreover, it provides a centralized dashboard for controlling security across multiple endpoints. FortiClient supports web browsers and PDF readers.
Nano Antivirus
Nano Antivirus works with Nano Antivirus Sky Scan. The former provides protection against winlockers and ransomware. The latter manages the Antivirus on your devices and exclusively serves touchscreen endpoints. Nano can offer cloud scanning without restriction.
AVG Antivirus
This one serves as an example of a free security product not specifically designed for business use; however, it comes with a good reputation from small business clients. AVG Antivirus provides "Do Not Track" functions and PC tune-ups, as well as website safety ratings.
ZoneAlarm Free Antivirus
ZoneAlarm Free Antivirus offers data encryption and online privacy options as part of their product. In addition, it offers firewalls and backup features in case of breach or ransomware. ZoneAlarm also offers wireless network protection with real-time security updates.
The Potential Pitfalls of Free Antivirus Tools
Your enterprise, regardless of its size, should consider more than free antivirus tools and software for its endpoint security. While it may appear inexpensive in the short term, it can actually create problems for your cybersecurity in the long term.
Of course, antivirus remains an essential component for any digital perimeter. What enterprises tend to forget is that antivirus can't serve as the end-all and be-all of their digital perimeter. Above all, your enterprise needs to embrace fully-fledged endpoint security to better defend itself against modern digital threats.
Here's some of what your business needs that free tools can't provide:
Fileless Malware Protection
Almost all antivirus tools available for free use signature-or-file-based scanning capabilities to search for threats. While necessary, this can't detect increasingly popular fileless malware attacks. These cyber-attacks exploit natural endpoint processes to conceal themselves. Overall, only next-generation endpoint security can detect fileless malware.
Endpoint Detection and Response (EDR)
EDR serves an essential function in this detection-focused cybersecurity paradigm. EDR can help IT security teams detect threats that evaded your prevention capabilities and gained access to your network. It can even generate security alerts for IT team investigation. Indeed, EDR might be considered the hallmark of next-generation endpoint protection platforms.
Internet of Things (IoT) Protection
IoT devices are notoriously porous, allowing hackers into enterprise networks with little effort. Often, they remain dark for legacy endpoint visibility capabilities, enabling threat actors to conceal their attacks. Without next-generation endpoint security, IoT devices provide hackers with an easy route and means for lateral movement or island hopping attacks.    
Patch Management
Patches and upgrades do not just constitute an annoyance. They contain vital threat intelligence necessary for staying up-to-date with modern cyber-attacks. However, trying to manage patches and upgrades across all devices can prove a hassle without a true endpoint protection platform. This can disrupt business processes and potentially create security holes.
Sandboxing
Sometimes, your enterprise needs to evaluate an unknown application or program before allowing it into your network. Next-gen endpoint security can sandbox these unknown programs; this allows your security team to observe their behaviors in a simulated environment. From there, they can remove malicious applications or allow trustworthy applications into your network.

If you would like to learn more about what endpoint security can do for your enterprise, you should check out our Endpoint Security Buyer's Guide. We outline the top vendors in the field and their key capabilities.  

Latest posts by Ben Canner
(see all)