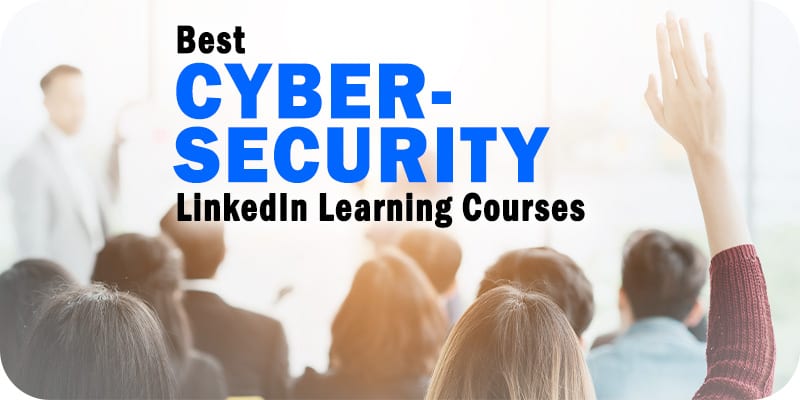 The editors at Solutions Review have compiled this list of the 12 Best Cybersecurity LinkedIn Learning Courses to consider if you're looking to grow your skills.
Originally Lynda.com, LinkedIn Learning is LinkedIn's own video course website. Each course in its catalog is taught by industry experts in software, creative, and business skills. For our audience, the editors of Solutions Review compiled this list of the 12 Best Cybersecurity LinkedIn Learning Courses available now. Click GO TO TRAINING to learn more and register for these Cybersecurity LinkedIn Learning courses.
The 12 Best Cybersecurity LinkedIn Learning Courses
Our Take: 
Lisa Bock is a Security Ambassador and an expert in Ethical Hacking. Her course is a must-learn for businesses and individuals alike. 
Description: What is ethical hacking? When it comes to cybersecurity, hacking comes in many colors: white, grey, black, and shades in between. White hat hackers use their skills for good. They practice ethical hacking: involved testing to see if an organization's network is vulnerable to outside attacks. Ethical hacking is key to strengthening network security, and it's one of the most desired skills for any IT security professional. If you're interested in becoming an ethical hacker, or getting started securing your own network, this introduction is for you. Security expert Lisa Bock explores today's threat landscape, dissecting the top attack vectors and motives for attacks. Lisa identifies a variety of ways to secure an organization, explores policies that help enforce security objectives, and more.
Go to Training
Our Take: 
Mike Chapple is a cybersecurity and analytics educator and leader with over 20 years of experience, easily qualified to lead this certification course. 
Description: The CompTIA Security+ exam is an excellent entry point for a career in information security. The latest version, SY0-501, expands coverage of cloud security, virtualization, and mobile security. This course prepares exam candidates for the critical Threats, Attacks, and Vulnerabilities domain of the exam. By learning about malware, networking and application security exploitations, and social engineering, you'll be prepared to answer questions from the exam—and strengthen your own organization's systems and defenses. Author Mike Chapple, an IT leader with over 15 years of experience, also covers the processes for discovering and mitigating threats and attacks, and conducting penetration testing and scanning for vulnerabilities. 
Go to Training
Our Take: 
Lisa Bock is a Security Ambassador and an expert in Ethical Hacking. Her numerous courses on LinkedIn Learning indicate deep expertise. 
Description: You've done everything you can to logically secure your systems, along with layering in user education and providing physical security. However, the only way to know if your defenses will hold is to test them. This course looks at one of the most important skills of any IT security professional: penetration testing. Penetration testing is the process to check if a computer, system, network, or web application has any vulnerabilities. Cybersecurity expert Lisa Bock reviews the steps involved in performing a worthwhile penetration test, including auditing systems, listing and prioritizing vulnerabilities, and mapping out attack points a hacker might target. She also defines the various types of "pen" tests—such as black, grey, and white box, announced vs. unannounced, and automated vs. manual testing—and the techniques and blueprints a pen tester should use to test everything from Wi-Fi to VoIP. Finally, she discusses how to choose and work with an outsourced pen-testing organization, which can bring a valuable outsider's perspective to your IT security efforts.
Go to Training
Our Take:

Lisa Bock is a Security Ambassador and an expert in Ethical Hacking. She can and does cover multiple aspects of ethical hacking for beginners and experts. 
Description: Social engineering is a technique hackers use to manipulate end-users and obtain information about an organization or computer systems. In order to protect their networks, IT security professionals need to understand social engineering, who is targeted, and how social engineering attacks are orchestrated.
In this course, cybersecurity expert Lisa Bock discusses the methods a hacker might use, including embedding malicious links and attachments in emails and using mobile devices and social media to deploy an attack. She discusses the concept of "misuse of trust"—how hackers use charm, power, and influence to penetrate an organization—and why you need to be extra cautious with the disgruntled employee. Finally, Lisa discusses countermeasures security professionals can take to address these attacks.
Go to Training
Our Take:
Marc Menninger is a security leader with over 15 years of practical enterprise security experience.
Description: As IT systems continue to grow in complexity, cybersecurity threats are becoming increasingly more effective and damaging. News headlines regularly announce enormous data breaches and sophisticated hacks. How are these attackers getting in, and what actions can you take to protect against them? In this course, Marc Menninger describes some of the most common cybersecurity threats, including phishing and ransomware, as well as newer attack vectors like cryptojacking, cloud-based threats, and unsecured Internet of Things (IoT) devices. He then teaches the best countermeasures for reducing or eliminating the impact of these threats.
Go to Training
Our Take: 
Sam Sehgal is a cloud and Application security leader with experience in leading security strategy and execution.
Description: Artificial intelligence (AI)—when leveraged with preparation and guardrails—is a game-changing approach to solving complex problems in cybersecurity. In this course, instructor Sam Sehgal delves into AI in the context of information security, providing use cases and practical examples that lend each concept a real-world context. Sam goes over the six main disciplines of AI and explains how to apply these disciplines to solve pressing security problems, such as the challenges of data at scale and speed in threat response. He covers machine learning techniques and their suitability for security issues, as well as the general limitations and risks of using AI for security. Plus, he shares how to best prepare your organization to apply AI-driven security.
Go to Training
Our Take: 
Malcolm Shore is Chief Security Architect at David Lynas Consulting and an Adjunct Professor of Cybersecurity. 
Description: Set a rock-solid foundation for your network, users, and data by learning about the basics of cybersecurity. Security expert Malcolm Shore describes how to assess and mitigate risks using various cybersecurity frameworks and control standards, such as NIST, COBIT 5, and the Payment Card Industry Data Security Standard (PCI DSS). Malcolm details pertinent cyber threats and how they operate, including how cyber-criminals hide their attacks, how advanced persistent threats (APTs) work, and even how to determine what's real and what's merely cyber fear, uncertainty, and doubt (FUD). Throughout the course, he also covers managing cyber risk; selecting and applying controls; and the overall cybersecurity lifecycle, from managing defense to responding to cybersecurity incidents when they occur.
Go to Training
Our Take: 
Serge Borso is an Information Security Expert and the Owner of SpyderSec. He leads penetration testing engagements. 
Description: Cybersecurity can be an intimidating world to navigate. To speak intelligently on the subject, one must have a basic understanding of certain acronyms and terminology—much of which isn't immediately easy to decode. This practical course was designed to help beginners build their cybersecurity vocabulary, and give them the foundational knowledge they need to approach this subject with confidence. Here, instructor Serge Borso breaks down the vocabulary heard in the cybersecurity industry, and presents scenarios where those words, phrases, and acronyms are used. Upon wrapping up this course, you should have a solid foundation of what cybersecurity is, and what it entails.
Go to Training
Our Take: 
Malcolm Shore has the experience both in cybersecurity and in teaching to make this course engaging and insightful. 
Description: Protect your network from cyber-attacks. In this course, Malcolm Shore shows how to use the latest tools to discourage and combat hackers, phishers, and snoops attempting to infiltrate your Windows and Linux systems. Learn what forms cyber-attacks can take, as well as the two most common types of protection you can build into your system: antivirus protection and firewalls. Then, learn how to scan your network for suspicious files, detect intruders with Netcat, and identify vulnerabilities at the host level with Nessus scans. Malcolm also shows how to combat application-level threats and monitor packet-level activity on your network.
Go to Training
Our Take: 
Malcolm Shore's knowledge of security architecture extends to the cloud, and he imparts that knowledge to all students. 
Description: More and more companies are migrating their applications and infrastructure to the cloud, shifting operational aspects to service providers such as Microsoft and Amazon. However, cloud computing is a shared responsibility, especially when it comes to keeping your data, users, and systems safe. In this course, Malcolm Shore outlines the major forms of cloud technology, its benefits and risks, and the cybersecurity standards and body of knowledge required to mitigate those risks. He introduces concepts such as Software as a Service (SaaS), Platform as a Service (PaaS), and Infrastructure as a Service (IaaS) and the different deployment models available. He then reviews offerings from Microsoft Azure, Amazon Web Services, and Google Apps. Malcolm also shows the Security as a Service (SecaaS) capability of each platform, which can be used to identify unauthorized access and put cloud security defenses like encryption, logging, and monitoring into place.
Go to Training
Our Take: 
Lis Bock's knowledge of ethical hacking extends to cryptography and network security, which she masterfully imparts to her students. 
Description: Though technology changes rapidly, the need to assure the confidentiality, integrity, authenticity, and accountability of information does not. Understanding the basics of cryptography is fundamental to keeping your networks, systems, and data secure. In this course, Lisa Bock reviews the historical and present-day uses of encryption, including techniques such as symmetric and asymmetric encryption, algorithms, and hashing. She also reviews message digest and passwords and discusses practical ways to apply cryptography to ensure data security and integrity. By the end of this course, you'll have a solid understanding of what it takes to move and store data securely.
Go to Training
Our Take: 
Malcolm Shore's knowledge also extends to ethical hacking practices and practices. 
Description: Wireless networks are convenient and popular, but poor configuration and encryption leave them open to attack. Hackers can use Wi-Fi vulnerabilities to infiltrate your entire network. Security professionals need to know how to detect, prevent, and counter these kinds of attacks using the latest tools and techniques—the subject of this course with cybersecurity expert Malcolm Shore. Malcolm covers everything from configuring basic security to understanding how hackers extract passwords, harvest connections at rogue access point, and attack networks via Bluetooth. He also explains how to select the right antennae for testing and introduces some sophisticated Windows and Linux tools to scan for vulnerabilities, including Acrylic, Ekahau, and Wireshark. By the end of the course, you should be able to shore up your wireless connections and gain confidence that your local network is safe to use.
Go to Training
Those were our picks of the top 12 Best Cybersecurity LinkedIn Learning Courses to consider in 2021. Also, check out our Buyer's Guide for in-depth market research and analysis. 
Solutions Review participates in affiliate programs. We may make a small commission from products  purchased through this resource.

Latest posts by Ben Canner
(see all)