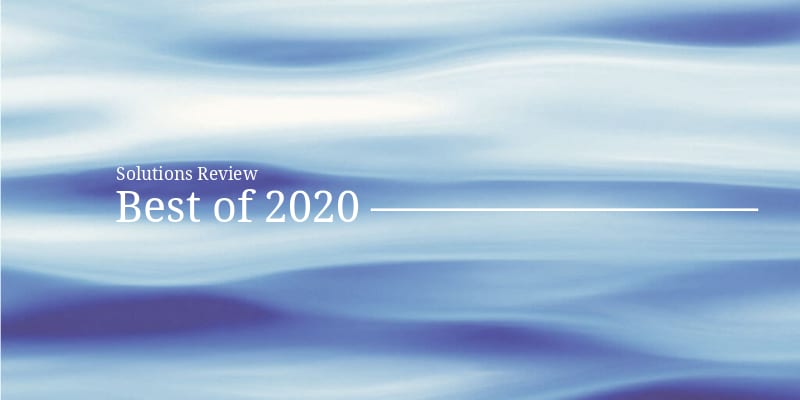 Solutions Review's listing of the top Endpoint Security vendors is an annual mashup of products that best represent current market conditions, according to the crowd. Our editors selected the top Endpoint Security products based on each solution's Authority Score, a meta-analysis of real user sentiment through the web's most trusted business software review sites and our own proprietary five-point inclusion criteria.
Who are the 22 Best Endpoint Security Companies for 2020? 
Despite the flood of information on endpoint security capabilities and features, the core of endpoint security remains the same. Namely, these solutions help businesses prevent malware from penetrating their networks and discover dwelling threats. Next-generation endpoint security goes beyond antivirus—it fortifies new components of the decentralized digital perimeter. These include applications, ports, mobile devices, Internet of Things (IoT) devices, and the cloud. Recently, the cloud, in particular, constitutes a major obstacle to enterprises looking to protect themselves against outside intrusion. 
For business cybersecurity, modern endpoint security continues to shift towards a detection and response model rather than a prevention model. In fact, the growing popularity of endpoint detection and response (EDR) indicates the importance of alerting and investigations in cybersecurity. Also, the blurring of the lines between identity management and endpoint security crops up in discussions surrounding the digital perimeter. 
Therefore, selecting the best endpoint security company to work with can prove a daunting task. We're here to help. That's why our editors have compiled this list of the 22 endpoint security companies to consider when researching new solutions.   
Check out our online endpoint security best practices section for even more guides, advice, and how-to content. Note: Companies are listed in alphabetical order, with only slight deviations due to acquisitions or rebranding. 
The 22 Best Endpoint Security Companies for 2020
Bitdefender
Bitdefender's GravityZone Enterprise Security is a modular solution delivering centralized management and deployment for a range of endpoints: cloud providers, servers, desktops, laptops, and mobile devices. Updates to the endpoint security suite emphasize protecting anti-ransomware attacks and anti-exploit technology. Recently, it released products including the GravityZone Ultra Suite. Also, it began focusing on services in their approach.
VMware Carbon Black
With VMware acquiring Carbon Black in 2019, its endpoint security software—Cb Defense—offers streaming malware protection and EDR to detect; also, it can prevent bad actors from attacking your organization in real-time. VMware Carbon Black offers custom APIs, giving IT teams the ability to integrate security capabilities from a variety of solutions. Additionally, it offers Cb Protection, which is designed to replace legacy endpoint security solutions. 
Check Point Software
Check Point Software provides an endpoint security solution that combines data and network security with threat prevention technologies, including remote access VPN for both Windows and Mac software. Its Sandblast Zero-Day Attack Protection prevents potential security threats at the initial stages, which can help prevent significant damage before it occurs. Also, it offers anti-bot technology to block command and control technologies and a managed security service option. 
Comodo
Comodo offers endpoint security solutions that provide a centrally managed, 7-layered suite protecting end-user devices and their applications against malware and other digital threats. System administrators can use Comodo to terminate suspicious network connections, force-close processes, stop malicious services, and uninstall applications directly. Enterprise administrators can also resolve processes causing CPU or RAM saturation. It's one of the best endpoint security companies for 2020 for a reason. 
ALERT: Cyber threats don't rest even during pandemics. Our
Buyer's Guide for Endpoint Security
helps you evaluate the best solution for your use case and features profiles of the leading providers, as well as a category overview of the marketplace.
GoSecure
Formerly called CounterTack, GoSecure leverages big data and behavioral analytics with a next-generation endpoint security solution called GoSecure EDR. Obviously, this uses EDR, machine learning, and behavioral analysis to recognize threat context and increase endpoint visibility. In fact, this allows its solution to catch threats missed by legacy signature-based detection methods. 
CrowdStrike
CrowdStrike's endpoint solution, Falcon Host, offers visibility in real-time and detects attacks within your enterprise software. Falcon Host integrates into your current environment and enables your IT security team to detect and block suspicious activity to prevent damage to your business. It covers Windows desktop and servers as well as Mac computers, whether on or off the network, and combines EDR and anti-malware into a single agent. Additionally, CrowdStrike Falcon for Mobile provides EDR for mobile devices. 
Blackberry Cylance
Acquired by Blackberry in 2018, 2019 Blackberry Cylance expanded its protections to mobile devices. Also, it broadened its capabilities to unified endpoint management and behavioral analytics. Also, Cylance built its reputation on the back of proactive and preventive antivirus technology based on proprietary artificial intelligence, machine learning, and algorithmic science.
Druva
Druva inSync is a unified data protection and information governance solution that delivers a single pane of glass for protecting and managing dispersed data across endpoints and cloud applications, ensuring that data is protected and governable by IT. With inSync, customers can dramatically increase the availability and visibility of business-critical data, while reducing costs, risk, and complexity. 
FireEye
FireEye utilizes a purpose-built, virtual machine-based security platform providing real-time threat protection to enterprises. It incorporates firewalls, IPS, antivirus, and gateways as a means of supplementing signature-based detection methods. The FireEye platform uses a virtual execution engine with threat intelligence to expose and obstruct cyber-attacks in real-time. Certainly, it earns a spot among the best endpoint security companies for 2020. 
ALERT: Cyber threats don't rest even during pandemics. Our
Buyer's Guide for Endpoint Security
helps you evaluate the best solution for your use case and features profiles of the leading providers, as well as a category overview of the marketplace.
Forcepoint
Forcepoint emphasizes cloud security in its endpoint protection platforms. They design their systems with remote employees and multiple endpoint connections in mind—essential considerations for the enterprise undergoing digital transformation or planning to do so. Their programs watch for insider threats via behavioral analysis and use a multi-layered firewall to maintain network integrity even during device updates.
Ivanti
Ivanti combines the technologies of Heat Software and LANDesk. More specifically, Ivanti seeks to combine Heat's cloud solutions with LANDESK's IT systems management to deliver simplified service management processes, real-time visibility across enterprise services and infrastructure, and facilitate productive interactions in your business. Its solution can also implement application control for all your endpoints. 
Kaspersky
Kaspersky is renowned for its threat intelligence software and for its network of security experts located around the world. In fact, its mission statement dedicates them to fighting cybercrime and to innovating new techniques for stopping attacks. Also, it possesses an industry reputation for accurate malware detection and management for the layperson. Moreover, its products are well-regarded for their simple deployment and the thoroughness of their detection capabilities. 
LogMeIn
LogMeIn Central is a cloud-based endpoint management solution designed to enable IT professionals to effectively monitor, manage, and secure their endpoint infrastructure. LogMeIn's expertise in remote technologies supports enterprises with remote employees or endpoints scattered across the globe, allowing for centralized management. In addition, LogMeIn Central provides IT organizations with actionable security insights which can help increase productivity and reduce IT costs. 
ALERT: Cyber threats don't rest even during pandemics. Our
Buyer's Guide for Endpoint Security
helps you evaluate the best solution for your use case and features profiles of the leading providers, as well as a category overview of the marketplace.
McAfee
The McAfee Endpoint Security solution signals a transition away from the signature-based malware detection it helped innovate. Instead, it shifts to a model oriented to more machine learning, behavioral analysis detection, and prevention endpoint security methods with low user impact. McAfee offers machine learning behavioral analysis, real-time scanning, cloud analytics, application containment, and automated EDR. 
Microsoft
In addition to their PCs and operating systems, Microsoft also offers the Windows Enterprise Mobility and Security, a software endpoint security suite. This offers an integrated set of solutions designed to work with Microsoft's operating system smoothly without needing to interrupt workflow with a complex deployment. Also, it provides a cloud-based management system with high integration. 
Palo Alto Networks
Palo Alto Networks has combined network, cloud and endpoint security into one integrated platform that delivers automated prevention against cyberattacks. Its Traps endpoint solution focuses on the attacker's core techniques and when the attacker's path becomes known, the program blocks advanced attacks originating from executables, data files or network-based exploits. It is multi-method and completes a platform-centric approach to prevention.
RSA
RSA, a division of Dell Technologies since 2016, offers RSA NetWitness Endpoint as their threat detection and response solution. The RSA NetWitness Endpoint exposes targeted, advanced malware, highlights suspicious activity for investigation, and instantly determines the scope of a compromise to help security teams stop advanced threats faster. Therefore, its capabilities place it among the best endpoint security companies for 2020.
SentinelOne 
SentinelOne provides behavior-based anti-malware, anti-exploit, and EDR capabilities as an integrated endpoint solution; in other words, it incorporates prevention, detection and remediation capabilities in one program, which can be deployed on-premises or via the cloud. Moreover, SentinelOne offers real-time forensics to deliver investigative capabilities and multiple behavior detection methods. Also, it can predict malicious behavior across multiple threat vectors and close vulnerability gaps. 
Sophos
Sophos released Sophos Intercept X—a set of signatureless detection and prevention technologies designed to protect against endpoint attacks—in 2016. Intercept X targets exploits in applications and operating systems and provides specific countermeasures to ransomware. Since the release, Sophos has continued to be an enterprise-driven endpoint protection solution globally.
Broadcom (Symantec)
Broadcom (Symantec) offers a deep bench of endpoint security technologies that span a range of prevention, detection, and remediation capabilities. Cloud-based and shifting to a signatureless detection method, Symantec receives recognition as a thorough anti-malware solution globally. Additionally, it appeared in several industry reports for its endpoint security capabilities and email security offerings. 
Trend Micro
Trend Micro, Inc.'s endpoint security solutions ensure mobile and desktop protection against everything from traditional threats to the latest sophisticated, targeted attacks. Focusing on multi-layered security, exploitation protection, and machine learning, Trend Micro offers a full suite of EDR and EPP solutions. Further, it has focused on cloud security offerings and capabilities. 
Webroot
Rounding out our list of the best endpoint security companies for 2020, we present Webroot. Webroot's EPP Solution— SecureAnywhere Business Endpoint Protection—utilizes behavioral analysis, machine learning, and contextual threat intelligence. It allows Webroot to protect enterprises' networks while remaining lightweight and unobtrusive to business processes. Additionally, its solution provides multi-vector protection for all stages of endpoint attacks, mitigating long-term damage. 
In conclusion, don't forget to check out the Solutions Review Endpoint Security Buyer's Guide. We dive into their particular use cases and individual capabilities in-depth!

Latest posts by Ben Canner
(see all)