The 14 Best Browser Security Platforms to Consider in 2023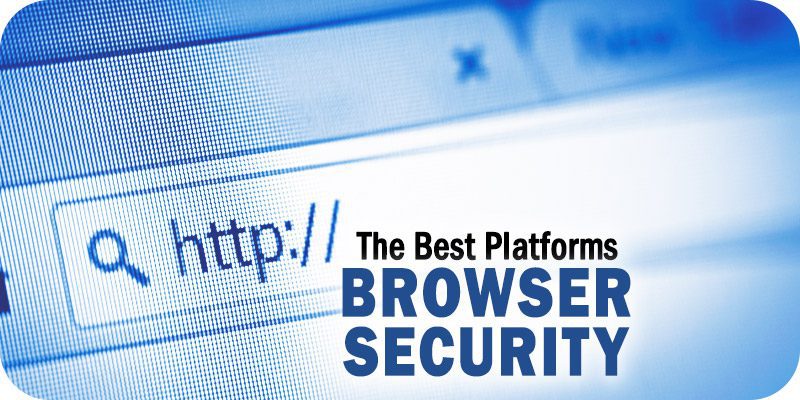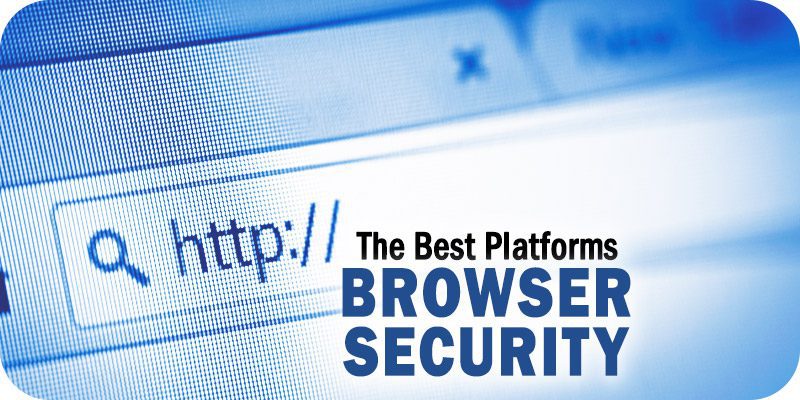 The editors at Solutions Review have compiled this list of the best browser security platforms to consider at the enterprise level.
Browser security as part of a cybersecurity suite is not new. Browser security as its own dedicated platform? For enterprises? That's a whole new beast. Thankfully these vendors recognize one of the most often overlooked points of entry in an enterprise's security, and made browser security the focal point of their platform. Whether as its own dedicated enterprise browser, a browser isolation console, or a versatile extension that works with the browser of your choice without having to run a separate app– these are the best browser security solutions to consider at the enterprise level.
Vendors are listed in alphabetical order. While a number of vendors offer browser security as part of a suite, the following vendors were selected based their solution being a stand-alone product or at least capable of being deployed separately from a larger suite.
The Best Browser Security Platforms in 2023
---
Platform: Silo
Description: Silo delivers secure anywhere, anytime web access, managed by policy and protected by rigorous controls. By shifting the exploit surface away from potential points of risk, Silo establishes trusted access to the web. Silo doesn't require infrastructure investment; its ability to easily scale lets IT focus on solving business problems, not managing procurement. And Silo can be used as a standalone native app, integrated with a browser or incorporated into any workflow using APIs, allowing IT to define a specific experience for users.
---
Platform: Citrix Enterprise Browser
Related Products: Citrix Secure Private Access, Citrix Remote Browser Isolation
Description: The Citrix Enterprise Browser is a secure Chromium-based enterprise browser that is embedded with the Citrix Workspace App and provides application security through zero trust, VPN-less access to web and SaaS applications. Ensure access to all browser-based applications is identity and context-aware. Protect access on a per-app, per URL basis, without the need for a VPN. Leverage comprehensive context prior to granting app access. More metrics from more sources allows you to assign the exact level of trust required from each user and device. You can gather granular endpoint data, validate user identities through native or third-party MFA solutions prior to granting app access, and even protect passwords with anti-keylogging and anti-screen scraping capabilities. This app protection helps prevent accidental screen sharing and defends against social engineering. Enforce granular controls for true "just enough" access. Precise access restrictions let you block insider and external threats for all browser-based apps. Prevent data loss with restrictions on printing, uploads, and downloads, as well as cut, paste, and copy clipboard features. You can also use watermarks for enforcement and direct apps to open in isolated browsers to block malware.
Platform: Cloudflare Browser Isolation
Related Products: Cloudflare Zero Trust
Description: Cloudflare Browser Isolation is a Zero Trust browsing service. It runs in the cloud away from your networks and endpoints, insulating devices from attacks. Zero Trust browsing stops malicious code on uncategorized, risky, or even low-risk sites from infecting users' devices. Set remote browser isolation policies from the same management dashboard where you manage application access, DNS/HTTP filtering, and more. Stop data loss and phishing by controlling user actions (keyboard input, copy, print, up/download) within apps or risky sites.
---
Platform: Garrison ULTRA
Description: Garrison ULTRA is a browser isolation solution built on hardsec-based technology. Garrison's platform combines user experience, scalability, ease of deployment and the ability to integrate seamlessly with your infrastructure. It works directly with your Chrome or Edge browser on PC and Mac, or with the freely downloadable Garrison App. Garrison ULTRA eliminates cyber threats whilst delivering full web access without putting your organization's sensitive data and systems at risk.
---
Platform: Honeywell Enterprise Browser
Description: The Honeywell Enterprise Browser enables corporations to run standard web applications and browse web content from a controlled environment. Enterprise Browser is a lock-down browser with isolation capabilities. Each connection is "sandboxed" into its own process, resulting in a safer browsing experience. Enterprise Browser allows for connection to/from only isolated points within the public and private cloud. This sandboxed environment keeps the end user productive and ensures end-point security while keeping the device managed.
---
Platform: Island Enterprise Browser
Description: The Island Enterprise Browser is built on Chromium, the same open source project that powers Chrome, Edge, and other mainstream browsers. Which means it looks, feels, and behaves exactly like your users expect. The Island Enterprise Browser provides a complete forensic audit record of all activities with granular control over the depth of what is captured by user, device-type, application and location. Island even captures events and insights as granular as copy/ paste, screen captures, printing, saving and custom information, which can be easily viewed as built-in dashboards, reports, or exported to your current aggregation platform. And where data protection and privacy concerns are needed, Island can anonymize all data to help you meet these requirements. Forensic audit logging within Island presents an entirely new dimension of information security telemetry to enrich your existing efforts.
---
Platform: LayerX
Description: LayerX is a browser-agnostic security platform is delivered as a lightweight extension that aggregates all activity data for monitoring and risk analysis purposes to enforce secure access and browsing. Meaning LayerX protects your entire browser ecosystem as is, without requiring your users to shift, wholly or partially, to a new browser. With LayerX, security teams configure activity policies to prevent risky user activities in the browser that can expose apps, devices and data to risk of compromise or data loss. Once an activity policy is activated, the LayerX cloud service pushes it to the extension that performs the actual enforcement on the browser. The extension has three functionalities: processing activity data and reporting to the cloud service, receiving policies from the cloud service and enforcing it, and analyzing risk together with the cloud service. Layer X integrates with identity management tools and zero trust access systems to ensure minimal overhead for security teams and efficient use of their time.
---
Platform: ManageEngine Browser Security Plus
Description: Browser Security Plus is an enterprise browser security tool that helps IT administrators manage and secure browsers across networks. It enables them to gain visibility on browser usage trends, harden browsers settings, control browser extensions and plug-ins, lock down enterprise browsers, and ensure compliance with stipulated browser security standards. All this helps admins protect their networks from cyberattacks, such as phishing attacks, watering hole attacks, ransomware, viruses, and trojans.
---
Platform: Perception Point Advanced Browser Security
Description: Perception Point's web security solution transforms the security of your native Chrome and Edge browsers. Advanced Browser Security isolates, detects and remediates all malicious threats from the web. It also protects access to sensitive enterprise web apps from unmanaged and 3rd party endpoints, preventing data loss by design. The Advanced Browser Security platform combines advanced detection of all web-based threats including phishing, malware, ransomware and APTs, a managed IR service and strong isolation of web browsing and application access to protect against external and insider threats.
---
Platform: Red Access
Description: Red Access secures the hybrid workplace with a "first-of-its-kind" agentless browsing security platform, introducing a new non-disruptive way to protect devices and browsing sessions from growing cyber threats in and outside of the office. Applying a "BYOB" (bring your own browser) mentality, users are protected via the Red Access proxy servers, deployed as an agentless platform. No more complexity of managing security agents and older generation solutions such as VPNs, VDIs, and so forth. Protect employees from potential browsing-based malware, on any web app, any browser, any device, wherever they work from. Control the activity and access of users to remotely accessible corporate resources with an advanced policy enforcement. Red Access capabilities include: URL filtering, file scanning, data loss prevention (DLP), phishing protection, zero-day prevention, cloud access security broker (CASB), and zero-trust network access (ZTNA).
Platform: Seraphic
Description: The Seraphic platform is an extension that offers enterprise-grade browser security
on any browser. Seraphic enables secure browsing for your employees and contractors, working from their corporate or personal devices, to protect enterprise assets while providing advanced governance and policy enforcement. Seraphic offers a lightweight browser agent that is easy to distribute– protecting your employees' browser against exploits (including zero-days), social engineering attacks (including spear phishing), and web application vulnerabilities (such as CSRF/XSS) exploitation and other web-based attacks, while providing your security team with unique runtime telemetry and enabling advanced governance and policy enforcement capabilities.
---
Platform: SlashNext Browser Protection
Description: SlashNext protects Windows, Mac, Chrome OS, and Linux users from phishing and rogue browser extensions regardless of which attack vector is used—email, ads, social media, search, collaboration platforms, and more. SlashNext Browser Protection comes in the form of cloud-powered browser extensions available for all major desktop browsers. No network traffic or personally identifiable information leaves the browser, so PII and user privacy remain safe.
---
Platform: SURF
Description: SURF is a chromium-based enterprise browser that brings Zero-Trust principles to the user via the browser. By configuring only a few policies, IT and security teams can significantly reduce the attack surface. It automatically enforces international privacy laws, such as: GDPR, PIPEDA, CCPA, LGPD, and IS2700 standards. By design, SURF is a powerful security tool requiring minimal maintenance. It protects the work environment regardless of physical location or device type and gives you full control over every aspect of the browser – add-ons, extensions, web filtering, transactional MFA, device posture checks, content rendering, and more.
---
Platform: TalonWork
Description: TalonWork is a Chromium-based browser that isolates web traffic locally on the endpoint, providing a responsive, native user experience. TalonWork integrates with popular Identity Providers to streamline user onboarding and policy enforcement. Talon is designed to bring security to managed and unmanaged devices, regardless of location, device type or operating system. TalonWork provides comprehensive monitoring of all work-related web browsing without impacting the privacy of your workforce or third parties. TalonWork audits user activities inside SaaS and web applications to address security and compliance requirements.
---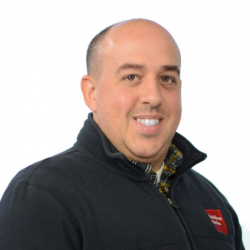 Latest posts by Mike Costello
(see all)