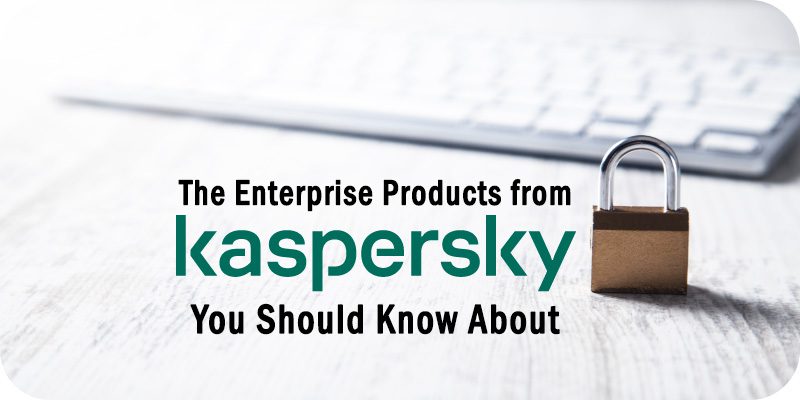 The editors at Solutions Review explore the enterprise products available from Kaspersky. 
Nothing matters more in cybersecurity than making sure you select and utilize the right solution to fit your business's individual use case. More industrial enterprises will need endpoint security that may not quite resemble the platform of a financial business or a retailer. An enterprise operating on the cloud or a hybrid environment needs protections that often don't resemble the capabilities necessary for the Internet of Things (IoT). 
Kaspersky offers a bundle of enterprise-level endpoint security solutions which can help businesses deploy and maintain a consistent endpoint security layer across the entire IT environment. We at Solutions Review took a look at its offerings. Here's what we learned. 
The Enterprise Products from Kaspersky You Should Know About
Kaspersky's Security Foundations features a combination of endpoint security, network security, and data protection. It's solution operates on cloud or on-premise, and provides built-in firewalls and behavioral analysis together with endpoint hardening and anomaly control. Additionally, it offers multiple security layers based on machine learning and leveraging global threat intelligence data to detect and block email-borne cyberthreats. For customization, enterprises can build on the Security Foundations to utilize Optimum and Expert Security. 
Hybrid Cloud Security solution provides multi-layered protection to multi-cloud environments.It can provide protection for both private and public cloud environments. Also, it offers managed hosting protection for all your workloads, whether running on IaaS or on in-house infrastructures; it integrates between core technologies of your cloud and its security layer via native API. 
Kaspersky Industrial Cybersecurity is a portfolio of technologies and services designed to secure every industrial layer, including SCADA servers, HMI, engineering workstations, PLCs, network connections, and people – without impacting on operational continuity and the consistency of industrial processes. Additionally, it offers training and awareness, threat intelligence, and customized offerings for different industrial needs. 
This set of enterprise products from Kasperksy protects telecommunication by protecting the exploitation of built-in backdoors or known vulnerabilities in firmware and identifies and prevents unauthorized logins. It can also protect closed systems without Internet access, protecting embedded systems. In fact, Kaspersky can harden and protect Microsoft Windows-based embedded devices and computers with a solution created to optimize security for Low-end systems with limited memory capacity, that doesn't require ongoing maintenance or internet connectivity. 
Kaspersky uses technologies empowered by human intelligence, including user verification, account take-over detection, fraud intelligence, behavioral analysis, and behavioral biometrics. Additionally, it provides Automated Fraud Analytics with real-time detection of sophisticated and industry-specific fraud cases. 
Kaspersky Threat Management and Defense delivers a combination of technologies and services to support the implementation of an Adaptive Security Strategy – helping security teams to prevent attacks, rapidly detect unique new threats, respond swiftly and accurately to live incidents, and predict future threats.
Those are the enterprise products from Kaspersky you should know about today. For more, check out the Endpoint Security Buyer's Guide. 
Solutions Review participates in affiliate programs. We may make a small commission from products  purchased through this resource.

Latest posts by Ben Canner
(see all)