Agile Manufacturing and Big Data: The IoT and Analytics Advantage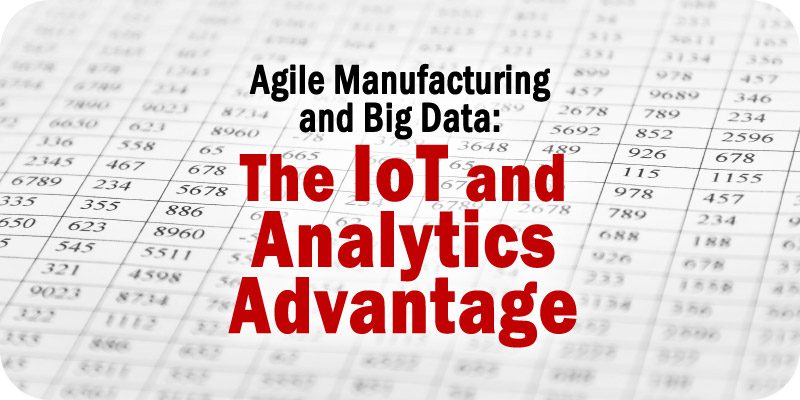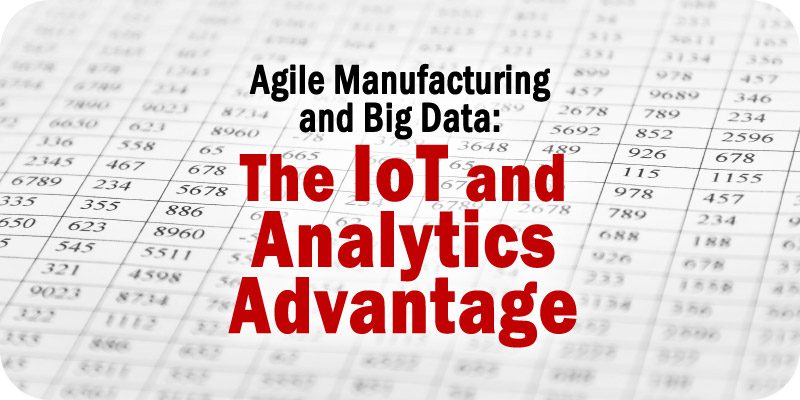 As part of Solutions Review's Contributed Content Series—a collection of articles written by industry thought leaders in maturing software categories—Maziar Adl, the Co-Founder and Chief Technology Officer at Gocious, shares insights on the relationship between agile manufacturing and big data.
Amidst a volatile economic period, supply chain disruptions, and product shortages, manufacturers have had to get creative to ensure efficiency and productivity in their factory operations. The introduction of digital transformation and the implementation of big data solutions helps elevate a business' offerings during these disruptions. A company's output can exceed consumer expectations and significantly increase profit margins when paired with agile manufacturing processes.  
The employment of IoT devices and analytics enhances product management lifecycles and roadmaps to improve overall ERP strategies. By implementing technology that identifies errors in real-time, manufacturers can evade a system-wide shutdown caused by an otherwise preventable mistake. Introducing IoT technology to an agile operational process ensures fewer catastrophes and greater consistency. 
Adopting Agility
To adopt an agile mindset is to condense. This shift is an act of compartmentalizing in that it breaks down multi-stepped internal processes and integrates them into fewer, more systemized procedures. By melding product and business strategies into a single roadmap view, manufacturers can predict outcomes more accurately, simplifying internal operations.  
The first step in adopting agility? Patience. Digital transformation does not happen overnight—instead, it is a gradual, collaborative effort amongst teammates choosing to dedicate their business to this process. The integration of initial innovation tools should be seamless. There should be little to no disruptions to the overall business structure to allow employees to adapt to its assimilation. 
The technology utilized to shift to an agile strategy undoubtedly aids a business's efficiency and overall performance capability. Furthermore, these streamlined processes can help combat profit-thinning hindrances, such as the lingering effects of COVID-19, ongoing supply chain disruptions, and the chip shortage. Product managers, for example, feel heightened pressure to perform well amidst such volatility. Thankfully, agile shifts can alleviate and remedy these stressors.  
As businesses navigate market volatility, inflation, and shortages, the product manager's goal is to remain one step ahead of these disruptions. Ultimately, the product manager must remain forward-thinking, anticipate consumer trends before they dominate the market, and modify product plans accordingly. The bottom line? Adopting agility means more seamless product development and oversight that lessens the pressure on product managers while simultaneously maximizing product output and, in turn, profit. 
[box style= "3"]Learn more about leading manufacturing software solutions with Solutions Review's Free Manufacturing ERP Buyer's Guide.[/box]
The Ascent of Analytics
IoT devices, or internet of things devices, are under the advanced manufacturing technology umbrella and, as mentioned, can identify errors before they can shut down production lines. These devices provide information about machinery maintenance and recognize existing weaknesses to locate issues before they arise. For example, suppose manufacturers see a problem within a specific product feature. In that case, they can better project a product's value and mitigate the increased cost of production (and, in turn, a percentage of the price turned onto the consumer). 
More impressively, companies can use these tools to analyze how product features measure which components are most widely used and which are more dormant. For example, if a manufacturer is producing and selling 100,000 units of seat warmers, digital IoT tools can help discern where and how the products are selling at higher rates. Let's say 10,000 of those seat warmers are used in a year, and of those 10,000, they're more prominent in colder climates. With this information, manufacturers can scale back their distribution of these seat warmers and prioritize allocation in the most popular regions.  
Implementing IoT analytics tools sets forth an improved roadmap that improves a business' ERP strategy. With the roadmap in place, manufacturers can prioritize what they want to build and what they want to improve upon, which are executed by their ERP strategy. In other words, information is passed to ERP systems to agile manufacturing operations to improve or adjust orders as needed. In the seat warmers example, the manufacturer would order fewer seat warmers and move the manufacturing to a more advantageous location. 
To introduce IoT analytics devices is to be agile, and to be agile is to adjust. Creating a data analytics network with sophisticated algorithms is inopportune for a business unwilling to embrace the flexibility and agility needed to incorporate such advancements. Agile manufacturing and data analytics work symbiotically to transform a business' required and overall performance. One without the other is a step toward efficiency without the monetary reward. 
---