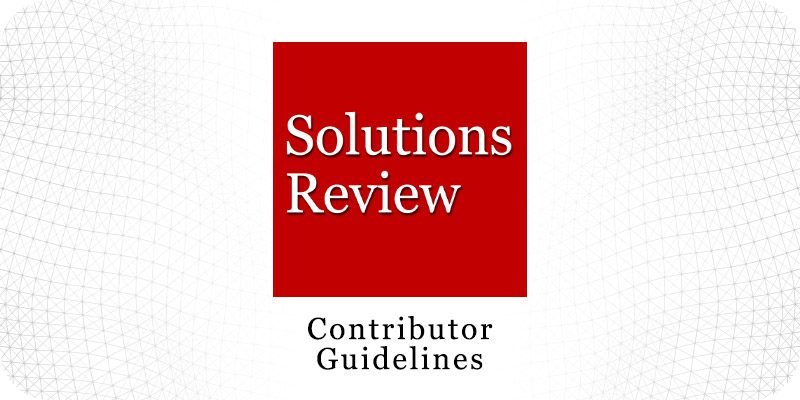 Solutions Review contributor guidelines are for Expert Insights Series submissions.
All materials submitted to Solutions Review for consideration in our Expert Insights Series must align with three overarching objectives:
Provide forward-thinking analysis that helps business software practitioners and buyers remain on-trend
Offer best practices for successful implementation, deployment, and piloting
Provide decision support during product/vendor evaluations
Solutions Review Contributor Guidelines: Requirements
Content must be written by an industry expert: C-level, technical or product leaders, no marketers
Articles must be accompanied by an author biography and headshot
Content must remain vendor-neutral, technology agnostic, and non-promotional
Articles may not promote or attempt to sell a specific software tool
Articles must meet a minimum word count of 750 words
Solutions Review must be the exclusive publisher
Contributors must connect with Solutions Review category editors on LinkedIn for promotion amplification
Final content submissions made via Google doc
Note: Contributor biographies must meet the same guidelines on non-promotion as listed above.
Solutions Review Contributor Guidelines: The Role of Our Editors
Note: Solutions Review editors reserve the right to edit articles for web content style: readability, grammar, and SEO.
During the pre-publishing process, Solutions Review editors will:
Create dedicated author byline for contributors.
Edit for web content style, as mentioned above.
Create custom graphics to pair with accepted contributions.
Add or remove links based on our style guidelines and ability to add business value.
During the post-publishing process, Solutions Review editors may:
Re-optimize articles for SEO (if necessary).
Share to Solutions Review's growing Universe of Influence on LinkedIn and Twitter.
E-mail promotion to our database of verified business software buyers and end-users.
Solutions Review Contributor Guidelines: Style
Do not double-space after periods.
Add relevant and resourceful hyperlinks (we reserve the right to edit).
The Oxford comma is OK.
Percent is used as a word, not a symbol.
Numbers under 10 are written out unless coming before the word "percent." Numbers 10 or higher are written as numbers.
If you're going to use acronyms, do so only after using the full version of the word or phrase.
When referencing a name for the first time, use a full name. For subsequent references, use the last name only.

Solutions Review is a collection of business software news and resource sites that aggregates, curates, and creates the leading content to connect buyers and sellers. Over the past six years, Solutions Review has launched 20 distinct and category-specific Buyer's Guide sites for technologies ranging from Cybersecurity to Big Data and WorkTech, as well as Identity and Access Management, Endpoint Security, Data Analytics and Data Management, Enterprise Resource Planning and Business Process Management, and Enterprise Cloud and Network Monitoring.
Latest posts by Timothy King
(see all)