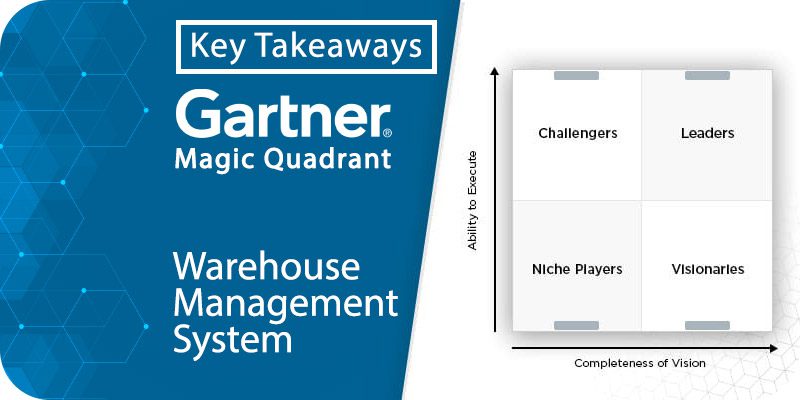 The editors at Solutions Review have highlighted the updates in the 2022 edition of Gartner's Magic Quadrant for Warehouse Management Systems and summarized the findings.
Analyst house Gartner Inc. recently released the 2022 version of its Magic Quadrant for Warehouse Management Systems. According to Gartner, a warehouse management system (WMS) is "a software application that helps manage and intelligently execute the operations of a warehouse or distribution center (DC)."
Gartner also identifies several core capabilities that every WMS should offer, including inventory management, receiving, put-away, cycle counting, stock locating, wave planning, order picking, order allocation, wave planning, packing, shipping, labor management, replenishment, and automated material handling equipment (MHE) interfaces. The 2022 report isn't available on Gartner's website yet, but the 2021 version is accessible now.
Key Takeaways: 2022 Magic Quadrant for Warehouse Management Systems
---
In this updated Magic Quadrant, Gartner analysts Simon Tunstall, Dwight Klappich, and Rishabh Narang identify 16 of the most significant Warehouse Management System providers in the marketplace and evaluates the strengths and weaknesses of each. Gartner's report also features the signature "Magic Quadrant" graph, illustrating how Gartner ranks the vendors' ability to execute their vision. The diagram includes four quadrants: leaders, challengers, niche players, and visionaries. 
Gartner adjusts the criteria it uses to evaluate providers to reflect changing trends in the market. The 2022 edition of the Gartner Magic Quadrant for Manufacturing Execution Systems looks different from prior reports. For example, Microlistics was dropped from this year's report because it no longer met Gartner's "growth and revenue" criteria.
A breakdown of each category and the companies associated with it is below.
Leaders
Manhattan Associates kicks off the Leaders category with three distinct warehouse management system solutions: Manhattan Warehouse Management for IBM i (WMi), Manhattan SCALE, and Manhattan Active Warehouse Management (WM). The company is one of the largest supply chain suite providers, with nearly 4,000 employees worldwide and approximately $660 million in revenue. Its strengths include its organic growth rates, operational R&D team, core SCE products, and its microservices multitenant cloud architecture.
Blue Yonder is a large SCM suite vendor with over $800 million in software revenue and $160 million in WMS software revenue. The company was acquired by Panasonic in 2021 but still operates independently under the Panasonic Connected Solutions Company banner. Its strengths are its core and extended WMS functionalities, diversified WMS customer base, artificial intelligence (AI) solutions, and extensive partner network, which supports 50 percent of its new WMS deals.
Körber, formerly HighJumo and inconso, is part of an international technology group and brings together a dozen supply chain technology providers—four in automation and eight in software and consulting verticals—united beneath Körber's brand. Alongside the benefits of its alignment with the Körber "umbrella," its strengths include significant warehousing expertise, a growing ecosystem of global sales and specialists implementation partners, and an international presence in markets across material handling, robotics, warehousing, and more.
Oracle is a "mega" vendor that offers solutions across markets. With over $41 billion in total revenue, it's one of the highest-ranked vendors in the SCE software market (which includes WMS software). The company offers several WMS products, but Gartner focused on the Oracle Fusion Cloud Warehouse Management. Its strengths as a WMS provider include its cohesive SCM cloud strategy, mature cloud-based WMS offering, highly ranked user experience (UX), its presence in fulfillment-intensive industries (i.e., retail and consumer goods), and its extensive suite of WMS capabilities.
Infor, owned by Koch Industries, rounds out the category with its SCE software, which includes warehouse management, supply chain management, and ERP capabilities. It's one of the largest business application providers and had $189 million in revenue in 2021. Its acquisition by Koch helped Infor develop an extensive roadmap for its brand and product library, focusing on its cloud, nascent, and limited microservices architecture. Other benefits identified in the report include its strong international presence, extensibility approach, and a series of innovations for its WMS, including documents management, AI, and more.
Visionaries
Reply is the first Visionary named in the category. It offers a suite of consulting, cybersecurity, integration, and digital services alongside warehouse management applications. Its company revenue is approximately $1 billion, with WMS-specific revenue amounting to $34 million. Its strengths include its microservices-based WMS cloud platform, global coverage, extensive solution delivery capabilities, and easy integration between its on-premises MHE software and cloud-deployed WMS software.
Softeon is a mainly privately owned solution vendor with nearly $40 million in revenue, most of which comes from its WMS services. The company's roots are in the warehousing market, but it has a portfolio that covers DOM, direct store delivery, transportation planning, and other markets. While sReply'sthan other vendors, Softeon's value proposition combines "leading-edge technology" with a suite of WMS functionality, innovative capabilities, and an SCM convergence platform. Other strengths include its fixed-price implementations, differentiated capabilities, extended WMS services, and more.
Challengers
Ehrhardt Partner Group (EPG) is a German WMS and logistics solution provider with revenue amounting to approximately $110 million, most of which comes from its WMS services and licenses. While focused in Germany and the United States, the company has a presence across the EMEA alongside new branches in Hapan, Australia, and Mexico. Notable strengths include steady growth over 30 years of warehouse management experience, extensive experience in Level 5 warehouses, competitive pricing, and its roadmap for SCE convergence.
Tecsys is a warehouse management vendor that also offers companion SCE capabilities. Its software and services revenue is approximately $95 million, with the majority coming from its WMS products, where it's experienced a 24 percent deal size growth over the past year. The company focuses its efforts on the healthcare markets, providing clients with industry-specific capabilities, compliance, customer experience, and partnerships with other healthcare-centric companies like Workday. Other strengths as a WMS vendor include its suite of SCE capabilities, the flexible rule engine embedded in its WMS, and specialized capabilities for industrial equipment dealers and service parts vendors.
SSI SCHAEFER finishes the Challenger category with its WMS solution, WAMAS, which is offered independently of material handling systems and for manual warehouse operations. It has a global customer base, with 78 percent of clientele focused in Europe. The family-owned organization is supported by 80+ years of experience in warehouse management, MHE automation, warehousing materials, and industrial environments. Other strengths include its collection of deployment models and ongoing product developments, like a self-training WMS optimization engine, visualization tools, and an automated database migration tool.
Niche Players
Made4net is a "small" vendor of WMS and SCE solutions with one of the broadest geographical coverages of all independent WMS providers in the marketplace. It focuses its efforts on the retail, wholesale distribution, and 3PL industries. Its strengths as a WMS vendor include its international go-to-market strategy, sales track record, cost-effective deployment implementation methodology, SCE convergence strategy, and emphasis on Level 2 and Level 3 warehouse operations, which few vendors focus on.
Generix Group provides an SCM solution portfolio with two warehouse management solutions alongside tools for transportation management, logistics orders, replenishment management, electronic data interchange (EDI), and yard management. Over 50 percent of its $83.5 million revenue comes from its WMS offerings. The company has a strong presence in Europe but is also growing its roots in other regions. Strengths include its visual tools, model-driven architecture, back-office capabilities, and an integrated WMS and MES.
Synergy Logistics focuses exclusively on WMS and other products, including mobile robots. It has a WMS revenue of $28 million, with 51 percent of customers coming from Europe and 47 percent focused in North America and other regions. The company's platform, Snapfulfill, is built on a flexible rule engine that offers users high levels of no-code adaptivity, which supports customer and vertical-specific requirements. Additional strengths include training and remote implementation capabilities, a scalable seasonal pricing strategy, and an opportunity for select customers to utilize a no-capital expenditure, turnkey-managed service deployment model.
Mecalux Software Solutions is based in Spain with a total WMS revenue of $22 million and nearly 30 percent CAGR over the last three years. The company has approximately 360 employees focused on its WMS offerings with 900 live WMS customers. It provides SMBs with native WCS, WMS, adaptable simulation, and modeling tools. Strengths include its expansion and collaboration opportunities, courtesy of its place in the larger Mecalux group, alongside a relatively low TCO.
Mantis is a WMS suite provider headquartered in Greece but has offices across EMEA and North American territories. It has a robust local presence, partner network, and customer base in the EMEA, and its recent merger with Ecovium has opened up new opportunities in the DACH region. The strengths of its adaptable solution include its visual workflow tools, a rule engine, seasonal subscription offerings, inventory slotting vision, and its launch of an automation as-a-service alongside its cloud hosting and scalable subscription offers.
Vinculum rounds out Magic Quadrant for Warehouse Management Systems report with its suite of cloud and SaaS-based solutions for e-commerce, omnichannel retail, and retail-focused 3PL companies. Alongside its WMS solution, the brand offers its Vin eRetail suite, covering omnichannel product information management (PIM), payment reconciliations, merchandising tools, multichannel sales order management, real-time inventory views, warehouse visibility tools, and automated listing to marketplaces. Its strengths include its significant growth in India and Southeast Asia, a low-complexity pricing model, relatively quick implementations, a robust integration framework, and its position in the multichannel e-commerce order management and fulfillment markets.
---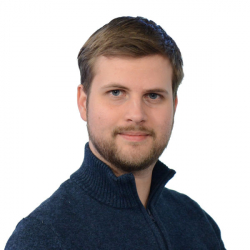 Latest posts by William Jepma
(see all)