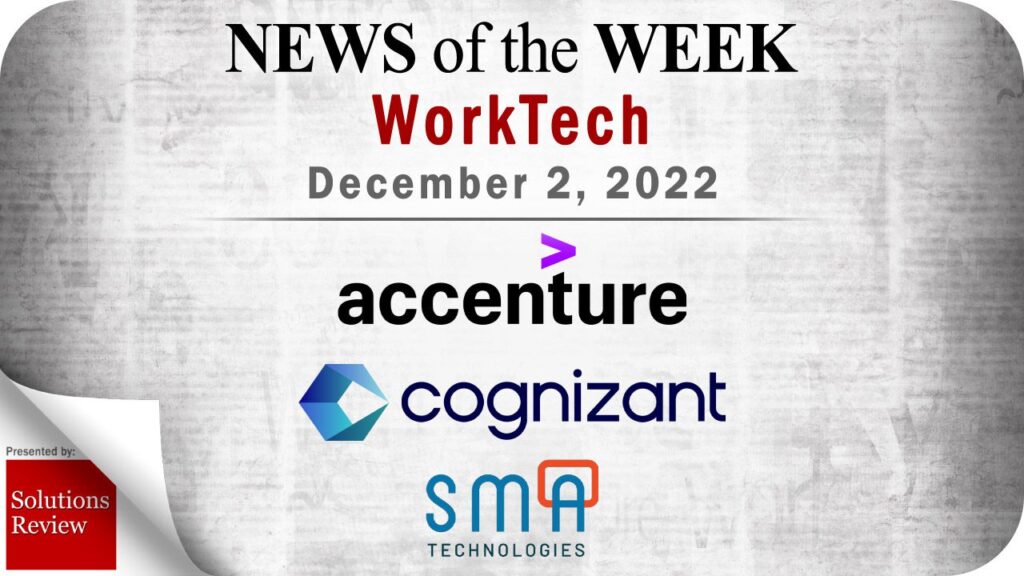 The editors at Solutions Review have curated this list of the most noteworthy WorkTech news from the week of December 2nd. This round-up covers announcements and updates from companies like Accenture, Cognizant, SMA Technologies, and more.
Keeping tabs on the most relevant ERP and BPM news can be time-consuming. As a result, our editorial team aims to summarize the week's top headlines in the enterprise technology marketplace. The Solutions Review editors will compile a weekly round-up of vendor product news, mergers and acquisitions, venture capital funding, talent acquisition, and other noteworthy WorkTech information. With that in mind, here is some of the top WorkTech news for December 2nd.
Top WorkTech News From the Week of December 2nd, 2022
---
Accenture has announced the launch of Velocity, a co-developed and jointly funded platform with Amazon Web Services, Inc. (AWS). The platform is designed to help companies optimize business outcomes and accelerate business transformation by removing the complexity of building and operating enterprise-scale estates and applications in the cloud. Velocity will allow clients to adopt Accenture and AWS services without needing to recreate time-consuming, labor-intensive, and recurring costs. Velocity is available on a subscription basis.
---
At AWS re:Invent, Amazon Web Services (AWS) announced AWS Supply Chain, a new application designed to help businesses improve supply chain visibility and make more informed decisions that save costs, mitigate risks, and improve customer experiences. The application combines and analyzes data across supply chain systems to allow businesses to observe their operations in real-time, identify trends quickly, and generate accurate demand forecasts to help maintain inventory levels.
---
Cognizant has announced its agreement to acquire AustinCSI, a digital transformation consultancy specializing in enterprise cloud and data analytics advisory services. AustinCSI has nearly two hundred consultants who design and deliver cloud and automation solutions to help businesses improve their decision-making, business outcomes, and customer experiences. The acquisition will help Cognizant expand its consulting practice and advisory capabilities to provide clients with end-to-end digital transformation strategies and solutions. The transaction is expected to close before the end of 2022.
---
Planisy, an application software for digitizing planning processes, has announced that it is now available as a full SaaS solution. Planisy is powered by dizmo, a provider of fast integration software platforms, and is one of the first multi-type resource allocation planners of its kind. The platform combines human, machine, location, equipment, physical, and digital elements to provide small and medium-sized businesses (SMBs) with the tools they need to accelerate digital transformation and boost operational efficiencies across industry sectors.
---
Schneider Electric and SAP have announced that they have signed a memorandum of understanding (MOU) to collaborate on new IT/OT integration applications. The companies plan to explore multiple opportunities for enhancing industry innovation, improving digital transformations, and driving open standards with end-to-end solutions, starting with a simplified shopfloor OT/IT integration and an end-to-end, closed-loop asset and field service management solution.
---
SMA Technologies, an automation solution provider for financial services companies, has acquired VisualCron, an automation, integration, and task-scheduling tool for Windows environments. The acquisition will complement SMA's workload automation and orchestration platform and significantly expand SMA's customer base and geographic footprint, helping it accelerate growth in core financial services markets and other complementary industries. This is SMA's first acquisition and comes on the heels of a strategic investment from Thoma Bravo.
---
The 4th Annual WorkTech Insight Jam is less than three weeks away, and we're thrilled to announce the final round of speakers participating in the roundtable panel discussions. Alongside previously announced panelists, Vaughn Thurman of HighGear will be moderating the panel titled "How to Build a Process Automation Tech Stack." HighGear is also a Diamond Sponsor for the event. Click the link below for the complete lineup of panelists participating in the event.
---
For consideration in future WorkTech news round-ups, send your announcements to wjepma@solutionsreview.com.
---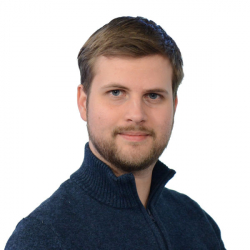 Latest posts by William Jepma
(see all)