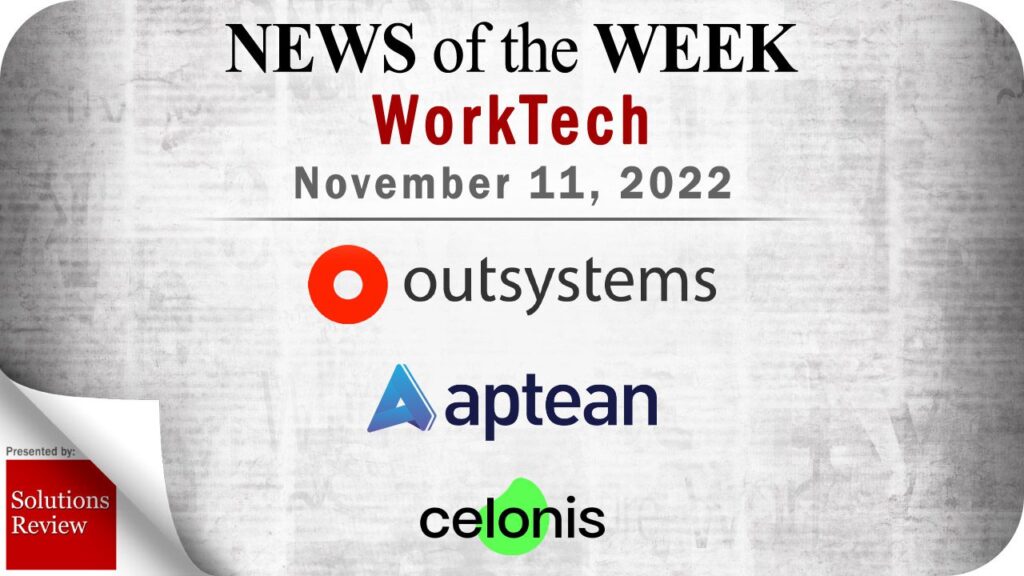 The editors at Solutions Review have curated this list of the most noteworthy WorkTech news from the week of November 11th. This roundup covers announcements and updates from companies like OutSystems, Aptean, Celonis, and more.
Keeping tabs on the most relevant ERP and BPM news can be time-consuming. As a result, our editorial team aims to summarize the week's top headlines in the enterprise technology marketplace. The Solutions Review editors will compile a weekly roundup of vendor product news, mergers and acquisitions, venture capital funding, talent acquisition, and other noteworthy WorkTech information. With that in mind, here is some of the top WorkTech news for November 11th.
Top WorkTech News From the Week of November 11th, 2022
---
Aptean, the global enterprise software solution provider, has acquired ImPuls AG, a Germany-based ERP solution provider for apparel, footwear, accessories, and textile manufacturers. The acquisition will help Aptean continue to develop its presence in the fashion and apparel industries in the DACH regions (Germany, Austria, and Switzerland). The companies can provide clients with decades of industry experience, technical expertise, and industry-specific solutions.
---
Celonis, an execution management system provider, has launched several new capabilities at the Celosphere 2022 event in Munich, Germany. The new tools announced include Celonis Process Sphere and Celonis Business Miner, designed to help companies in the process mining industry improve the simplicity and power of their business execution efforts. Celonis also announced sizable updates to its Task Mining and Process Date Engine products. The updates to Celonis Task Mining can help users capture employee experience data in real-time. Meanwhile, the updated Celonis Process Data Engine will make it easier for customers to handle more data at speed and scale.
---
Cognizant has announced that it's expanding its collaboration with Microsoft to accelerate its digital and sustainability transformations with a new solution. The solution, the Cognizant Sustainability Accelerator, combines Cognizant's experience in the Internet of Things (IoT) and data analytics with the Microsoft Cloud and Microsoft Cloud for Sustainability solution capabilities. With the Cognizant Sustainability Accelerator, companies can automate their data collection efforts and use the resulting analytics to track and take action on their sustainability goals.
---
OutSystems, a global provider of application development solutions, has acquired Ionic, an open-source platform provider for building desktop and mobile applications with web technology. The acquisition will help both companies help IT leaders worldwide improve how they develop, deliver, and update business-critical applications while prioritizing quality, performance, security, and scalability. Ionic and its open-source products will continue to operate independently and complement the OutSystems Platform, including the OutSystems Cloud product and cloud-native development environments.
---
Paperless Parts—an estimating and quoting software provider for contract manufacturers and job shops—has launched new features for its platform to reduce the steps and time required for estimators to create fast, accurate quotes. The new features include support for multi-component nesting, expanded bill of materials (BOM) management capabilities, updated matching algorithms to boost collaboration with distributors, and improvements to the Paperless Parts Viewer tool, which allows users to understand the factors that drive costs. These features can be demoed at the FABTECH 2022 event.
---
With the 4th Annual WorkTech Insight Jam just around the corner, Solutions Review is pleased to announce that Anders Lillevik of Focal Point, Sanket Akerkar of Acumatica, and Bernd Ruecker of Camunda are all scheduled to appear on December 14th in the exclusive executive roundtable discussions we'll be live streaming to our audience during the event.
---
For consideration in future WorkTech news roundups, send your announcements to wjepma@solutionsreview.com.
---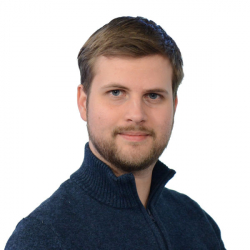 Latest posts by William Jepma
(see all)