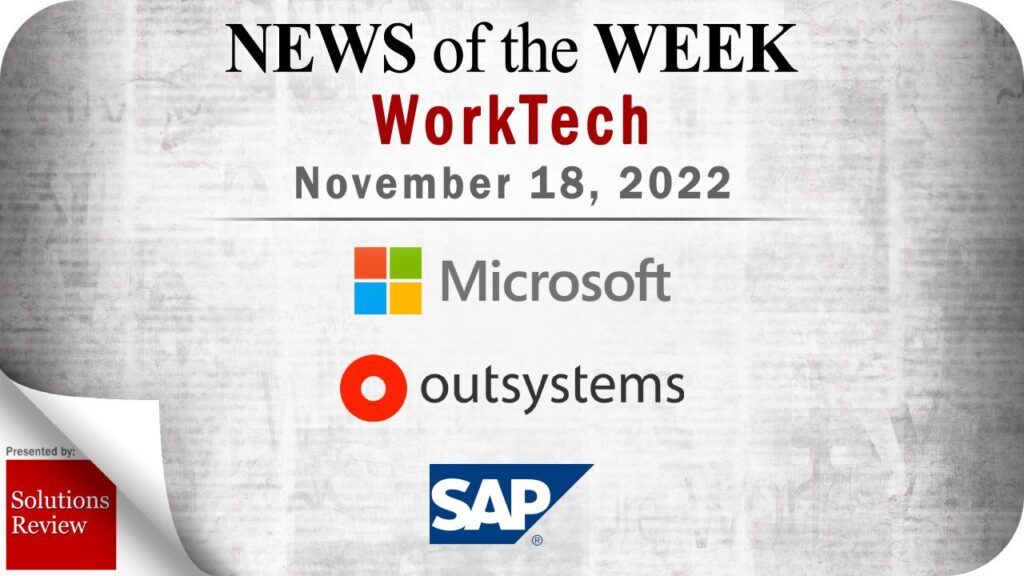 The editors at Solutions Review have curated this list of the most noteworthy WorkTech news from the week of November 18th. This roundup covers announcements and updates from companies like Microsoft, OutSystems, SAP, and more.
Keeping tabs on the most relevant ERP and BPM news can be time-consuming. As a result, our editorial team aims to summarize the week's top headlines in the enterprise technology marketplace. The Solutions Review editors will compile a weekly roundup of vendor product news, mergers and acquisitions, venture capital funding, talent acquisition, and other noteworthy WorkTech information. With that in mind, here is some of the top WorkTech news for November 18th.
Top WorkTech News From the Week of November 18th, 2022
---
Deltek, a global software provider for project-based businesses, recently revealed new product innovations at Deltek ProjectCon, an in-person conference hosted in Nashville, Tennesee. The announcement includes Deltek Unionpoint, a new iPaaS solution designed to help project-based businesses automate processes, boost collaboration, eliminate inefficiencies, and build, deploy, and manage integrations. Deltek Unionpoint can also empower citizen integrators to create custom integrations with drag-and-drop tools, utilize Deltek's product connectors, leverage third-party connectors, and more.
---
Infosys BPM, the business process management division of Infosys, has launched its Center of AI and Automation, an experience center created in collaboration with IBM and announced at the Infosys Business Experience Lounge in Poland. The new Center of AI and Automation will showcase a growing suite of AI and data solutions designed to accelerate and automate the hybrid cloud journeys of global enterprises. It will complement Infosys BPM's service offerings, help clients address complex business process challenges at scale, and promote innovation in hybrid cloud environments.
---
Microsoft recently announced the Microsoft Supply Chain Platform, a new offering that combines Microsoft's AI, low-code, collaboration, security, and SaaS applications into a single, composable platform. The platform is designed to help organizations maximize their supply chain data estate investments with an open approach. At the core of Microsoft's Supply Chain Center is a "ready-made command center" for supply chain transformation and visibility designed to work natively with a company's pre-existing supply chain data and applications. The Microsoft Supply Chain Center is in preview now.
---
Model N, a revenue optimization and compliance solution provider, has revealed details on the Fall 2022 product release for Model N Revenue Cloud. The semi-annual update introduces innovations to the company's Revenue Cloud solution to help high-tech and life sciences customers achieve compliance, meet their strategic goals, forecast pricing impacts, control contract pricing communications, track performance metrics, achieve greater flexibility in their channel data automation, and respond to market changes.
---
OutSystems has announced the OutSystems Developer Cloud (ODC), a new cloud-native, low-code development solution for building cloud-based applications. The solution was formerly code-named "Project Neo" and is designed to help organizations focus on improving productivity, developing impactful applications, and maintaining continuous innovation cycles for business growth, scale, and competitiveness. ODC is the latest addition to the OutSystems High-Performance Low-Code Platform. The news was announced at the NextStep 2022 Software Innovation Conference.
---
Also announced at the NextStep 2022 Software Innovation Conference was OutSystems' new AI Mentor System, a solution designed to provide organizations with a suite of AI-based security, development, and quality analysis tools. With these "mentors," IT departments can improve how they optimize architectures for improved performance, identify and resolve security-related coding problems, minimize technical debt, automate repetitive tasks, and validate applications before they enter production to ensure they maintain the intended quality standards. OutSystems also detailed several additional enhancements to its platform, including OpenID Authentication, a Static Application Security Testing (SAST) API, integration builder support for MongoDB, and enterprise observability tools.
---
Rossum, a cloud-native Intelligent Document Processing (IDP) solution provider, has announced details of a new partnership with Celonis, a global provider of execution management solutions. Through the collaboration, Celonis will be embedding Rossum's AI-powered document extraction, capture, and categorization capabilities into its Execution Management System (EMS) platform, allowing users access to in-depth process intelligence functionalities capable of helping them identify and reduce invoicing errors.
---
SAP has announced the launch of  SAP Build, a new low-code solution designed to help organizations drive business transformation initiatives. SAP Build provides business users with the enterprise technology necessary for achieving direct, secure access to the end-to-end processes and data they need to improve decision-making and boost innovation. The solution also allows users with minimal technical experience to create and augment enterprise applications, automate processes, and use drag-and-drop tools to design business sites. Additionally, SAP revealed that it's launching an entry-level professional certificate on Coursera's learning platform to help aspiring professionals equip themselves with the skills they need for an entry-level job. The announcements were made at the SAP TechEd conference.
---
The 4th Annual WorkTech Insight Jam is less than three weeks away, and we're thrilled to announce several additional speakers. Some confirmed panelists include Tony Newcome of ActiveCampaign, Conor Egan of Contentstack, and Charlotte Adams of Bonitasoft. They are all scheduled to appear in one of the exclusive executive roundtable discussions planned for the December 14th event.
---
SYSPRO, a global ERP software provider, has expanded its Independent Software Vendor (ISV) offering with a new global program. The program is designed to provide customers with a suite of certified and vertically integrated ISV solutions that complement SYSPRO's offerings and provide customers with additional choices, flexibility, and a competitive edge. The following ISV solutions are available within the SYSPRO program: riteSCAN, TIE Kinetix, Prophix, CADLink, CADTALK, and ZAP.
---
For consideration in future WorkTech news roundups, send your announcements to wjepma@solutionsreview.com.
---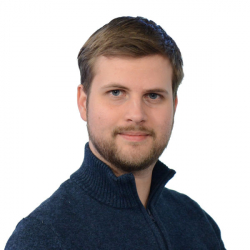 Latest posts by William Jepma
(see all)