What's Changed: 2019 Gartner Magic Quadrant for Manufacturing Execution Systems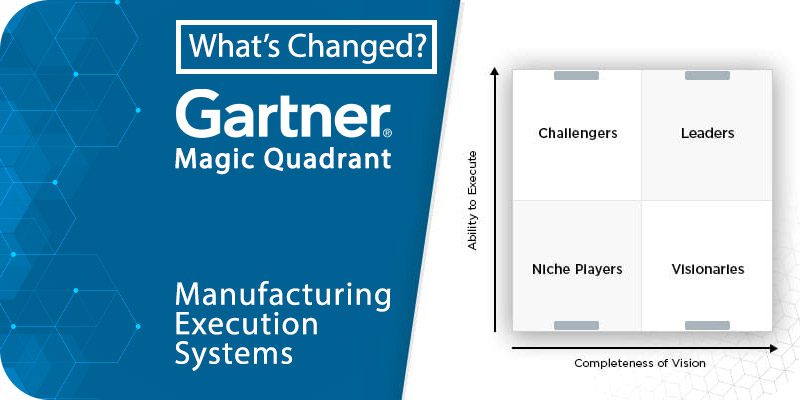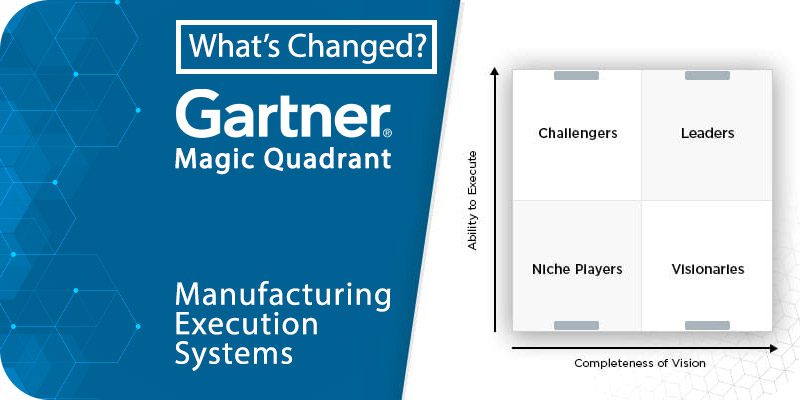 Analyst house Gartner, Inc. recently released the 2019 version of its Magic Quadrant for Manufacturing Execution Systems. Gartner defines Manufacturing Execution Systems (MES) as a specialist class of production-oriented software that manages, monitors, and synchronizes the execution of real-time physical processes involved in transforming raw materials into intermediate and/or finished goods.
The core MES market is mature, but innovation hasn't stopped. Leading vendors continue to improve on their products, such as adding MOM capability and additional hosting and licensing options. Vendors of all sizes are experimenting with different ways to improve the flexibility and extendibility of MES. The market is particularly weighted toward manufacturers in North America and Western Europe, representing 78% of MES license, subscription, and maintenance revenue.
This year's Magic Quadrant indicates that HTML5 has become a standard for MES user interface technologies. Cloud adoption varies from vendor to vendor, and cloud-enabled solutions make up a very low percentage of MES implementations. Microservices continue to grow slowly, as well as the "containerizations" of MES functions, which is a critical step toward fully distributed architectures.
In this Magic Quadrant, Gartner evaluates the strengths and weaknesses of 16 providers that it considers the most significant in the marketplace and provides readers with a graph plotting the vendors based on their ability to execute and their completeness of vision. The graph is divided into four quadrants: niche players, challengers, visionaries, and leaders. At Solutions Review, we've read the report, available here, and pulled out the key takeaways.
Gartner adjusts its evaluation and inclusion criteria for Magic Quadrants as markets evolve. As a result, Parsec and Sepasoft have been added to this year's report. Miracom, Epicor Software, NoMuda, PSI Metals, ABB, and Applied Materials were dropped. In January 2019, IQMS was acquired by Dassault Systemes and is included in the Dassault write-up.
Rockwell Automation has climbed to the top of this year's Leaders quadrant, boasting a rich set of functionality inside and outside of the MES realm, for process manufacturing as well as discrete manufacturing. Rockwell has also developed strong partnerships with software vendors specializing in IT, cybersecurity, and cloud hosting to complement its capabilities. Oracle continues to maintain a strong position with its unique mixed-mode manufacturing, combining both discrete and process MES in the same data model. Its OMC solution leverages Oracle's strengths in data analytics, supply chain functionality, planning, scheduling and warehouse management, and PLM.
Dassault Systemes has gained vertical momentum with its sharp increase in new customers and a highly configurable MES/MOM solution. After its acquisition, Dassault rebranded IQMS as DELMIAWORKS and is positioning it with its midmarket CAD/CAM/PDM product line, SOLIDWORKS. AVEVA maintains a strong position in the food and beverage industry with its device-agnostic open platform, which provides for flexibility in connecting the MES layer to automation equipment, regardless of vendor.
SAP ME is widely used by corporate IT for its reduced cost and simplifying the need to build integration with SAP ERP. It also addresses the needs of production-based business owners. SAP's aggressive development plan for coverage of additional manufacturing styles and vertical industries indicates a positive future. Siemens provides MES capability across multiple discrete, process, and hybrid industries, with a set of extended MOM features including advanced planning and scheduling, quality management, research, development and laboratory, and manufacturing intelligence.
Parsec is new to this year's report and makes a good first impression at the top of the Challengers quadrant. Its TrakSYS product is a flexible offering with a depth of options, apps, libraries, and tools. Customers in regulated industries also give high praise for Parsec's thorough understanding of regulatory compliance requirements. Sepasoft is another vendor new to this year's report, offering a rare example of "all you can eat" pricing. Combined with lower per-server pricing, Sepasoft has a big license cost advantage over other listed competitors. Manufacturers in continuous process, batch manufacturing, and serialization should consider this vendor.
MPDV has been particularly successful in navigating multiple vertical industries, and customer references were positive about its modular approach, ease of configuration, and good connectivity to production equipment. Customers have also cited the HYDRA Users Group as a significant benefit in enabling customers to assist each other. Customers rate Plex Systems particularly well, citing an overall positive experience, thoughtful and highly technical experts, strong customer support, quick ROI, and a stable product that is easy to deploy. Ease of use was cited by over half of customers surveyed, and can be directly attributed to its new HTML5-based UI.
Honeywell Connected Plant (HCP) sits at the top of the Visionary quadrant, boasting the most implementations of cloud-enabled MES solutions of all the vendors in this report (with the exception of cloud-only Plex Systems). Customers have also praised HCP's agile custom development and platform flexibility. GE Digital delivers a multimodal MES that supports both hybrid/batch and discrete manufacturing on a common MES platform. Customers cite a renewed focus on Plant Apps, greater access to product management, and a generally improved partnership.
Werum IT Solutions stands out as a visionary, and customers view its implementation methodology (Ready, Fit, Build and Run) as one of its core competencies. It continues to add capabilities and technical infrastructure specifically for biotech/cell and genes therapy, leveraging decades of experience from life science manufacturing. Emerson has achieved horizontal momentum, jumping from the Niche Players quadrant into the Visionaries. Its product, Syncade, provides a flexible solution that can be adapted to meet the challenging needs of biotech environments. Of all the vendors in this year's report, iTAC Software had the clearest, most succinct vision of the future of MES. Customer references were impressed with its ability to support automated data collection at high throughput, with explicit support for custom extensibility.
FORCAM is the only vendor in this year's Niche Players quadrant. Its MES offering, FORCAM FORCE, has been cited as extremely flexible with easy customization capability. It was the first vendor in the machine monitoring/OEE/real-time metrics space to offer an in-memory database approach. By leveraging these strengths, FORCAM has been successful in creating a platform to extend this capability.
---
Looking for more? Download our Enterprise Resource Planning Buyers Guide for free to compare the top-24 products available on the market with full page vendor profiles, key capabilities, an ERP software market overview, our bottom-line analysis, and questions for prospective buyers.
And don't forget to follow us on Twitter, Facebook and LinkedIn for all the latest in the ERP space!
Latest posts by Anna Birna Turner
(see all)