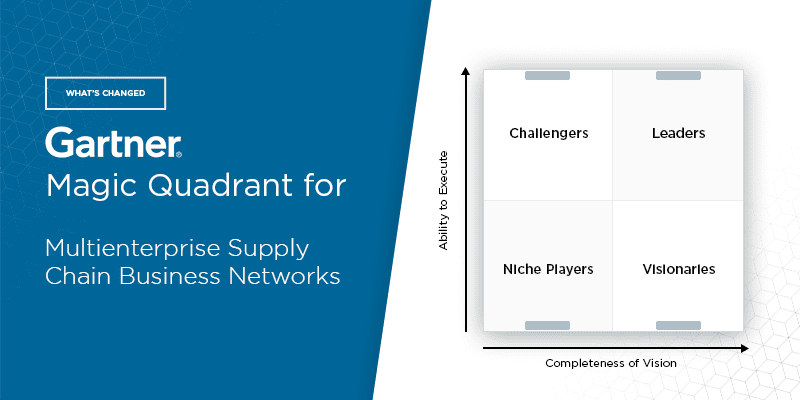 Analyst house Gartner, Inc. recently released the 2020 version of its Magic Quadrant for Multienterprise Supply Chain Business Networks. According to Gartner's definition, multienterprise supply chain business networks (MESCBNs) support a community of trading patterns that need to work and communicate/collaborate on business processes that extend across multiple enterprises, with an end-to-end and shared focus. The role of MESCBNs changes as a company matures and reaches greater levels of supply chain excellence, becoming more vital as time passes.
As supply chains become increasingly connected, companies face a variety of challenges for managing them efficiently. Activities and data reside outside the enterprise, leverage available data is very difficult, and engaging and collaborating with business partners becomes very time-consuming. MESCBNs help alleviate some of these problems and enable businesses to make notable advancements such as improved forecast accuracy, reduced operating cost, and better price control.
This year's report indicates that investments in MESCBNs are growing, being driven by increased supply chain maturity in more leading companies, a surge in digital business initiatives, and increased solution capabilities from the vendor market. High-quality MESCBNs must include capabilities in the following categories: industry-leading network connectivity, visibility foundation, universal cross-domain apps, core supply chain apps, collaboration, and intelligence.
In this Magic Quadrant, Gartner evaluates the strengths and weaknesses of 13 providers that it considers the most significant in the marketplace and provides readers with a graph plotting the vendors based on their ability to execute and their completeness of vision. The graph is divided into four quadrants: niche players, challengers, visionaries, and leaders. At Solutions Review, we've read the report, available here, and pulled out the key takeaways.
Gartner adjusts its evaluation and inclusion criteria for Magic Quadrants as markets evolve. As a result, Bamboo Rose, Elemica, and IBM were added to this year's report, while BlueJay has been dropped. Amber Road was acquired by E2open in 2019 and is now being integrated as part of the E2open solution offering.
E2open tops this year's Leaders quadrant, having seen significant growth in revenue and profitability over the past year. This vendor has a broad functional scope with a  suite of integrated capabilities that span both channel and supply chain markets. Customer references highlighted the product architecture as well as the breadth of functionality. Infor maintains its position as a leader with deep expertise in retail, fashion, and apparel, as well as industrial manufacturing supply chains and applications. Infor Nexus is one offering within the broader Infor solution portfolio, and offers opportunities for cross-selling into the existing client base. Additionally, its latest control tower feature offers a holistic approach to manage end-to-end supply chain operations.
One Network Enterprises continues to grow with a large number of retailers, distributors, manufacturers, carriers, and third-party logistics providers onboard. In addition to innovating on its core products, One Network offers a modular and open technology with modules that can be adapted to fit individual customer needs through its software developer kit (SDK). SupplyOn maintains its position by putting special emphasis on technology innovation by partnering with leaders such as Accenture, Aisino, Amazon, and Microsoft. This vendor is also one of the leaders in overall satisfaction, with customers praising the technical deployment and support, understanding of user needs, and its partner and service focus.
IBM leads this year's Challengers quadrant, and is one of the largest vendors included in the report. It has access to a large service organization and technology innovations in a variety of areas, including blockchain, AI, and quantum computing. It also offers several AI-powered applications with powerful and proactive analytics capabilities. OpenText is a large, stable vendor with access to additional complementary technology, including its AI platform, Magellan. This vendor recently launched a global partner directory that allows buyers to search for supplies and trading partners and onboard with self-service capabilities.
TESISQUARE offers all types of delivery models to meet individual needs; this vendor has a strong focus on aspects of infrastructure, architecture, or integration due to its heritage of being a data transmission/EDI integration network. New functionalities are now available, including advanced self-service analytics and an e-commerce hub. TrueCommerce offers deep expertise of retail and wholesale value chains and applications. This vendor received the highest user reference scores for sales process and usability, and customers highlighted its strong service expertise, product roadmap and vision, and overall cost satisfaction.
MPO directly straddles the line between Visionary and Niche Player. Its end-to-end process coverage ranges from supply chain planning to supply chain execution, and includes a high degree of visibility objects covered. Customer references highlighted the understanding of user needs, clear pricing and licensing, product usability, and service and support. Centiro maintains its position as a Niche Player, demonstrating strong revenue growth in Europe and the United States. It has also invested significantly in AI and L technology, as well as staff competence.
Siemens Digital Logistics is well-positioned to expand globally. The merging of Siemens Postal, Parcel & Airport Logistics with AXIT and LOCOM provides this vendor with a solid portfolio of applications. Customer references highlighted this vendor's understanding of users' needs, product usability, and breadth of functionality. Bamboo Rose offers functionality for sales orders, digital showrooms, and the ability to respond to buyers' wish lists. Its broad range of applications includes sourcing, PLM, order management, sales order management, logistics, and trade compliance. Elemica provides functions for customer management, logistics management, supplier management, and sourcing management. Its customer base shows an equal balance between North America and Europe, with a small remaining portion out of other regions.
---
Looking for more? Download our Enterprise Resource Planning Buyers Guide for free to compare the top-24 products available on the market with full page vendor profiles, key capabilities, an ERP software market overview, our bottom-line analysis, and questions for prospective buyers.
And don't forget to follow us on Twitter, Facebook and LinkedIn for all the latest in the ERP space!
Latest posts by Anna Birna Turner
(see all)