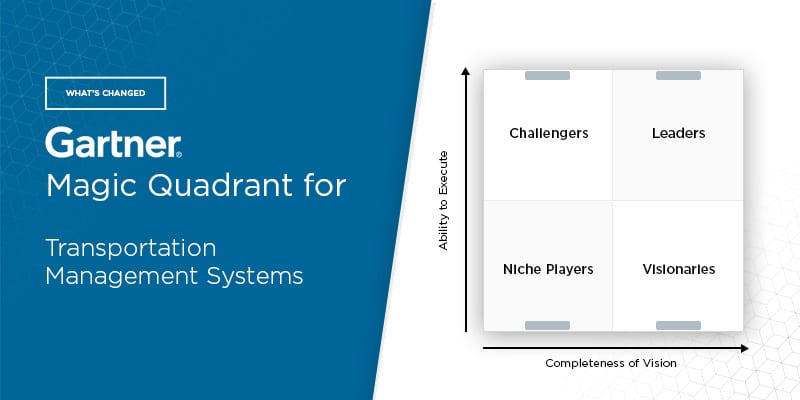 Analyst house Gartner, Inc. recently released the 2020 version of its Magic Quadrant for Transportation Management Systems. Gartner defines Transportation Management Systems (TMSs) as software that deals with the planning and execution of the physical movement of goods across the supply chain. TMS suites can include all transportation management functions across multiple modes, depending on the level of complexity. This includes strategic planning, strategic freight sourcing and procurement, planning and execution, visibility and performance management, and freight payment and audit capabilities.
The current TMS market is highly fragmented due to the presence of many vendors in the U.S. and Europe. Some vendors are mature, while others have more recently entered the market. The majority of vendors in this report fall into four types of categories — application megasuite vendors, supply chain management (SCM) suite vendors, specialist TMS vendors, and TMS service vendors.
This year's report indicates that vendors continue to invest in expanding the breadth and depth of their TMS suites, as well as their global footprint.  Enhancements in freight procurements, analytics, and support for more modes of transportation continue to add to the value of TMSs. Gartner has also seen notable investments in various areas, including the integration of asset-based and for-hire freight management on a single platform, improvements in-depth and flexibility of transportation performance management, and more.
In this Magic Quadrant, Gartner evaluates the strengths and weaknesses of 13 providers that it considers the most significant in the marketplace and provides readers with a graph plotting the vendors based on their ability to execute and their completeness of vision. The graph is divided into four quadrants: niche players, challengers, visionaries, and leaders. At Solutions Review, we've read the report, available here, and pulled out the key takeaways.
Oracle tops this year's Leaders quadrant, and remains one of the most well-balanced TMS providers in terms of customer base distribution across different geographies. By intensifying its sales approach and penetration in the SMB market, Oracle creates a positive onboarding experience for new customers at a faster rate than its competition. Blue Yonder, seen as JDA in last year's report, maintains its position as a strong choice for companies considering a global TMS implementation. It supports real-time dynamic, optimized, multileg routing and has a broad set of partners for visibility and freight capacity.
SAP experienced one of the highest growth rates in the market in 2019, and continues to invest in its solutions' capabilities and features. Customer references indicated elevated levels of satisfaction for SAP TM's capabilities in carrier rating, contract management, and appointment scheduling. Manhattan Associates offers one of the most compelling SCE convergence vision, built on a unique and differentiated common SCE/logistics platform that includes WMS, YMS, TMS, and DOM. This vendor is well-suited to the needs of retail, particularly grocery.
E2open stands out in the Challengers quadrant, expanding its TMS capabilities through further acquisitions of INTTRA and Amber Road. This vendor has one of the most user-friendly solutions on the market, and offers fast implementations compared to others in this report. BluJay continues its strategy to expand its network of carriers, and is onboarding new carriers directly from its application portfolio. Additionally, its managed TMS service remains a differentiating offering for organizations seeking a managed TMS.
Alpega Group, seen as inet-logistics in last year's report, has increased its network of onboarded carriers to more than 80,000. The network includes parcel and rail carriers from regions such as Europe, North America, APAC, and Latin America. MercuryGate continues to add customers within the 3PL, carrier, and broker segments, and is one of the most-used solutions in those market sectors. Customers report elevated levels of overall satisfaction, particularly in the categories of product quality, meeting obligations, and user community.
C.H. Robinson (TMC) is one of a few providers that offers a fully managed solution supported by a staff of nearly 1,600 individuals. TMC provides one of the largest carrier networks of any provider, and customer references indicate elevated levels of satisfaction with its capabilities in freight audit and payment and yard management. Kuebix continues to be one of the leading vendors in implementation time of all the vendors featured in this report. Customers also report elevated levels of satisfaction in responsiveness, meeting obligations, and product enhancements.
Transplace continues to be aggressive in adding new functionality and capabilities; it is the first vendor to include real-time visibility as part of its standard subscription costs. Customers report elevated levels of satisfaction with Transplace as a vendor, particularly in the categories of carrier network, responsiveness, and meeting obligations. 3T Logistics straddles the line between Challenger and Niche Player. Its usability and UI design remain highly-praised, while its consulting experience in the logistics area is a core strength to consider in areas such as implementation.
3Gtms stands out as a Niche Player, offering a wide range of capabilities for LSPs, brokers, and 3PLs with domestic operations. This vendor continues to strengthen its relationship with global software providers to increase the reach of its offering in other regions, as well as better support domestic clients. Customers continue to praise its self-configuration capabilities, as well as the support received during implementation.
---
Looking for more? Download our Enterprise Resource Planning Buyers Guide for free to compare the top-24 products available on the market with full page vendor profiles, key capabilities, an ERP software market overview, our bottom-line analysis, and questions for prospective buyers.
And don't forget to follow us on Twitter, Facebook and LinkedIn for all the latest in the ERP space!
Latest posts by Anna Birna Turner
(see all)