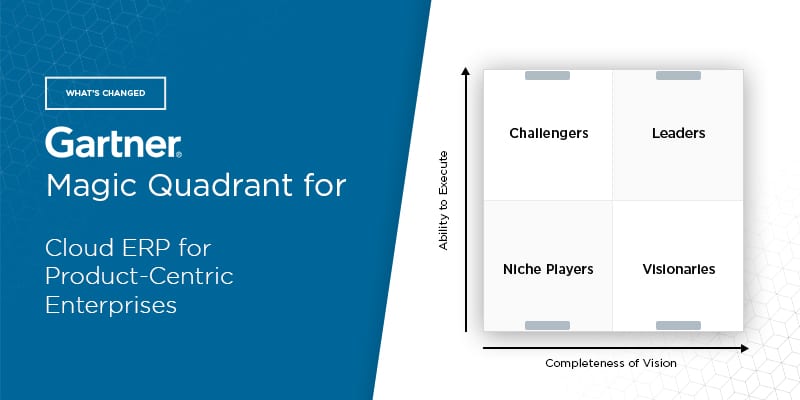 The editors at Solutions Review highlight what's changed since the last iteration of the Gartner Magic Quadrant for Cloud ERP for Product-Centric Enterprises and provide an analysis of the new report.
Analyst house Gartner, Inc. recently released the 2021 version of its Magic Quadrant for Cloud ERP for Product-Centric Enterprises. According to Gartner's report, the market for cloud ERP software for product-centric enterprises is defined as application technology that supports the automation of financial and operational activities for the continued manufacturing, delivery, and servicing of various goods.
The core capabilities of these ERP solutions include operational ERP functionalities and financial management capabilities. However, Gartner does note that these solutions can also offer procurement, human capital management (HCM), and other industry-specific modules.
What's Changed: 2021 Gartner Magic Quadrant for Cloud ERP for Product-Centric Enterprises
---
In this updated Magic Quadrant, Gartner identifies what it believes to be the 10 most significant providers of cloud ERP solutions for product-centric enterprises and evaluates the strengths and weaknesses of each. Gartner's report also features the signature "Magic Quadrant" graph, which provides readers with an illustration of how Gartner ranks the vendors' ability to execute their vision. The diagram includes four quadrants: leaders, challengers (however, there are no vendors categorized under this category in the 2021 report), niche players, and visionaries. 
Gartner adjusts the criteria it uses to evaluate providers to reflect changing trends in the market, which means the 2021 edition of the Magic Quadrant for Cloud ERP for Product-Centric Enterprises looks different from last year's report. For example, IFS is no longer listed in the report, as the 2021 launch of its new ERP application suite, IFS Cloud Applications, had yet to reach the number of active customers needed to qualify for the report. Meanwhile, Gartner added both SAP and Priority Software to this iteration of their report.
A breakdown of each category and the companies associated with it is below.
Leaders
Oracle's Fusion Cloud ERP software tops the Leader category in the report. With a suite of administrative and logistics operational capabilities, Fusion Cloud ERP is best suited for upper midsize, large, and global enterprises across industries looking for a solution capable of managing complex workstreams. The Gartner report highlights the solutions' integration capabilities, global reach, and breadth of features—for HCM, manufacturing, finance, and other markets—as its strengths.
Microsoft Dynamic 365 Finance and Supply Chain Management, two individual solutions with many connections, are aimed at midsize-to-large enterprises in need of specialized capabilities for industries and regions worldwide. Users of Dynamics 365 can benefit from a suite of integration options with Microsoft and third-party tools, all of which can be managed from a consistent platform. Gartner recommends Microsoft's solutions to manufacturing, retail, and consumer packaged goods companies.
Infor CloudSuites is a Leader in this year's report, a step up from its placement as a Visionary in the 2020 iteration. CloudSuites is a good fit for upper mid-market, large, and global enterprises that need operational ERP solutions capable of integrating with other enterprise applications. Gartner identifies its strengths as its industry-specific capabilities, its support for complex manufacturing scenarios, and its ability to expand its features via integrations Infor OS.
Visionaries
Epicor's ERP solution, Kinetic, can be sold and implemented from Epicor itself or through various partners and is best suited for midsize enterprises in the automotive, distribution, retail, discrete manufacturing, building supply markets. The solution has maintained its position as a Visionary. Gartner cites its understanding of midmarket needs, industry-specific support, and partnership with the Microsoft Azure platform as its strengths.
Oracle makes another appearance in this report with NetSuite, an ERP solution for mid-market enterprises with a global footprint. Its functionalities are applicable across industries like manufacturing, high tech, retail, field services, and wholesale distribution and should be considered by product-centric companies looking for a single-vendor solution. Strengths include its range of back-office capabilities, global reach, active online community, and thriving partner ecosystem.
The QAD Enterprise Platform provides users with operational ERP capabilities via the QAD Adaptive ERP product suite. QAD predominantly works with midsize manufacturing companies in automotive, food and beverage, high tech, consumer products, life sciences, and industrial sectors. Gartner says QAD is a good pick for companies needing quality management, global trade, transportation, demand, and supply chain planning capabilities. Its strengths include its embedded automation tools, ROI, and manufacturing specializations.
SAP's S/4HANA Public Cloud Edition is one of the new additions to the Magic Quadrant for Cloud ERP for Product-Centric Enterprises. The solution provides users with a range of industry-specific add-ons and capabilities for global companies looking for a configurable enterprise-level ERP solution for moderately complex workstreams. Gartner identifies its strengths as its diverse partner network, optimized user experience, automation capabilities, and industry expertise.
Niche Players
Acumatica's Cloud ERP suite is once again listed as Niche Player in Gartner's report, although its "ability to execute" has improved and pushed it higher up in the category. The company's cloud-native solution is built specifically for midsize enterprises and is equipped with manufacturing, financial, and distribution ERP capabilities. Acumatica also sports higher levels of customer satisfaction, with many users expressing appreciation for the company's product quality and pricing.
Like Acumatica, Plex has also shown an improved "ability to execute" and has seen a rise in its placement in the Niche Player category. The Plex Smart Manufacturing Platform targets midsize manufacturers and is a good fit for companies focusing on discrete and batch process processing or larger enterprises that want to optimize their plant operations. Its strengths, according to Gartner, include its manufacturing execution system capabilities, product lifecycle management, multitenant cloud delivery model.
Priority Software is the final entrant in this year's report. A newcomer to the Gartner Magic Quadrant for Cloud ERP for Product-Centric Enterprises, Priority Software's Cloud ERP solution offers various operational and administrative ERP capabilities for discrete and process manufacturing. While Priority primarily focuses on EMEA, it has begun to expand its customer base into North America. The strengths cited in Gartner's report include its growth rate, its administrative ERP functionalities, and its general-purpose capabilities for various manufacturing projects.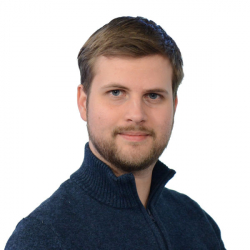 Latest posts by William Jepma
(see all)