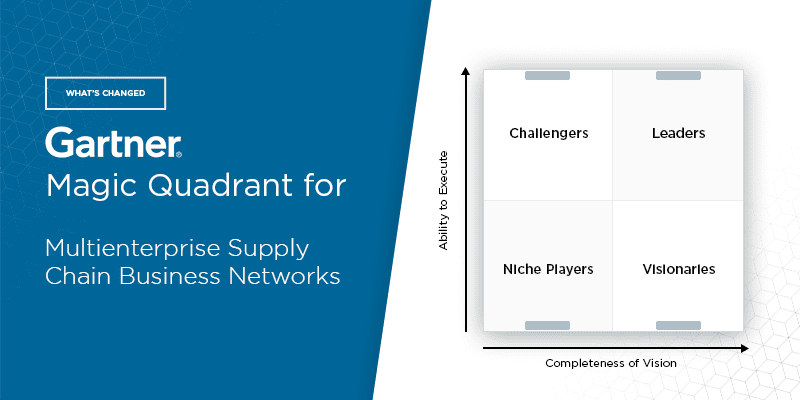 The editors at Solutions Review have highlighted the updates found in the 2021 edition of the Gartner Magic Quadrant for Multienterprise Supply Chain Business Networks and analyze the new report.
Analyst house Gartner Inc. recently released the 2021 version of its Magic Quadrant for Multienterprise Supply Chain Business Networks. Gartner defines Multienterprise supply chain business networks (MESCBNs) as cohesive technology platforms designed to support trading partners to coordinate and execute business processes across enterprises. MESCBNs are considered "foundational technology" for mature enterprises that need help coordinating, automating, and transforming their extended supply chain.
According to Gartner, the most significant characteristics in a MESCBN are network connectivity, partner ecosystems, information and data hubs, cross-domain apps, advanced planning, embedded intelligence, and core supply chain execution capabilities (i.e., warehouse, transportation, and fulfillment tools). Gartner's research weighs those features heavily in their Magic Quadrant report alongside additional features—like analytics, intelligent workflows, and others—that are considered valuable but not essential.
What's Changed: 2021 Gartner Magic Quadrant for Multienterprise Supply Chain Business Networks
---
In this updated Magic Quadrant, Gartner identifies what it considers the 13 most significant MESCBN providers in the marketplace and evaluates the strengths and weaknesses of each. Gartner's report also features the signature "Magic Quadrant" graph, providing readers with an illustration of how Gartner ranks the vendors' ability to execute their vision. The diagram includes four quadrants: leaders, challengers, niche players, and visionaries. 
Gartner adjusts the criteria it uses to evaluate providers to reflect changing trends in the market, which means the 2021 edition of Magic Quadrant for Multienterprise Supply Chain Business Networks looks a bit different from last year's report. The same 13 providers are featured in the 2020 and 2021 reports, but placements have been adjusted to reflect market and service changes.
A breakdown of each category and the companies associated with it is below.
Leaders
E2open once again claims the highest position in the Leaders category. According to the Gartner report, E2open has benefited from its Harmony platform, which supports its partner ecosystems and user experience, and its continued commitment to developing and maintaining applications for core supply chain domains. While Gartner does note that E2open can improve the way new acquisitions are integrated into its network, the company has shown revenue, profitability, and customer growth, which speaks to its overall ability to execute its vision.
Infor, One Network Enterprises and SupplyOn round out the Leaders category, as each provider ranks similarly on Gartner's Magic Quadrant graph. Of the three, One Network Enterprises is listed as having the highest "ability to execute," but Infor slightly outranks it on "completeness of vision." One Network Enterprise is notable for understanding the MESCBN market, a comprehensive product offering, and above-average innovation supported by its significant investment in R&D and emerging technologies.
SupplyOn has also focused on innovation, with Gartner calling attention to the company's investment in R&D and partnerships with innovation leaders. Meanwhile, Infor earns points for the overall viability of its products—with Infor Nexus receiving special notice for its operational capabilities—and its understanding of the market, as evidenced by the new end-to-end supply chain operation management feature it offers.
Challengers
IBM and OpenText both retain their placement in the Challenger quadrant, although IBM's lead has grown slightly since last year's report. IBM is one of the largest providers in the report, which means it has access to a breadth of innovations in various areas. While the company is a newer player in the MESCBN market, its trading partners and well-regarded customer experience capabilities make it an appealing option for organizations.
According to Gartner, OpenText's greatest strengths come from its extensive network of supply chain participants—consisting of nearly 1-million partners, and its innovative services and technologies, such as its IoT capabilities and AI platform. TESISQUARE also ranks highly for its service offerings, as the company's platform provides users with a suite of supply chain execution services reinforced with highly-regarded customer experience capabilities.
Rounding out the Challenger quadrant is TrueCommerce, which provides customers with a range of connected supply chain applications designed to improve visibility, operational efficiency, and collaboration amidst retail supply chains. TrueCommerce's greatest strengths are, according to Gartner, its expertise in retail and wholesale value chains and applications and its investment in API-based connectivity and a big data warehouse. The company has also signed 1,500 logos to its network and sports a flexible pricing model, making it a reasonably approachable solution for companies of various sizes.
Visionaries
The only Visionary on this year's report is MPO, which previously skirted the line between Visionary and Niche Player. MPO is a smaller company in terms of revenue and acquisitions. However, it makes up for that with above-average sales execution, a well-developed network of onboarded companies, and a strong product strategy that focuses on the real-time optimization of order objects across multiple levels.
Niche Players
Centiro is once again the highest-ranked Niche Player in Gartner's report, although this year, it has significantly increased its lead over the other providers in the quadrant. The Swedish company's most notable strengths are an above-average customer retention rate, impressive customer experience scores, and continued profitability and revenue growth.
Elemica slightly outranks Centiro in "completeness of vision" but lacks the planning and financial applications it needs to surpass the former. However, the company has exhibited substantial revenue and customer growth in the past year. It is committed to expanding its quality management, traceability, compliance, and document management services to new industries.
Bamboo Rose and Siemens Digital Logistics rank similarly in their "ability to execute," but Bamboo Rose pulls ahead thanks to its "completeness of vision." Gartner reports that Bamboo Rose's end-to-end applications, including sales order management and digital showroom options, and sales strategies have proven to be valuable strengths that help the company support its clients and identify new revenue streams.
One of Siemens Digital Logistics' greatest strengths is its brand awareness, as the broader Siemens brand is poised to expand into more global markets. While Siemens Digital Lositics is a smaller player in the MESCBN market, its network consists of at least 120,000 participants and 56,000 supplies. The company also sports an impressive portfolio of products and has invested many resources into strengthening its partner ecosystem and optimization algorithms.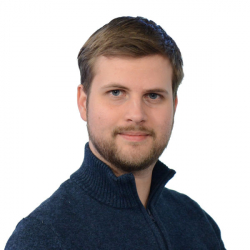 Latest posts by William Jepma
(see all)