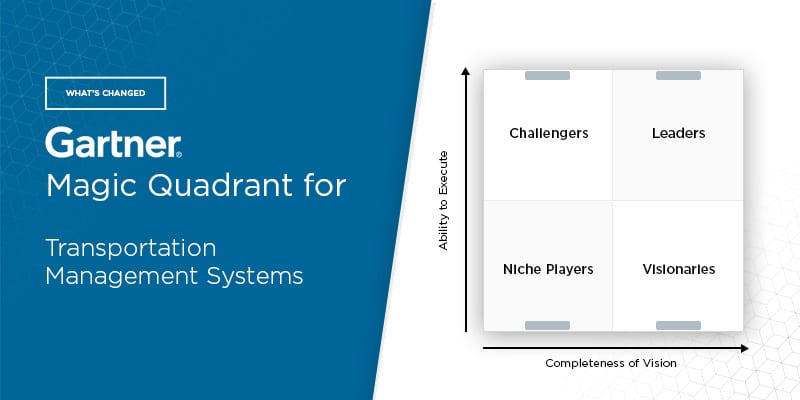 The editors at Solutions Review highlight what's changed since the last iteration of the Gartner Magic Quadrant for Transportation Management Systems (TMS) and provide an analysis of the new report.
Analyst house Gartner, Inc. recently released the 2021 version of its Gartner Magic Quadrant for Transportation Management Systems. Transportation Management Systems (TMS) refers to a category of software dealing with the processes involved in moving physical goods across the supply chain.
TMS suites consist of various components that work together to help manufacturers, retailers, distributors, wholesalers, and third-party logistics (3PL) organizations improve their transportation management capabilities. According to Gartner, the core components of a TMS include strategic freight sourcing and procurement, carrier network management, planning, transportation execution, event management, settlement, performance management, and visibility.
In this updated Magic Quadrant, Gartner identifies what it considers to be the 15 most significant TMS providers in the marketplace and evaluates the strengths and weaknesses of each. The report also features the signature "Magic Quadrant" graph, which clarifies how Gartner ranks each vendor's ability to execute their vision. The graph is divided into four quadrants: leaders, challengers, niche players, and visionaries.
What's Changed: Gartner Magic Quadrant for Transportation Management Systems
---
As the TMS market evolves, Gartner adjusts the criteria it uses to evaluate providers, which means the vendors listed on this year's report are different from last year. For example, 3G is no longer listed, as it did not meet the inclusion thresholds, while BlueRock Logistics, RateLinx, and Shipwell have been added.
A breakdown of each category listed and the companies associated with it is below.
Leaders
Gartner classifies Oracle and SAP as application mega-suite vendors, which are defined as companies offering a broad portfolio of applications that cover most application categories. Both companies are also classified as Leaders in the report, with Oracle's sales, geography, and industry strategies making it the highest-ranked provider listed in this year's report. Meanwhile, SAP's strengths come from its geographic strategy,  business viability, and capabilities. Special mention should also go to SAP's performance management, analytics, community management, and user interface, which Gartner spotlights as its most robust features.
Blue Yonder and Manhattan Associates are the remaining two Leaders, and Gartner defines them both as supply chain management (SCM) suite vendors. Blue Yonder sets itself apart from much of the competition with its thorough market understanding, as evidenced by its growing suite of SCM applications and acquisitions. The company is also bolstered by its collection of partners, as they help expand its visibility and freight capacity services.
Manhattan Associates is credited for its powerful TMS, which provides users with robust last-mile vehicle routing and scheduling (VRS) services alongside a newly optimized user experience that's regularly improved with new developments and updates. The company has also expanded its product strategy with expansions to its technology and implementation partnerships.
Challengers
E2open provides a  suite of end-to-end SCM solutions and comes close to skirting the line between Challenger and Leader in Gartner's report. With a strong market understanding backed up by its Harmony platform and E2net Trading Partner Network, E2open offers a deep TMS solution with predictive ETA, automated decision making, and AI-enabled capabilities.
Alpega Group and BluJay Solutions, both logistics suite vendors, are ranked highly for their products and services. For example, BluJay Solutions recently strengthened its solutions with network capabilities, while Alpega's services can scale for organizations in all levels of transportation operation, from Level 1 to 5. Alpega's TMS also includes a broad partner ecosystem, enabling it to expand its capabilities into domestic and international operations alike.
Transplace and MercuryGate are the next two Challengers, and Gartner applauds each of them for their products and business models. Transplace has expanded its TMS capabilities, and its services are best suited for Level 3 and 4 transportations operations but can work with Level 1, 2, and 5 as well. MercuryGate's TMS services are ideal for Level 1-4 transportation and feature a strong partner network and customer base.
C.H. Robinson (TMC) is another Challenger. Its TMS, titled Navisphere, is optimized for Level 1-3 operations but can scale up to Levels 4 and 5 if needed. The company has a strong background in the transportation world. It offers a fully managed solution that's received high scores for its customer service, support, integration, and deployment offerings.
Finally, the last Challenger in this iteration of the report is Kuebix, a Trimble company. Trimble's acquisition of Keubix has allowed the company to broaden its global reach, expand its carrier network, and maximize its digital freight platform partnerships and visibility. Gartner says that the Trimble (Kuebix) TMS scored as one of the top two vendors in terms of its technology, usability, agility, and adaptability.
Niche Players
Finally, Gartner lists four companies as being Niche Players, which offer TMS solutions that are often ideal for organizations in need of more specialized services. 3T Logistics & Technology Group is one of the first Niche Players Gartner identifies, and its TMS provides capabilities best suited for domestic operations like routing, dock scheduling, and parcel management. The company's services include technology, 4PL, and TMS managed services notable for usability and simplicity.
Shipwell is ranked only slightly higher than 3T Logistics & Technology Group and is one of the new additions on the report. Shipwell's TMS provides its users with real-time visibility and capacity and is one of the few providers listed to have a fully managed solution. The company's services also scored in Gartner's upper percentile for user experience and implementation tools, making it a reliable solution for companies that may need help developing, launching, or managing their TMS.
BlueRock Logistics and RateLinx are the final providers listed by Gartner and are also new additions to this version of Gartner's report. The BlueRock TMS Platform was built from the ground up to serve as a SaaS solution and uses a microservices architecture to remain adaptable to new developments. While BlueRock Logistics is a relatively young company, the founders are industry veterans who have leveraged their experience to develop a solution that understands the market and is equipped with forecasting capabilities.
Meanwhile, RateLinx offers an easy-to-use TMS that uses data and analytics to help its users automate decisions and processes. Its TMS, titled ShipLinx, has a strong presence in small-to-midsize organizations in the retail, wholesale, and energy markets. One of the things that make RateLinx unique is that its TMS is part of a set of services that include freight pay and audit services, parcel management, visibility, and rating capabilities.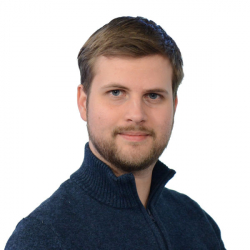 Latest posts by William Jepma
(see all)