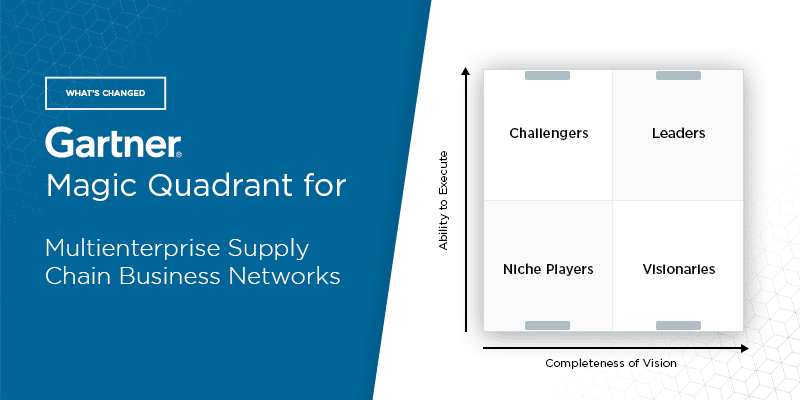 The editors at Solutions Review have highlighted the updates found in the 2022 edition of the Gartner Magic Quadrant for Multienterprise Supply Chain Business Networks and analyzed the new report.
Analyst house Gartner Inc. recently released the 2022 version of its Magic Quadrant for Multienterprise Supply Chain Business Networks. Gartner defines a multienterprise supply chain business network (MESCBN) as a cohesive technology platform that supports sipper-centric trading partners and coordinates business processes across enterprises. A MESCBN is usually considered a foundational technology tool for higher-maturity organizations and is implemented to help those businesses coordinate, automate, orchestrate, and transform their extended supply chain.
According to Gartner, the most significant characteristics of a MESCBN include a centralized information hub, data visualization tools, extensive network connectivity, multi-tier partner ecosystem support, universal cross-domain applications, supplemental supply chain applications (i.e., planning and finance), and core supply chain execution tools for enterprise and multienterprise use cases. Gartner's research weighs those features heavily in their Magic Quadrant report alongside additional features—analytics, workflow orchestration, performance dashboards, collaboration tools, open developments, and reporting—that are considered valuable but not essential.
What's Changed: 2022 Gartner Magic Quadrant for Multienterprise Supply Chain Business Networks
---
In this updated Magic Quadrant, Gartner identifies what it considers the 13 most significant MESCBN providers in the marketplace and evaluates the strengths and weaknesses of each. Gartner's report also features the signature "Magic Quadrant" graph, illustrating how Gartner ranks the vendors' ability to execute their vision. The diagram includes four quadrants: leaders, challengers, niche players, and visionaries. 
Gartner adjusts the criteria it uses to evaluate providers to reflect changing trends in the market, which means the 2021 edition of Magic Quadrant for Multienterprise Supply Chain Business Networks looks a bit different from last year's report. For example, Nulogy and Pagero have been added to the report, while Bamboo Rose and IBM were dropped because they did not meet this year's report criteria.
A breakdown of each category and the companies associated with it is below.
Leaders
E2open's suite of cloud-based, end-to-end SCM applications is a top Leader in this year's Magic Quadrant report. The company focuses its operations in North America and Western Europe and works with enterprises of all sizes and industry sectors. Gartner identifies its strengths as its marketing understanding, partner ecosystem support, comprehensive application suite, active acquisition strategy, and innovations across probabilistic risk management, cross-functional business process workflow, and AI capabilities.
One Network Enterprises provides clients with its Digital Supply Chain Network, which provides users with a collection of cloud-based solutions for supply chain planning and execution. It works with companies worldwide and across industries, specifically focusing on manufacturers, logistics providers, retailers, and suppliers. Like E2open, One Network receives high marks for product suite, market understanding, and its innovations in robotic process automation, network-protected transfer learning, AI-augmented data transformations, and gamified user experiences.
Infor's supply chain product, Infor Nexus, helps North American companies connect to their supply chain systems and partners and equips them with visibility and collaboration tools. Its clientele primarily consists of large enterprises from the retail, footwear, transportation, apparel, and industrial manufacturing sectors. One of its most significant strengths as a MESCBN provider is its industry-specific product suite and optimized operations strategies.
SupplyOn rounds out the Leader category with its integrated supply chain management capabilities for multi-tier business ecosystems. Its operations focus on global small and midsize businesses in the aerospace, electronics, automotive, rail, and manufacturing industries. Like the other Leaders Gartner identifies in its report, SupplyOn has a strong market understanding and track record of customer satisfaction and growth, which help it invest in its ongoing R&D innovation strategies and partnerships.
Challengers
OpenText kicks off the Challenger quadrant with its Business Network offering, which helps companies in North America, Asia, and Europe automate standard B2B processes with a suite of technology and managed services. Its clients primarily consist of enterprises and trading partners, who use OpenText's offering to streamline information exchange processes. Strengths include its positive track record as a technology provider, an extensive network of supply chain participants, and the innovations it made in its trading grid, compliance tools, onboarding capabilities, IoT device provisioning, B2B visibility, and more.
TESISQUARE's platform provides midsize and large enterprises in Europe with a scalable, modular solution for orchestrating and managing supply chain processes. Most of its clients are in discrete manufacturing, fashion, consumer goods, luxury, and retail sectors. The company's strengths include its pricing model structure, customer retention, and its range of products, which expanded in 2021 with new capabilities and innovations.
TrueCommerce's Foundry platform is the final Challenger in Gartner's report. The solution is designed to help retailers, suppliers, manufacturers, and CPGs automate their B2B transactions in retail and wholesale value chains. It focuses its operations on companies of all sizes across the North American and European territories. Gartner says its strengths stem from its growing sales efforts, product innovation strategy, and industry-specific expertise in retail and wholesale value chains.
Niche Players
MPO kicks off the Niche Player category with a unified platform designed to help businesses manage orders, transports, and inventories for supply chains with real-time optimization features. It focuses its operations in North America and Western Europe and primarily works with mid-to-large enterprises across industry sectors. While a smaller company than some competitors, Gartner says MPO excels with its innovative product roadmap, strategy, and software functionalities.
Elemica's platform provides process-industry-centric organizations with tools and apps for supply chain management, procure-to-pay, transportation management, logistics, and more. Despite lagging slightly in terms of innovation, Elemica receives high marks for its steady revenue growth, emphasis on supply chain execution, and the integrated quality components for traceability, compliance, document management, supplier, and manufacturing management.
Centiro provides a layered commerce platform to help clients operate and develop their business strategies. It focuses its efforts on retail and logistics service companies in Western Europe. While more geographically limited than its MESCBN peers, Gartner says Centiro's business insights and data science capabilities are above average and help the company retain many customers.
Siemens Digital Logistics provides end-to-end solutions to help large enterprises across retail, high tech, transportation, and other industries manage their supply chain and logistics operations. The company hasn't seen the same level of growth as other vendors in the report but also received above-average scores for its marketing and messaging strategies. Additional strengths Gartner identified include Siemens' capabilities suite and roadmap for future logistics and production planning tools.
Pagero's solution, Pagero Network, focuses on providing small and midsize companies with a global business network that supports native and value-added services, support, and applications. Most of its clients are in the discrete manufacturing, process manufacturing, life sciences, high tech, and healthcare sectors across Europe, South America, and Latin territories. The company is still seen as a transportation management provider, but its supply chain capabilities are growing. Gartner's report says its strengths as a MESCBN provider are its geographic strategy, evolving business model, and sales strategies.
Nulogy rounds out Gartner's report with a platform that provides North American companies in the consumer products sector with support for upstream multienterprise and multi-echelon ecosystems. As a smaller, privately held company, Nuolgy's product and market innovations are below average compared to other companies in the sector. However, it also has high customer retention and satisfaction rates from its small and midsize business clients. Gartner identifies some of its strengths as being its marketing strategy and R&D investments,
---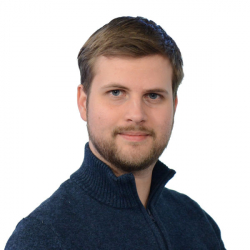 Latest posts by William Jepma
(see all)