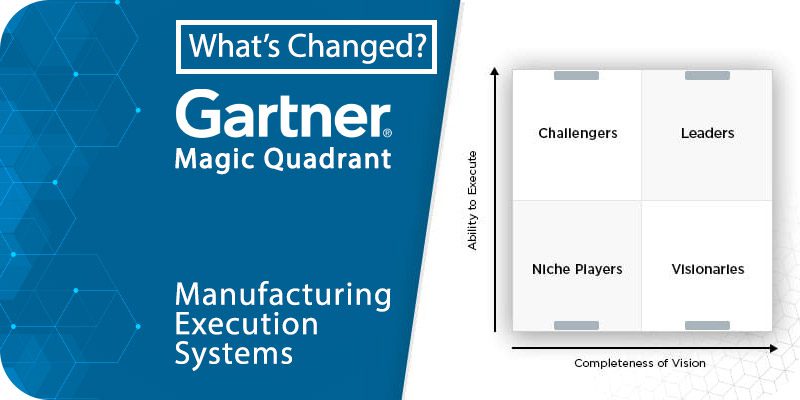 The editors at Solutions Review have highlighted the updates in the 2022 edition of Gartner's Quadrant for Manufacturing Execution Systems and summarized the findings.
Analyst house Gartner Inc. recently released the 2022 version of its Gartner Magic Quadrant for Manufacturing Execution Systems. According to Gartner, a manufacturing execution system (MES) is a "specialist class of production-oriented software" designed to help businesses manage, monitor, and synchronize the execution of the real-time physical processes used in turning raw materials into intermediate and/or finished goods. The 2022 iteration is not available yet, but you can find last year's version here.
The core capabilities of a manufacturing execution system include production management, in-process quality monitoring, manufacturing data management, tracking tools, procedural enforcement, dispatching tools, operational data stores, manufacturing-related quality management processes, integrated analytics, and additional integration capabilities for various production equipment, engineering, and enterprise systems.
What's Changed: 2022 Magic Quadrant for Manufacturing Execution Systems
---
In this updated Magic Quadrant, Gartner identifies 20 of the most significant Manufacturing Execution System providers in the marketplace and evaluates the strengths and weaknesses of each. Gartner's report also features the signature "Magic Quadrant" graph, illustrating how Gartner ranks the vendors' ability to execute their vision. The diagram includes four quadrants: leaders, challengers, niche players, and visionaries. 
Gartner adjusts the criteria it uses to evaluate providers to reflect changing trends in the market. The 2022 edition of the Gartner Magic Quadrant for Manufacturing Execution Systems looks different from prior reports. For example, Sepasoft was added to this year's report.
A breakdown of each category and the companies associated with it is below.
Leaders
Critical Manufacturing kicks off the Leaders category with an MES focusing on discrete manufacturing sectors. Its clients are across the electronics, medical device, semiconductor, and repetitive flow/batch industries in the North American, EMEA, and Asia/Pacific (APAC) regions. Its strengths as an MES vendor include its extensive data management capabilities, growing partner ecosystem, high customer satisfaction scores, and expanding functionalities for factory automation, material logistics, and new product introduction (NPI).
AVEVA's Manufacturing Execution System, formerly Wonderware MES, primarily provides process and batch manufacturers worldwide with a suite of model-driven capabilities. According to Gartner's research, AVEVA's strengths as an MES provider include its system flexibility, industry-specific strategy (it has a prominent foothold in the consumer products and food and beverage verticals), growing partnerships, and standing as a device-agnostic open platform.
GE Digital provides clients in the consumer, automotive, and chemical industries with its Proficy Smart Factory (MES) product, which offers discrete, process, and repetitive flow/batch manufacturing capabilities. Some of its strengths include its forward-thinking decision to embrace new microservices technologies, impressive customer experience scores, and the consistent improvements it's made to its product and service offerings.
Siemens Digital Industries Software provides its global clientele with its Opcenter Execution product suite, which includes tools for multiple manufacturing verticals. However, most of its users are in the life sciences, food and beverage, electronics, and general manufacturing sectors. Gartner cites its strengths as being its extended MOM features, which cover advanced planning, scheduling, research, development, quality management, laboratory, and manufacturing intelligence tools applicable to various manufacturing industries. Other strengths include its vertical industry coverage, intuitive user interface, and system flexibility.
Plex, acquired by Rockwell Automation in June 2021, is the next Leader in Gartner's report. The Plex Smart Manufacturing Platform provides batch and process manufacturers with a multitenant, cloud-based MES solution. The platform's strengths include its successful track record of supporting small and midsize customers and its international reach. Thanks to its acquisition by Rockwell, Plex can deepen its reach in the process and batch operation verticals and improve its value to large enterprises.
iBASEt is the solution provider for Solumina, an MES product that focuses on complex, discrete assembly in regulated industries. Its operations are most active in North America, but it also has a presence in the EMEA and APAC regions. Gartner's report spotlights iBASEt Solumina's strengths as its proven track record in the discrete assembly fields and the evolving capabilities it offers to midmarket customers. Those capabilities include supplier quality management, maintenance, repair, and operations (MRO).
Körber (formerly known as Werum IT Solutions) rounds out the Leader category with its Werum PAS-X product, which is focused on global companies in the life science manufacturing vertical. Its strengths include its pharmaceutical business sector expertise, application life cycle management (ALM) capabilities, and implementation and software training services.
Visionaries
SAP's Manufacturing Suite—which includes Manufacturing Execution (ME), Plant Connectivity (PCo), and Manufacturing Integration and Intelligence (MII) solutions—leads the Visionary category. SAP works with companies worldwide and specializes in discrete and hybrid manufacturing clients. Gartner's research points to SAP's evolving deployment models, global presence, marketing understanding, and Industry 4.0 vision as its most significant strengths.
Rockwell Automation's FactoryTalk ProductionCentre primarily helps enterprise-level customers with their high-volume manufacturing needs. The company's global operations provide clients across the pharmaceuticals, consumer products, and automotive verticals with a suite of discrete, hybrid, and batch/repetitive flow process manufacturing capabilities. Alongside its product portfolio, which benefits from Rockwell's acquisition of Plex in 2021, the company's strengths as an MES vendor include its emphasis on life science industries and its forward and backward product genealogy functionality, which has proven crucial to clients in regulated industries.
Honeywell is listed next with its Honeywell Forge product, which predominantly works with global clients in the process industries (i.e., chemicals, mining and metal, oil and gas, etc.). Gartner's research spotlights Honeywell's industry focus and growth as one of its greatest strengths, alongside an extensive selection of in-house consulting and delivery capabilities that span analytics and implementation services.
ABB Ability's Manufacturing Operations Management product suite offers global manufacturers tools for manufacturing, operations, and asset management. Its clients are in the chemicals, paper, printing, mining, minerals, oil, and gas industries. While the company's platform is somewhat lagging in its user experience, its industry specialization, product modularity, sustainability, and IoT capabilities have helped it find a place in the MES marketplace.
iTAC focuses on providing companies in the automotive and electronics industries with a solution suite tailored to high-volume, repetitive flow discrete manufacturing. Its strengths as an MES/MOM vendor include its geographic strategy, expanding with various acquisitions, and its innovative architecture, as users can build standalone plug-in modules that extend the solution. iTAC also benefits from integration with its parent company, the Dürr-Group.
Emerson wraps up the Visionaries with its Syncade MES product, which focuses on life science process manufacturing with an emphasis on pharmaceutical and biotechnology companies. While life sciences clients will likely need to work with additional solutions to get the most value from Emerson's platform, Gartner recognizes the company for its impressive market responsiveness, which offered faster implementations and time to value during COVID-19, and its acquisition strategy.
Challengers
MPDV's MES product, HYDRA X, is used across manufacturing verticals, emphasizing the process, discrete, and batch/repetitive industries. While its operations focus on the EMEA regions, its foothold in North America is growing. MPDV's strengths include a UI transitioning to fully HTML5-based technology, its evolving MIP marketplace, and top-scoring customer experience, which receives high marks for its modular concept and extensive functionalities and support services.
Parsec's TrakSYS product is well-known in the MES market for its data collection, monitoring, and reporting capabilities, contributing to its high growth in 2021. The company primarily works with worldwide businesses in continuous processes, repetitive flow/batch, and discrete manufacturing sectors. While Parsec is one of the smallest MES providers listed in Gartner's report, it received high marks for its extensive geographic strategy, emphasis on managed (life cycle) services, and streamlined customer experience services.
Clients use Tulip's solution suite to create MES applications for the life science, chemicals, and general discrete industries. Most of its operations are focused in North America and EMEA, with a presence in China beginning to grow. Notable strengths include its no-code, cloud-based platform, automated application revision history features, app/integration development toolkit, and the growing Tulip Library, which offers users hundreds of pieces of content.
Dassault Systèmes offers several MES offerings to companies of different sizes. For example, DELMIA Apriso focuses on larger enterprises, while DELMIAWorks combines ERP and MES capabilities in a solution built for small and midsize businesses (SMBs). Both solutions are primarily used in discrete and repetitive flow/batch manufacturing sectors. Gartner identifies DELMIA Apriso's strengths stemming from its name recognition, market share, configurability, and ongoing marketing strategies, which leverage acquisitions and its 3D Experience platform to equip its global manufacturing clientele with MOM capabilities.
Niche Players
Oracle's Fusion Cloud Manufacturing is a public-cloud-based solution focusing on global companies in the discrete, repetitive, and flow/batch manufacturing industries. Gartner notes that most OCM clients use the solution alongside Oracle's Fusion ERP software. Its strengths include an extensive partner ecosystem—which includes over two-thousand consultants and nearly eighty partners—its compelling product suite, and its industry-specific capabilities.
Apprentice.io's platform is specifically designed to support the drug production life cycle in life sciences verticals, which include clinical testing, commercial batches, preclinical process development, and more. While the company's operations are exclusively located in North America, its built-for-purpose, cloud-native MES solution earns points for its intuitive user interface, end-user community, and capabilities for natively creating interaction instructions.
Sepasoft rounds out Gartner's 2022 MES report with a solution built on the Ignition platform, which comes from Inductive Automation. Alongside its MES module, Sepasoft markets other connectivity modules for bar code scanning, SAP interface, instrument interfaces, web services capabilities for building company-specific integrations, and more. Strengths include its per-server pricing model, which is uncommon in the MES marketplace, product customization capabilities, and its suite of features for continuous process and batch manufacturing clients.
---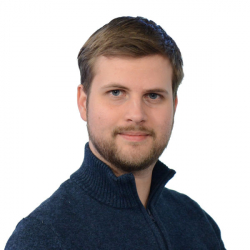 Latest posts by William Jepma
(see all)