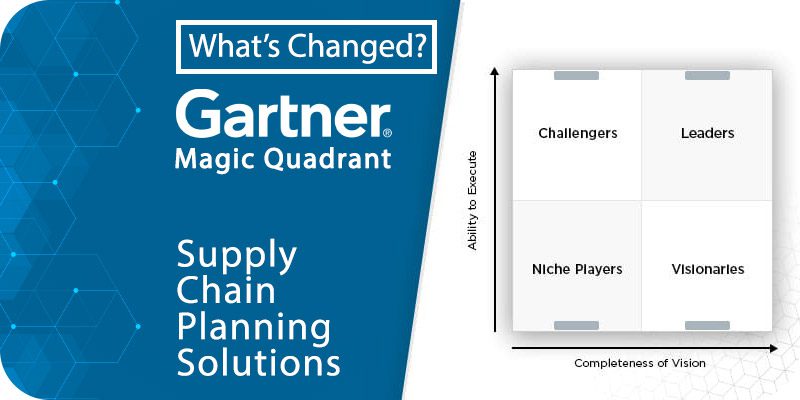 The editors at Solutions Review have highlighted the updates in the 2023 edition of Gartner's Magic Quadrant for Supply Chain Planning Solutions and summarized the findings.
Analyst house Gartner Inc. recently released the 2023 version of its Magic Quadrant for Supply Chain Planning Solutions. As defined by Gartner, a supply chain planning (SCP) solution enables "a company to manage, link, align, collaborate, and share its planning data across an extended supply chain." It can support various planning initiatives, ranging from demand planning to supply-side response planning, strategic planning, execution-level planning, and more.
The core capabilities of a supply chain planning solution include demand planning, supply planning, support for aligning planning decisions across the enterprise, and support for financial impact analysis and planning. Optional capabilities include advanced analytics, AI, digital supply chain twins, supply chain design and modeling, continuous planning, supply chain segmentation, and multienterprise planning.
What's Changed: 2023 Gartner Magic Quadrant for Supply Chain Planning Solutions
---
In this updated Magic Quadrant, Gartner identifies twenty of the most significant Supply Chain Planning solution providers in the marketplace. The researchers behind the report—Pia Orup Lund, Tim Payne, Janet Suleski, Joe Graham, Caleb Thomson, and Amber Salley—evaluated the strengths and weaknesses of each provider listed and ranked them on the signature "Magic Quadrant" graph, which provides readers with an illustration of each vendor's ability to execute their vision. The diagram includes four quadrants: leaders, challengers, niche players, and visionaries.
A breakdown of each category and the companies associated with it is below. You can find Solutions Review's rundown of last year's Magic Quadrant for Supply Chain Planning Solutions here.
Leaders
Kinaxis is once again a Leader in Gartner's report. Its RapidResponse solution is primarily used by midsize to large enterprises in the consumer electronics, industrial discrete manufacturing, pharmaceuticals, and consumer products industries. Gartner spotlights Kinaxis' strengths as its planning alignment, vision for managing uncertainty, automation tools, and highly ranked capabilities for supply chain, solution extensibility, multienterprise planning, and more.
Blue Yonder is also a Leader in the report with its Luminate Planning platform, which provides clients with end-to-end multienterprise planning capabilities. The company works with businesses worldwide, focusing on larger enterprises across industries. It differentiates itself in the SCP marketplace by emphasizing R&D, offering a microservices architecture, and providing clients with a wealth of planning capabilities, including inventory optimization, network design, demand planning, order management, and scheduling. 
OMP's Unison Planning solution covers nearly every aspect of SCP and provides its users with capabilities for everything from network modeling to detail scheduling. Its operations focus on large enterprises in process-manufacturing industries across Europe and North America. OMP's strengths as a vendor include the breadth of its features suite, specifically its scheduling capabilities and attribute-based planning tools. The company also benefits from strong financial results, which reflect its viability as a solution provider for businesses looking for an SCP solution.
Oracle has moved up from the Challenger category and is now listed as a Leader in Gartner's report. Its Oracle Cloud Supply Chain Planning solution is tailored to global midsize and large enterprises that need support for their end-to-end supply chain management and manufacturing processes. Other strengths include its planning decision automation tools, a compelling vision for planning granularity, and its simple pricing model—based on modules and the number of users—that clients have reacted positively to.
o9 Solutions focuses its SCP efforts on the demand and supply markets, emphasizing larger enterprises in the North American, Western European, Eastern European, and Asia/Pacific markets. According to Gartner, the o9 platform's standout features include its decision automation tools, data management capabilities, and a cloud-agnostic strategy that allows users to deploy the solution in any private cloud environment or the hyper-scale cloud environments offered by AWS, Microsoft, Google, and Samsung.
John Galt Solutions rounds out the Leader category with the Atlas Planning Platform. The solution focuses on end-to-end planning capabilities for strategic network modeling, production planning, and more. The company focuses on midsize and large enterprises in process manufacturing, discrete manufacturing, and wholesale/distribution markets in North America, Western Europe, and Asia/Pacific. Strengths include the breadth and usability of its capabilities and highly regarded customer support services, a feature end-user organizations value highly.
Challengers
Logility kicks off the category with its Digital Supply Chain Platform, which provides end-to-end enterprise and multi-enterprise planning capabilities to midsize and large enterprises across manufacturing and retail sectors. It expanded its supply chain modeling capabilities in 2022 by acquiring Starboard, a supply chain network design software company. Its strengths include its vision for providing planning support and its capabilities for demand planning, supply planning, advanced planning, multi-echelon inventory optimization (MEIO), and network modeling.
Anaplan is a Challenger in this year's report. Its Connected Planning platform provides demand planning, supply planning, S&OP, and procurement planning functionalities to clients across the manufacturing, high-tech/media, communications, and consumer products markets. The report cites its user experience, platform extensibility, and year-over-year customer growth as the strengths that help it stand out in the supply chain planning marketplace. Gartner Peer Insights users also named Anaplan one of the most frequently considered vendors for SCP solutions.
RELEX Solutions' supply chain and retail planning platform is primarily geared toward midsize and large retail, grocery, distribution, and wholesale companies. The company has been investing in R&D, focusing on increasing the availability and richness of data through artificial intelligence (AI). Its notable features include the range of analytics types it supports, its highly ranked customer service, and its vision for data sources, which consists of data from internal sources and third-party data providers.
SAP retains its placement in the Challenger quadrant with the SAP Integrated Business Planning (IBP) solution. It provides demand planning, inventory management, S&OP, demand-driven material requirements planning, and supply planning functionalities for midsize and large enterprises across industries. SAP has one of the largest footprints of the vendors in this year's report and has a global partner network that comprises a collection of distribution partners, value-added resellers, and implementation partners. Other notable features of the company include the year-over-year growth of its SAP IBP customer base and its broad application portfolio.
Coupa closes out the category with its Business Spend Management (BSM) platform, which supports midmarket and large companies across industries with network design, demand planning, inventory optimization, production planning, and other capabilities. Its strengths as an SCP vendor include its vision for planning decision automation, customer experience offerings, and its focus on network design, optimization, and long-term demand planning functionalities.
Niche Players
Adexa has moved from the Visionary to Niche Player category in this year's report. Its digital SCP solution delivers accurate end-to-end plans for mid-to-large companies in North America, Western Europe, and the Asia Pacific. Its strengths include its supply planning capabilities, vision for bringing real-time data into the system from multiple sources (including warehouse management systems, transportation management systems, and manufacturing execution systems), and compelling plan for automation, which extends to autonomous planning with Adexa's AI tools,
GAINSystems' solution covers enterprise and multi-enterprise planning, with features for demand management, inventory optimization, network design, and supply planning. Its clients are usually in industrial manufacturing, defense, distribution, retail, and other distribution-intensive industries. Gartner spotlights its strengths as its vision for decision alignment, its extensive range of analytics offerings, and its top-ranked customer experience, contract negotiation, selection engagement, and technical support systems.
ICRON is a new vendor added to Gartner's Magic Quadrant for Supply Chain Planning. Its ICRON Customer-Centric Supply Chain Planning platform provides small and midsize organizations with planning capabilities that, according to Gartner, demonstrate "no significant weak areas." Other notable features include its collection of analytics offerings and its vision for planning at detailed levels, which combines in-depth, real-time data and data stream with the platform.
QAD is another new addition to the report. Its Digital Supply Chain Planning (DSCP) solution prioritizes support for end-to-end SCP functionalities, which covers everything from demand planning to S&OP, production planning, procurement planning, and more. Some of its notable characteristics as an SCP vendor include its geographic presence—which benefits from having multiple offices across regions and its collection of distribution and reselling partners—and a simple pricing model lower than its peers, making it an accessible option for smaller organizations.
FuturMaster is the third (and final) newcomer to Gartner's SCP report. With its Bloom Platform, midsize and large consumer goods and food and beverage organizations will have access to end-to-end supply chain planning capabilities, focusing on demand and replenishment planning. Its strengths in the market include positive customer reports, a straightforward pricing model based on modules and the number of users, and its Diagnostic-Predictive-Value framework, which can help ensure that client strategies are understood and integrated correctly.
Slimstock closes out the Niche Player category with Slim4, which focuses on providing midsize enterprises across industries with demand planning, inventory management, and replenishment planning capabilities. The company earns its place in the report with its sales strategy, which led to notable growth in its SCP customer base over the last year, and its vision for decision support management. Slimstock also received positive marks for its simple, transparent, and comparatively affordable pricing model.
Visionaries
Arkieva's Orbit platform provides midsize-to-large enterprises in the wholesale distribution, process manufacturing, retail, and aftermarket industries with a range of planning capabilities, including visibility enablement, a supply chain command center, demand planning, and detailed scheduling. Its most notable features include an always-on digital supply chain, its vision for aligning planning decisions, and its S&OE and execution visibility capabilities, backed up by machine-driven decisions powered by real-time, event-driven updates.
e2open is the next Visionary listed in the report. Its SCP products primarily focus on integrated planning capabilities, with support for demand and supply network planning. Most of its clientele are larger organizations in the process and discrete manufacturing industries. The company received high marks for its tactical planning capabilities, well-regarded customer engagement strategy, and status as a "pioneer" of the demand sensing field.
Dassault Systèmes is the final vendor listed in Gartner's report. Its primary SCP product is DELMIA Quintiq, which specializes in integrated planning capabilities across resource types, including people, machines, materials, and transportation. Strengths as an SCP vendor include its customer engagement services, the collection of standardized training programs it offers through the 3DS University, its range of analytics offerings, and its capabilities suite, which covers network design, inventory optimization, execution visibility, and detailed scheduling.
---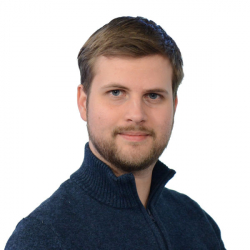 Latest posts by William Jepma
(see all)