What's Changed: 2022 Magic Quadrant for Supply Chain Planning Solutions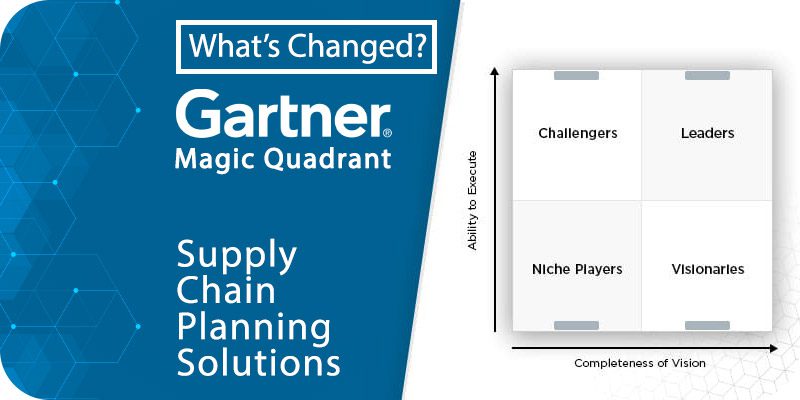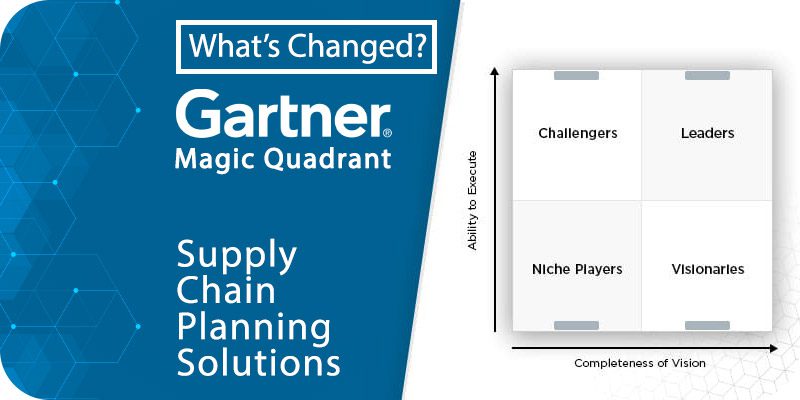 The editors at Solutions Review have highlighted the updates found in the 2022 edition of the Gartner Magic Quadrant for Supply Chain Planning and analyzed the new report.
Analyst house Gartner Inc. recently released the 2022 version of its Magic Quadrant for Supply Chain Planning Solutions. Supply chain planning (SCP) solutions provide technology support that helps companies manage, collaborate, and develop agile planning practices. SCP solutions have evolved into a unified data model environment that uses a single supply chain model for planning in the last few years. As a result, buyers are prone to work with a vendor that covers most of their SCP technology needs.
According to Gartner's research, the essential characteristics consumers prioritize in an SCP include capabilities for demand planning, demand forecasting, supply planning, financial impact analysis, and support for aligning planning decisions across an enterprise. Gartner also spotlights several secondary, optional capabilities that supply chain planning solutions might possess. These include advanced analytics, digital supply chain twin, integrated business planning, AI, supply chain segmentation, and continuous planning.
In this updated Magic Quadrant, Gartner identifies what it considers to be the most significant providers in the Supply Chain Planning Solutions marketplace. The analysts on the report—Amber Salley, Tim Payne, Pia Orup Lund, and Janet Suleski—also evaluate each listed vendor's strengths and weaknesses and rank them on the signature "Magic Quadrant" graph. The chart is divided into four quadrants: leaders, challengers, niche players, and visionaries.
What's Changed: 2022 Gartner Magic Quadrant for Supply Chain Planning Solutions
---
As the SCP market evolves, Gartner adjusts its criteria to evaluate providers, which means the vendors listed on this year's report are different from last year. For example, QAD Dynasys and Demand Solutions are no longer listed, and Blue Ridge, Coupa, John Galt Solutions, Manhattan Associates, RELEX, and Wolters Kluwer were added. A breakdown of each category listed and the companies associated with it is below.
Leaders
OMP is the top Leader in this year's Magic Quadrant. Its supply chain planning solution, Unison Planning, offers unified capabilities across network modeling, detailed scheduling, reporting, multienterprise planning, planning decision alignment, analytics, and other critical features for companies worldwide. Gartner spotlights OMP's market understanding and innovation as two of its strengths as an SCP provider, and its solution can be deployed on several hyper-scale clouds.
Kinaxis and its RapidResponse solution rank next in the Magic Quadrant. The company focuses its operations in the process and discrete manufacturing environments worldwide, emphasizing North America and a growing presence in Europe and APAC. Kinaxis has expanded its sales and operations execution (S&OE) capabilities by developing strategic partnerships with supply chain execution vendors. Other strengths highlighted in Gartner's report include its marketing strategy and vision for integrating other technologies for processing unstructured test data, Internet of Things (IoT) signals, and more.
Anaplan's platform provides supply chain planning, finance, sales, IT, workforce, and marketing functionalities to enterprises across multiple industry verticals. Its most developed presence is in North America, but it's also expanding its position in the APAC and Europe regions. The company has a unique vision for the market and its product strategy. Gartner spotlights Anaplan's development of extended planning and analysis (xP&A), procurement planning, supplier collaboration, product portfolio planning, and spend management.
[box style= "3"]Learn more about leading supply chain products with Solutions Review's Free SCP Buyer's Guide.[/box]
John Galt Solutions is the next Leader in the report. With its Atlas Planning Platform solution, mid-market and global companies across Western Europe, North America, and APAC markets are equipped with end-to-end supply chain planning, network modeling, production planning, and other capabilities. Gartner notes that John Galt Solutions receives high ranks for its business model, solution capabilities, and market understanding.
o9 Solutions focuses its operations on various verticals across the process and discrete manufacturing sectors in North America, APAC, Western Europe, and Eastern Europe territories. It offers a compelling product strategy with an evolution of the digital supply chain twin alongside its leveraging of data and AI to support stronger decision-making in the value chain. Gartner also notes that o9 Solutions scores above average for its innovative approach to SCP and its features for advanced planning, process management, user experience, data integration, and financial impact analysis.
Blue Yonder rounds out the Leader category with its Luminate Planning platform, which focuses on providing E2E multi-enterprise planning capabilities to enterprises across the verticals covered in this Magic Quadrant. The company was acquired by Panasonic in 2021, helping it expand its presence in the APAC regions. Gartner spotlights Blue Yonder's marketing strategy, market responsiveness, and vision for providing an open platform among the vendor's notable strengths.
Challengers
Oracle leads the Challengers section of this year's Magic Quadrant with its Cloud Supply Chain Planning solution and recently launched Oracle Fusion SCM analytics and Oracle Planning Advisor solutions to help planners improve their decision-making. While Oracle's supply chain capabilities aren't as developed as other vendors listed, its AI and digital technologies plan speaks to its market responsiveness and third-party partnerships, two traits Gartner identifies as strengths. Oracle also offers shorter implementation timelines than some competition, making it a compelling option for businesses needing quick results.
Coupa's Business Spend Management platform is the next solution listed. Thanks to the company's acquisitions of LLamasoft in late 2022, Coupa has expanded its platform with additional supply chain planning capabilities that bridge the gap between procurement, finance, and supply chain planning, earning it a spot in Gartner's report. Its vision and understanding of the market have yet to crystalize, but the provider earns high marks for its customer experience and marketing strategies.
Logility and RELEX occupy nearly the same space in Gartner's report but target different markets. Logility's Digital Supply Chain Platform provides E2E enterprise and multienterprise planning capabilities for midsize to large businesses across manufacturing and retail sectors. It also benefits from its recent unification with the Demand Solutions platform, which helped expand its view of the supply chain. Meanwhile, RELEX's Living Retail Platforms support integrated inventory, demand, and supply planning features for mid-to-large retail, wholesale, and distribution entities.
SAP finishes the Challengers category with the SAP Integrated Business Planning (SAP IBP) solution, supporting inventory, demand, and supply planning capabilities for midsize and large enterprises across industries. According to Gartner's analysis, SAP's strengths as an SCP provider include its persuasive sales strategy, proven marketing execution, and ability to meet market requirements. While its supply chain planning features aren't as thorough as other vendors, SAP is making strides in that area.
Visionaries
GAINSystems toes the line between Challenger and Visionary with its solution for enterprise and multienterprise planning. It's geared toward discrete manufacturing and distribution-intensive industries and offers functionalities covering demand management, supply planning, network design, and inventory optimization. The company's third-party partners are more limited than other vendors in the Gartner list, and it's experienced less growth over the past year. However, with a recent investment from global investment firm Francisco Partners, GAINSystems plans to grow its partner ecosystem and enhance its vertical-industry product management efforts.
E2open's planning products focus on integrated planning and support supply network planning and demand planning. While its supply chain presence is less developed than other industry-specific platforms, it is well-regarded for its effective sales strategies and optimized customer experience. E2open works with extensive businesses process and discrete manufacturing markets across North America, Western Europe, and APAC.
Arkieva's Orbit platform delivers planning capabilities that cover demand through scheduling. It targets midsize and large enterprises in wholesale, distribution, aftermarket, and process manufacturing and has focused its investments on moving from on-premises to a complete SaaS model. Gartner notes that the provider has fewer third-party partners and no user training programs, making it potentially challenging for new customers to acclimate to the platform. However, Arkieva also received high marks for the strength of its planning solution and its ability to address needs in the market.
Adexa is the final entry in the Visionary category. Its digital supply chain planning solution provides midsize to large enterprises across verticals with end-to-end (E2E) planning capabilities that use machine learning for self-correction, improvement, and optimization of models, policies, and algorithms. While its sales and marketing strategies scored lower than average in Gartner's report, the brand compensates for it with a proven business model, product suite, and roadmap. Gartner says Adexa's most notable strengths are its supply planning, multienterprise planning support, and advanced planning capabilities.
[box style= "3"]Learn more about leading supply chain products with Solutions Review's Free SCP Buyer's Guide.[/box]
Niche Players
Wolters Kluwer spearheads the Niche Player category with its CCH Tagetik Supply Chain Planning solution. The company's SCP solution focuses on demand planning via supply network planning and S&OP capabilities. As a result, it's focused its investments on the continued development of new and preexisting predictive analytics, data integrations, and customer experience offerings. Gartner spotlights its global focus and regular product updates among its most significant strengths as an SCP provider.
Blue Ridge's supply chain planning product provides demand, planning, sensing, shaping, capacity planning, and inventory replenishment capabilities to midsize and large companies in North America. While its global strategy is minimal, Blue Ridge's current business model and sales execution have helped it carve a space for itself in the North American market. For example, it received above-average scores for its ability to act as a single global reference for SCP in distribution-centric industries.
Slimstock's Slim4 product equips its Western European clients with demand planning, inventory management, and replenishment planning capabilities. Most of its clientele are midmarket enterprises in process manufacturing, distribution, and retail. While Gartner says "Slimstock has a more conservative vision for its offering" than other providers, the company's exclusive focus on supply chain planning gives it an edge in both its sales and operations strategies.
ToolsGroup provides automotive, consumer products, food, and beverage companies with the Service Optimizer 99+ (SO99+) solution, which focuses on demand, inventory and supply planning, and optimization functionalities. The company's strengths as an SCP provider stem from its product vision and investments in capabilities and partnerships for graph analytics, real-time external visibility, modeling additions, S&OE, and social media data streaming.
Infor's SCP solution covers nearly every aspect of supply chain planning and supports a range of tools for analytics, machine learning, probabilistic modeling, and NLP. The company's market understanding and simple pricing structure make it a strong option for clients in complex manufacturing environments. Gartner also notes that Infor's limited marketing for its SCP offering means it's a lesser-known option for clients, which might affect its ability to grow its support for those capabilities.
Dassault Systèmes' main SCP product is DELMIA Quintiq and focuses on integrated planning across people, machines, materials, and transportation. Its clientele is predominantly large enterprises in process and discrete manufacturing. Despite a lower score in market understanding and customer experience, Dassault's product and marketing strategies are well-suited to provide clients with the capabilities they're looking for in a supply chain planning platform.
Manhattan Associates focuses its operations in North America and primarily targets wholesalers, distributors, and retailers. Its Manhattan Active Inventory product offers demand forecasting, inventory planning, and replenishment planning and recently launched an integrated platform with data analytics and business intelligence tools. Its strengths include its vision for decision automation, a simple pricing model, low licensing cost for SCP implementation, and its viability as a single global instance for SCP.
---
Latest posts by William Jepma
(see all)