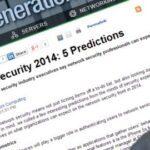 Brian Prince is a regular contributor for SecurityWeek, Dark Reading, Network Computing and other publications. In a recent posting on Network Computing, he highlighted a nice collection of predictions for security executives to look out for in 2014. Among them:
Mobile Biometrics: "Biometrics on mobile devices will play a bigger role in authenticating users to network services, one security executive predicted."
Application-Centric Networking: "Cisco's launch of its Application Centric Infrastructure this fall pushed the concept of application-centric networking front and center, along with the promise of making network security more agile and automated."
Application and Network Security Converge: "While application-centric networking aims to break down silos, other industry trends also will help bridge divisions across the enterprise."
NSA-Driven Uptick In SSL Encryption: "This trend has already begun. Yahoo recently announced it was expanding its use of encryption to protect its users from NSA snooping, following a similar move by Google."
Zero-Trust Segmentation Adoption: "Forrester Research has pushed the concept of a 'zero-trust model. for network security where all network traffic is considered untrusted, including internal traffic."
For a complete look at Mr Prince's predictions you can check out the full article here.

Latest posts by Doug Atkinson
(see all)