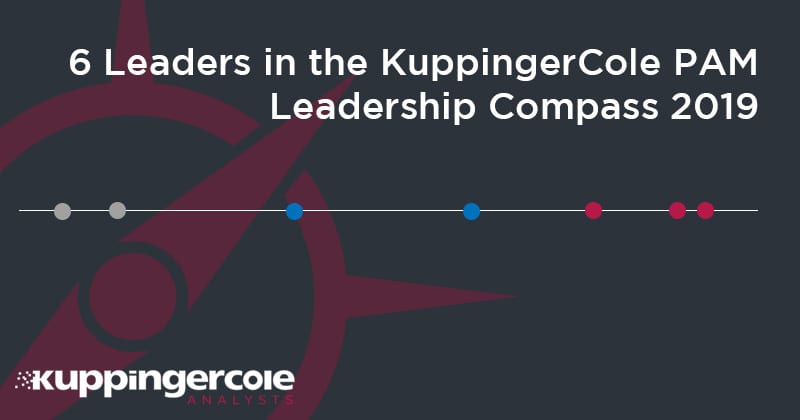 Recently, international analyst firm KuppingerCole released the latest iteration of their Privileged Access Management (PAM) Leadership Compass for 2019.
In the PAM Leadership Compass 2019, KuppingerCole Lead Analyst Anmol Singh evaluates the strengths and weaknesses of the 19 solution providers considered most significant in the market.
The PAM Leadership Compass 2019 bases its evaluations on each solution's market position and product innovation. Additionally, analysts also incorporate advisory projects, customer feedback, technical forums, and a detailed questionnaire in their report ratings.
The 19 solution providers listed in the KuppingerCole PAM Leadership Compass 2019 include ARCON, BeyondTrust, CA Technologies, Centrify, CyberArk, EmpowerID, FUDO Security, Hitachi ID, I-Sprint, Krontech, ManageEngine, Micro Focus, MT4 Networks, One Identity, Osirium, Sectona, SSH.COM, Thycotic, and WALLIX.
The editors of Solutions Review read through the KuppingerCole PAM Leadership Compass 2019. We share a few of what we consider the key takeaways from the report.
Key Capabilities in Privileged Access Management
KuppingerCole defines Privileged Access Management solutions as those designed to address "privileged access scenarios such as managing access to shared accounts, monitoring of privileged activities and controlled elevation of access privileges." Through PAM capabilities, enterprises can protect their digital assets and prevent misuse of privileged credentials.
Key capabilities of Privileged Access Management solutions, as listed by KuppingerCole, include:
Prevention of shared credentials abuse, third-party privilege abuse, and abuse of elevated privileges.

Shared Account Password Management.

Privileged Session Management.

Session Recording and Management.

Privilege Account Discovery and Lifecycle Management.

Credential Vaulting.

Privileged User Analytics.
6 Overall Leaders in PAM Leadership Compass 2019
KuppingerCole selected 6 solution providers as Overall Leaders in their report: One Identity, CA Technologies, Thycotic, Centrify, BeyondTrust, and CyberArk. Each vendor provides a Privileged Access Management product which meets Product, Innovation, and Market evaluation criteria.
However, KuppingerCole urges enterprises to critically examine all of the vendors in the PAM Leadership Compass 2019; they should compare their individual capabilities before making a selection. Differences abound even within the Overall Leaders Compass vendors.
For example, Centrify and Thycotic received praise for their product strategy enhancements. Meanwhile, One Identity garnered positive attention for changes to their product architecture and their marketing execution.
KuppingerCole notes Privileged Access Management has become one of the most important areas of cybersecurity overall. Does your enterprise have the right capabilities to adapt to the new threats to your privileged credentials?

Latest posts by Ben Canner
(see all)