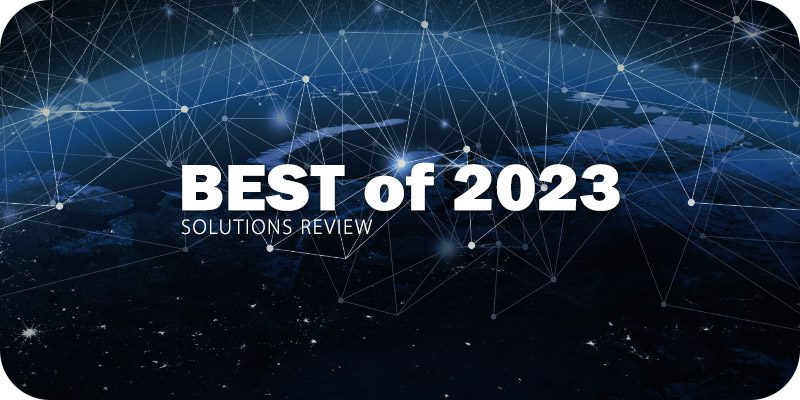 Solutions Review's listing of The Best Identity Governance Tools and Vendors in 2023 is an annual mashup of products that best represent current market conditions, according to the crowd. Our editors selected the listed products based on each solution's Authority Score, a meta-analysis of real user sentiment through the web's most trusted business software review sites, and our own proprietary five-point inclusion criteria.
Solutions Review presents The Best Identity Governance Tools and Vendors in 2023
Identity Governance and Administration (IGA) provides a critical level of control over users and entities operating in your IT environment. It can manage the "roles" of individual users, ensuring they only have the privileges they absolutely need to perform their jobs; also, your IT security team can use IGA to remove excessive privileges.
The editors at Solutions Review continually research the most prominent and influential identity governance vendors to assist buyers in searching for the tools befitting their organization's needs. Choosing the right vendor and solution can be complicated; it requires constant market research and often comes down to more than just the solution and its technical capabilities. To make your search a little easier, we listed the Identity Governance Providers: Best of 2021 and Beyond.
The Best Identity Governance Tools and Vendors in 2023
Broadcom
Broadcom folded CA Technologies' end-to-end Identity Management portfolio with its Identity Suite, Secure Cloud IDaaS solution, Single Sign-On, Advanced Authentication, and Privileged Access Management Capabilities. In fact, it renamed its CA Technologies portfolio to the Layer7 Identity Management solution. For IGA, Layer7 provides an integrated solution for privileged user governance, role discovery, lifecycle management, and identity compliance. 
Fischer Identity
Fischer International provides Compliance and Audit features as part of its IAM solution: Identity as a Service (IaaS). IaaS is an enterprise-grade full-suite identity solution for your enterprise's private cloud or on-premise servers. Fischer offers Access Governance features to automatically and reliably control user accounts and privileges across internal and external systems based on user risk profiles and roles. 
HID Global
HID Global offers an array of solutions ranging from biometric sensors and read modules; these include OEM embedded reader modules and finished desktop readers that validate identity using fingerprints or hard tokens. HID Global's solutions can integrate into existing business systems, both analog and digital. Its solutions feature advanced multifactor authentication, credential management, and analytics. A philosophy of Zero Trust drives its innovations and facilitates digital certification. 
IBM
IBM Security's Identity Governance and Administration suite—Identity Governance and Intelligence (IGI)—combines the IBM Security Identity Manager (ISIM) with IBM Security Identity Governance (ISIG) solutions for strong automation and some of the strongest governance abilities in the identity security market. IGI covers enterprises' user lifecycle management, access risk assessment and mitigation, certification, and password management,
Identity Automation 
Identity Automation's solution, RapidIdentity, supports not only identity governance and administration capabilities but automated provisioning and access and account management as well. These are available as both on-premises and SaaS deployments for all types of enterprise IT environments. Its Identity Governance solution ensures access controls are maintained and updated through business and data changes via a simplified policy configuration; this bypasses the need for custom coding, which can add a serious burden to IT security teams. 
Micro Focus
Micro Focus owns the NetIQ identity and access management suite. The company offers both NetIQ Identity Management and NetIQ Identity Governance. This suite is offered with several optional add-ons, such as Access Review—an identity governance add-on—and the NetIQ Access Governance Suite (AGS). Micro Focus' Data Access Governance allows control over unstructured data and for greater visibility into data access. It can also streamline user provisioning. 
Omada
Omada has nearly 20 years in the identity governance and administration market. Omada features a flexible data model, excellent dashboards, and powerful reporting capabilities, including closed-loop reporting. User-facing elements of all identity lifecycle scenarios support a flexible data model for user entitlements. Omada also offers specific identity provisioning services and industry-tailored solutions for several verticals, including Banking and Finance and Life-Sciences.
One Identity 
One Identity offers its Identity Governance Solution, which can come in 13 different languages, and therefore enjoys strong popularity in overseas markets. The One Identity solution provides a unified governance foundation that addresses enterprise management, auditing, and industry compliance needs; it is a modular and integrated approach to account governance that provides rapid time-to-value by offering comprehensive functionality. 
Oracle
The Oracle Identity Governance (OIG) Suite is an integrated solution that centralizes security for applications and web services and provides a single point of contact for support under a single license contract; this can be a boon for overstretched IT security teams looking for simple maintenance. OIG suite is marketed for and well-suited to large enterprise customers with substantial global footprints. 
Ping Identity 
Ping Identity's PingDataGovernance solution is designed to provide centralized, fine-grain policy control over access to your enterprise's stored identities and profiles for users and third parties alike. PingDataGovernance can restrict internal and external applications from accessing specific attributes, databases, or entire identity profiles, preventing access creep or misuse of credentials. The PingDataGovernance identity governance policies can help you adhere to your privacy compliance regulations.
PlainID
PlainID integrates with leading identity governance and administration solutions providing a real-time, policy-based Authorization Platform. It offers a policy-based access control (PBAC) solution that simplifies authorization to one point of decision, one point of control, and one point of view across enterprises' cloud, mobile, and legacy applications. The policy-based access control solution is designed to replace legacy role-based and attribute-based authorization solutions. 
RSA
RSA offers identity governance and administration through its RSA Identity Governance and Lifecycle solution: a highly scalable identity management suite built from separately licensed components. RSA's Archer Governance, Risk, and Compliance products are highly capable and a good fit for companies with heavy identity governance needs and stringent industry and regulatory compliance requirements.
SailPoint
SailPoint's true identity security strength lies in its access governance and administration capabilities, which build off of SailPoint's background as a renowned innovator in identity access and governance. IdentityIQ, offered as a standalone on-premises product with several optional add-ons, is well regarded by industry experts for its strong identity governance capabilities and provisioning capabilities. It specializes in hybrid IT environments.
Saviynt
Saviynt's identity governance solutions enable enterprises to secure their applications, data, and corporate infrastructure in a single cloud or on-premise platform. It approaches identity governance holistically, moving beyond core identity governance to incorporate cloud security, application GRC, and access governance—all within a complete cloud-based solution. Saviynt's platform can facilitate and automate user access reviews, onboarding, and lifecycle management.
Simeio
Simeio offers its own identity governance and administration service. That service, the Identity Orchestrator platform, automates compliance reporting and protects against both internal and external threats with password and role management, access creep prevention, segregation of duties enforcement, and identity proofing. Simeio's Identity Orchestrator also offers Core Directory Services to help enterprises manage their identities on a global scale with directory solutions.
Tools4ever
Tools4ever develops and provides standardized and affordable Identity Governance & Administration (IGA) solutions that can be deployed and adopted within a few weeks and are easily managed by enterprise IT security teams. Tools4ever also offers an in-house team of IT consultants to assist with IGA deployment and implementations, as well as self-service resets, centralized access reporting, audit logs, and SSO, which all facilitate identity governance.
Those are our picks for the Identity Governance Providers: Best of 2021 and Beyond. For more, check out the Guide.