Analyzing the Niche Players in the 2018 Gartner Access Management MQ Report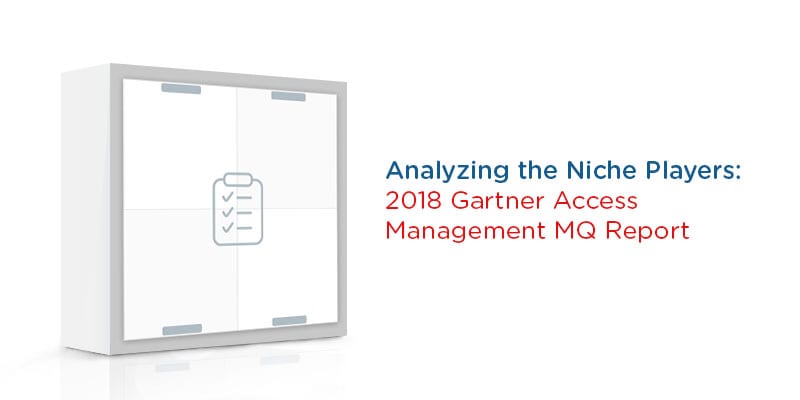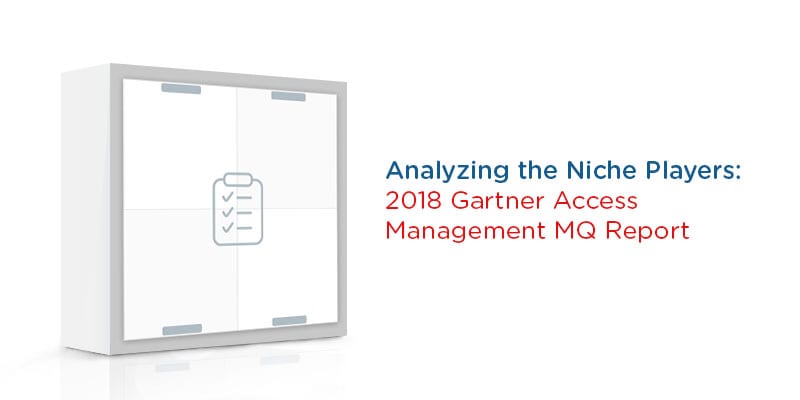 When technology research firm Gartner released their Magic Quadrant for Access Management, Worldwide report for 2018, they identified 4 solution providers for the Niche Players quadrant: SecureAuth (called SecureAuth + Core Security in the report), Atos (Evidian), i-Sprint Innovations, and Optimal IdM.
In the report, Gartner defined Niche Players as access management vendors who met Gartner's strict inclusion criteria for the 2018 Magic Quadrant for Access Management, Worldwide report whose solutions best suit specific use-cases. These use-cases could encompass a specific geographic location or a particular industry or set of related industries. However, in these use-cases their access management capabilities often outperform competitors from the other quadrants.
What are these use-cases? Who are the Nice Players in the Gartner 2018 Magic Quadrant for Access Management, Worldwide report? We analyzed the report once more to gain some insights:
Atos (Evidian)
Evidian's access management solution—the Web Access Manager—can operate with SAML and OIDC simultaneously. It bundles their access management with identity governance and administration so it can support apps both new and legacy on enterprises' networks. Evidian also offers partnerships with managed security providers to reach new customers.
Evidian does not offer an IDaaS delivery system, which may appeal to certain enterprises, and its geographic footprint is still growing.
i-Sprint Innovations
i-Sprint Innovations, which is based out of Singapore, offers its AccessMatrix Universal Access Management solution. This solution initially focused on securing i-Sprint's banking customers, and the solutions is thus primed for solving financial access management use-cases. i-Sprint also offers a privileged access management suite and enterprise single sign-on.
i-Sprint is currently working to expand its customer base beyond the Asia/Pacific region.
Optimal IdM  
Optimal IdM offers two distinct products under the heading Access Management both of which are available as software or IDaaS. The OptimalCloud can run on private dedicated servers and can be delivered as a managed service, providing multiple options for enterprises of all sizes. Optimal IdM's products began life as virtual directory services, and they still show some signs of that evolutionary history.    
Optimal IdM focuses on the core of identity and access management; this will appeal to enterprises looking for specific and essential key identity management capabilities.
SecureAuth
SecureAuth merged with Core Security officially in 2018, which increased their competent synergies and their product line-up. Their access management product, SecureAuth IdP, offers a wide array of access management capabilities, including protection against malicious phone number transfers. SecureAuth's solutions also offer a vast range of authentication capabilities.
SecureAuth no longer offers an IDaaS delivery option.
In fact, three of the four Niche Players in the 2018 Magic Quadrant for Access Management, Worldwide report do not offer IDaaS delivery. Gartner considers IDaaS one of the most important considerations for their vendor selections; they devoted a large section to the capability in their report.
However, they also offered insight into how these Niche Players might benefit your enterprises' identity security platform: "Buyers that choose IDaaS tend to be more focused on rapid time to value and do not view operational management of IAM functionality to be core to the business. IDaaS vendors in the IDaaS market began selling solutions predominantly to SMBs that had less ability to manage IAM."
Whether these comments will affect your access management solution considerations only you can answer. However, you'll certainly want to weigh these words!
You can download the full 2018 Magic Quadrant for Access Management, Worldwide report by Gartner here. You can also check out our other thoughts on the MQ report here.  

Widget not in any sidebars