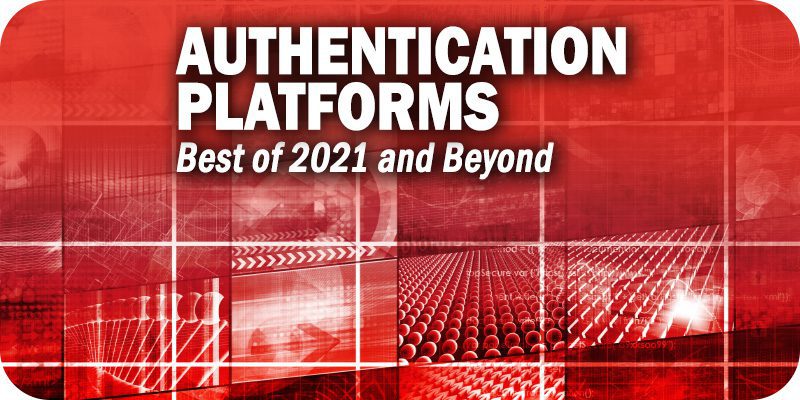 Solutions Review's listing of the best authentication platforms of 2021 and beyond is an annual mashup of products that best represent current market conditions, according to the crowd. Our editors selected the listed products based on each solution's Authority Score, a meta-analysis of real user sentiment through the web's most trusted business software review sites, and our own proprietary five-point inclusion criteria.
Solutions Review presents the best authentication platforms of 2021 and beyond.
While not the only feature of identity management platforms, authentication forms the heart of all cybersecurity. Without authentication protocols protecting both your overall IT environment and your most sensitive data, hackers don't need to break in; why would they, when the front door is unlocked and ajar? 
However, not all authentication is created equal. Some forms of authentication, like single-factor authentication and passwords, could actually end up harming your cyber-effectiveness over the long term. Instead, your enterprise needs stronger options offered by two-factor and multifactor authentication. 
The editors of Solutions Review have compiled this list of the best authentication platforms to help you find the solution that can best protect your employees, data, and reputation. 
Authentication Platforms: Best of 2021 and Beyond
---
Auth0 provides a platform to authenticate, authorize, and secure access for applications, devices, and users. Auth0 values simplicity, extensibility, and expertise to enable security and application teams to make identity work for everyone in the organization. Auth0's Authentication platform features frictionless logins, Single Sign-On, while its Access Management Platform offers API Authorization and RBAC.
Centrify
Centrify appeared in the KuppingerCole Privileged Access Management Leadership Compass in 2019 and in 2020. Additionally, it received attention in The Forrester Wave: Privileged Identity Management, Q4 2018; it was named a Leader. During RSA 2020, it received an award for "Cutting Edge Privileged Account Security" from Cyber Defense Magazine. In the Gartner 2021 Privileged Access Management Magic Quadrant, it received the title of Leader.
HID Global offers an array of solutions ranging from biometric sensors and read modules; these include OEM embedded reader modules and finished desktop readers that validate identity using fingerprints or hard tokens. HID Global's solutions can integrate into existing business systems, both analog and digital. Its solutions feature advanced multifactor authentication, credential management, and analytics.
IBM entered the IDaaS market in 2014. Since then, IBM has established itself in the market with its Cloud Identity Service product; a cloud-based identity and access management solution which offers multifactor authentication, SSO, and user lifecycle management. IBM offers its Cloud Identity Service as a multi-tenant model, though some components can be delivered in a dedicated model.
Identity Automation's signature RapidIdentity product supports identity governance and administration capabilities, automated provisioning, access, and account management in both on-premise and as-a-service deployments. The solution also boasts secure Single Sign-On access to nearly any enterprise system, multifactor authentication across all applications and databases, and time-based access expiration. In addition, Identity Automation provides provisioning, de-provisioning, dynamic role management, and granular group management.
ImageWare
ImageWare Systems distinguishes itself as a provider of a full-range of two-factor (2FA) and biometric multi-factor authentication (MFA) products with turnkey integration for leading security ecosystems that is highly-scalable. ImageWare's GoVerifyID authenticator allows organizations to select any combination of 2FA, including Secure Push, PINs, and Biometric MFA including recognition of face, voice, palm, and fingerprint. 
Okta's Identity-as-a-Service (IDaaS) offering boasts one of the fastest-growing customer bases in the market and the funding to match. The Okta Identity Management Service provides centralized directory services, Single Sign-On, strong authentication, provisioning, workflow, and reporting. All of this is delivered as a multitenant IDaaS with some components operating on-premise.
OneLogin provides on-demand IDaaS solutions consisting of Single Sign-On, multi-factor authentication, directory integration, user provisioning capabilities. It also includes a catalog of pre-integrated applications. OneLogin is provided via a multitenant architecture and provides strong capabilities and support for access management policy administration, user directory integration, and end-user self-service.
Ubisecure is a European technology provider specializing in high scale customer IAM (CIAM) use-cases. Its Identity Platform is designed to enhance an enterprise's customer-facing applications by providing a high-quality experience to increase customer capture, conversion, and engagement. The Identity Platform offers adaptive authentication, allowing enterprises with strong customer identities to become Identity Providers through MFA and Centralized Authorization Policy Management.
Those are our picks for the best authentication platforms. For more, check out the Identity Management Buyer's Guide.