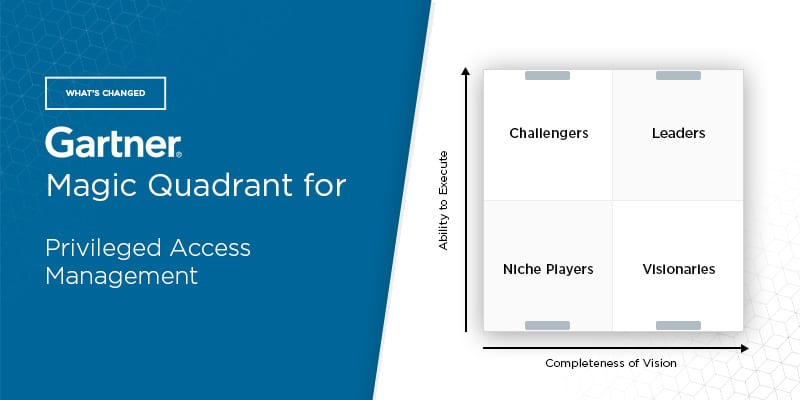 The editors at Solutions Review highlight what's changed since the last iteration of Gartner's Magic Quadrant for Privileged Access Management and provide analysis of the report.
Technology research giant Gartner, Inc. recently released the 2020 Gartner Magic Quadrant for Privileged Access Management. You can download it here. Gartner researchers define Privileged Access Management (PAM) as offering features including the discovery and governing of privileged accounts, control over access to privileged accounts, managing, and vaulting credentials, and single sign-on. 
Additionally, in their definition of PAM, Gartner notes the importance of privileged account and session management, privileged elevation and delegation, and secrets management in enterprise identity management. Other critical capabilities include account onboarding, logging and reporting, privileged task automation, and ease of deployment.  
Gartner labels privileged access management as a maturing market, with more providers focusing on just-in-time, secrets management, and cloud capabilities. However, they note that some basic PAM capabilities including account discovery still need maturing. 
In the report, researchers predict that by 2024, half of all businesses will implement a just in time (JIT) privileged access model; a JIT privileged access management model suffers from 80 percent less privileged breaches. Just-In-Time provides "on-demand privileged access without the requirement of shared accounts carrying standing privileges." Simultaneously by 2024, 65 percent of businesses using privileged task automation features will save 40 percent of staff costs for IT operations. 
In the 2020 Gartner Magic Quadrant for Privileged Access Management, researchers evaluate the strengths and weaknesses of the providers it considers most significant in the marketplace. Then, it provides readers with a graph (the eponymous Magic Quadrant) plotting the vendors based on their ability to execute (Y-Axis) and their completeness of vision (X-Axis). The graph is divided into four quadrants: Niche Players, Challengers, Visionaries, and Leaders. At Solutions Review, we read the report, available here, and pulled out the key takeaways. 
The 2020 Gartner Magic Quadrant for Privileged Access Management is the second iteration of the report, with the first report released in 2018. It took a brief hiatus in 2019. 
Gartner named 11 vendors to the PAM Magic Quadrant in 2020. However, three vendors from 2018 did not meet the inclusion criteria for this year. Fudo Security, Micro Focus, and Osirium did not meet Gartner's requirement for "minimum growth and customers" for this iteration. Meanwhile, Krontech appeared for the first time in the report, and Broadcom appeared under its own name (it was previously covered as CA Technologies). 
This year, the vendors in the 2020 Gartner Magic Quadrant for Privileged Access Management appear clustered closer to the center of the four quadrants. This could indicate the still-maturing nature of the PAM market: vendors continue to find their individual niches and refine their capabilities for businesses. The previous iteration saw the vendors far more spread out, creating an almost linear appearance. Additionally, an interesting note is mass shift to the Challengers Quadrant, which was previously barren. Possibly, this indicates the same maturing processes and perhaps a greater degree of standardization among capabilities. 
Let's take a closer look, beginning with the Niche Players. According to researchers, Niche Players provide technology that offers "a good match for specific PAM use cases or methodology." As such, they can focus on specific industries or customers. Newcomer Krontech appears in the Niche Player Quadrant, while Broadcom (who acquired CA Technologies) technically dropped from the Leaders Quadrant. WALLIX rose significantly both up and to the right, closer to the center. Finally, ManageEngine stayed relatively in the same space, although it did move up and to the left. 
Gartner singled out Broadcom for its efficient and scalable PSM capabilities, Krontech for its support of extensive SQL filtering, WALLIX for its full OCR  for captured graphical sessions, and ManageEngine for its PASM capabilities. 
Only One Identity remains in the Visionaries Quadrant; definitionally, these products " meet many PAM client requirements, but may not have the means (such as budget, personnel, geographic presence, visibility and so on) to execute as Leaders do." Previously, it shared the space with senhasegura and Thycotic. Gartner praised One Identity's comprehensive API and SDK capabilities.  
In the once empty Challengers Quadrant, we find Hitachi ID Systems, senhasegura, and ARCON. Hitachi ID Systems rose from the Niche Players Quadrant while also moving to the left. Simultaneously, senhasegura move up and left from the Visionaries Quadrant, while ARCON ostensibly moved straight up from the Niche Players. According to Gartner, Challengers "deliver a relatively strong set of PAM features…[they] also show strong execution, and most have significant sales and brand presence."
Hitachi ID Systems received attention for its discovery, credential management, and automation. Also, senhasegura garnered praise for its own discovery and account mapping capabilities. ARCON was singled out for its scalability. 
Finally, we find the Leaders Quadrant. Researchers explain "PAM Leaders deliver a comprehensive toolset for the administration of privileged access. Leaders also show evidence of superior vision and execution for anticipated requirements related to technology, methodology, or means of delivery."
Centrify, BeyondTrust, and CyberArk all return to the upper-right section, with some changes. Centrify moved left, closer to the center, while BeyondTrust moved down and to the left significantly. CyberArk also moved left slightly, but it appears to have moved up as well.
The only new addition to the Leaders is Thycotic, which rose significantly from the Visionaries Quadrant.     
BeyondTrust offers its Privileged Remote Access solution. Centrify provides a SaaS-based PASM solution. CyberArk offers a broad set of capabilities, including solutions for Linux and Unix. Finally, Thycotic received praise for its technical support and UI.
Read the full 2020 Gartner Magic Quadrant for Privileged Access Management here.  

Latest posts by Ben Canner
(see all)