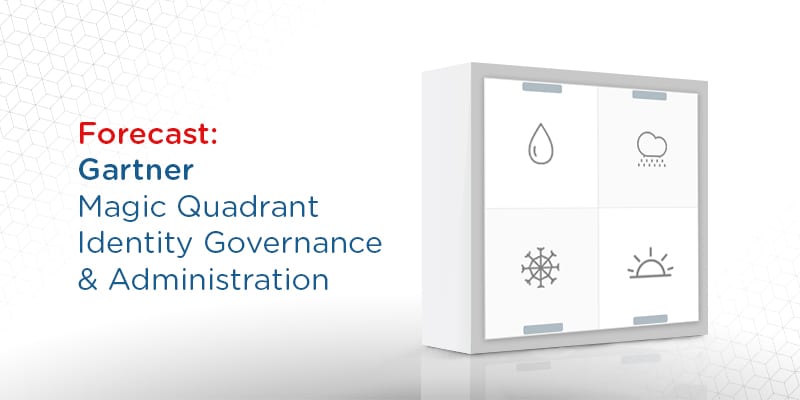 Every year, cybersecurity technology professionals from every subcategory of this wide field eagerly await the arrival of their respective Gartner Magic Quadrant report. Thanks to their proprietary research methodology, Gartner's annual marketplace analyses generate a level of buzz in the tech world only matched by Apple' keynote speeches.
Whether it be for Access Management, Endpoint Protection Platforms, or SIEM, the Magic Quadrant is considered Gartner's premier report in each cybersecurity marketplace. IT administrators, solutions architects, and cybersecurity professionals alike use Gartner's findings and advice as a critical jumping-off point for their yearly initiatives and purchasing decisions.
And now another one is just around the corner: The 2018 Gartner Magic Quadrant for Identity Governance and Administration (IGA) is due out on February 28 (according to the release schedule). With the release of a prominent report so close at hand, we here at Solutions Review wanted to share our predictions for what the report will show once it becomes available:
The Race to the Cloud for IGA is Over
Last year, Gartner stated that the IGA market had matured; the majority of identity governance solutions are now capable of fulfilling most common use-cases. Therefore, Gartner predicted, the IGA market would undergo a "significant change phase" as vendors sought to differentiate themselves and carve out their individual market shares. They further predicted this drive for distinctiveness would fuel a "race to the cloud" for deployment and delivery, and additions of Security-as-a-Service components to their on-premise software.
We forecast that 2018 will show the fruit of Gartner's market prediction as more vendors tout their cloud solutions and SaaS capabilities. With the conversation around enterprise digital transformation and cloud transitions reaching a fever pitch, IGA solution providers spent 2017 racing against the speed of innovation as much as with their competitors. Some vendors, like Saviynt, CA Technologies, and Simeio, already list their cloud delivery as a major feature of their platforms; it's fast becoming a standard in IGA. The race for to the cloud has reached its conclusion, and new innovations will dominate discussions of the market's future.   
Additionally, we wouldn't be surprised if Gartner's criteria for the Identity Governance and Administration Magic Quadrant has changed to factor in comprehensive and effective cloud delivery and deployment. For example, how well does a particular IGA solution provider handle the functional differences between their on-premise and cloud-based solutions? The answer to that question and others in the same vein may be Gartner's new way of looking at IGA.
Identity Governance Integration: Making or Breaking Providers?
Since Gartner's last IGA Magic Quadrant in 2017, a significant number of identity governance vendors expanding their operations either directly through acquisitions or through strategic partnerships. Micro Focus acquired HPE and their ArcSight IAM solution. One Identity acquired Balabit, a privileged access management vendor. Saviynt has strategic partnerships with Microsoft, Ping Identity, and Okta. The sum total of these moves are sure to afford more resources, tools, and solutions versatility to their enterprise customers looking for identity governance solutions.
But how will this change Gartner's Magic Quadrant? Well, part of what keep vendors out of the coveted Leadership quadrant is a lack of feature completeness, scale of deployment, or vision. Many of the biggest moves in IGA over the past year has been by vendors placed in the Visionary and Challenger Quadrants in 2017. So the question becomes: what will be the tipping point for some of these vendors to take a new place in the Leadership Quadrant?
On a related note…
New IGA Leaders WIll Emerge
In 2016, there were only three vendors in the Leadership Quadrant for IGA: SailPoint, Oracle, and IBM.
In 2017, CA Technologies made the jump up thanks to a significant easing of their deployments, which had proved a major sticking point for Gartner.
So while the 2018 Quadrant is still unknown, there is a possibility of a new vendor crossing into the Leadership section this year. The real question is who? Will it be MicroFocus, the only Visionary of 2017's Magic Quadrant? Or will it be any of the Challengers: Omada, One Identity, or Saviynt? All of them hovered just behind the Leadership line last year, and they have all made market moves that could tip the scales in their favor.
We do feel fairly confident that none of the current leaders are in danger of losing their Leadership quadrant position in IGA; the four of them seem to be keeping up with Gartner's predictions as well. But this competitive innovation could a represent good thing for enterprise customers: it could mean better prices.

Latest posts by Ben Canner
(see all)