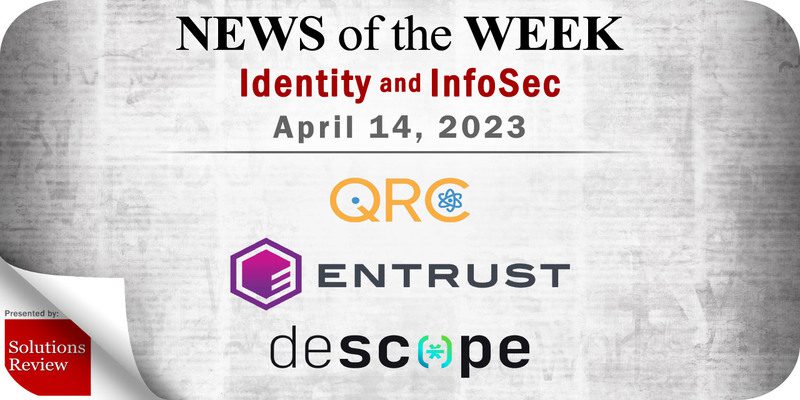 The editors at Solutions Review have curated this list of the most noteworthy identity management and information security news for the week of April 14. This curated list features identity management and information security vendors such as Quantum Resistance Corporation, Entrust, Descope, and more.
Keeping tabs on all the most relevant identity management and information security news can be a time-consuming task. As a result, our editorial team aims to provide a summary of the top headlines from the last month, in this space. Solutions Review editors will curate vendor product news, mergers and acquisitions, venture capital funding, talent acquisition, and other noteworthy identity management and information security news items.
Identity Management and Information Security News for the Week of April 14
---
The Quantum Resistance Corporation and RedSense Announce Partnership
The Quantum Resistance Corporation (QRC), a post-quantum security solutions provider, this week announced a strategic partnership with RedSense, a threat intelligence and cybersecurity firm. RedSense will provide network security and management services for the QRC, and together RedSense and QRC will provide security for cryptocurrencies, as well as developers utilizing the Quantum Resistant Ledger (QRL) post-quantum secure blockchain to develop future-proof solutions.
Nok Nok Expands S3 Authentication Suite
Nok Nok, a passwordless authentication solutions provider, announced the latest release of the Nok NokTM S3 Authentication Suite (S3 Suite) that delivers four new capabilities designed to meet the needs of regulated industries, payments markets, and e-commerce organizations. For government organizations or highly regulated industries such as healthcare, finance, and insurance, the new offering simplifies the ability to comply with security and regulatory requirements, including identifying known and unknown devices. Additional new features help e-commerce organizations reduce friction for consumers. Payment companies will also benefit with new features in the S3 Suite that address Secure Payment Confirmation (SPC) for approving high value financial transactions in web browsers.
Entrust Launches All-New Zero Trust Ready Solutions
Entrust, a global provider of identity and data security, recent announced a suite of Zero Trust identity, encryption, and key management solutions. Entrust will showcase its data security innovations at this year's RSA Conference in San Francisco, with subject matter experts and thought leaders available at booth #6445 North from April 24-27 to discuss the importance of a solid Zero Trust foundation and preparing for the post quantum cryptographic future.
Cerbos Launches Cerbos Cloud; Closes $7.5 Million in Seed Funding
Cerbos, an authorization solutions provider, this week announced Cerbos Cloud, a managed service offering for Cerbos. Cerbos is an open source authorization layer to implement roles and permissions in software applications. It separates authorization logic from the core application code, making the authorization layers more scalable, more secure and easier to change as the complexity grows. Cerbos Cloud streamlines the implementation and management of authorization policies. Cerbos will be showcasing the private beta of Cerbos Cloud next week at KubeCon + CloudNativeCon Europe. This announcement follows hot on the heels after securing a  $7.5 million extended seed round led by OMERS Ventures with participation from angel investors.
Baffle Joins AWS ISV Accelerate Program
Baffle Inc. announced that it has joined the Amazon Web Services (AWS) Independent Software Vendor (ISV) Accelerate Program, a co-sell program for AWS Partners who provide software solutions that run on or integrate with AWS. The program helps AWS Partners drive new business by directly connecting participating ISVs with the AWS Sales organization. Baffle DPS on AWS supports data tokenization, static and dynamic data masking, and data access controls for Amazon Redshift and Amazon Relational Database Service (Amazon RDS). Baffle DPS provides seamless integration with AWS Database Migration Services (AWS DMS), AWS Glue, Amazon Simple Storage Service (Amazon S3), AWS Key Management Service (AWS KMS), and Amazon Redshift without application changes to provide end-to-end data-centric protection of modern applications and data pipelines.
Descope Launches Authentication Startup Program
Descope, the "drag-and-drop authentication platform" for developers, this week announced its Hello World Startup Plan through which eligible startups can use Descope's Pro Tier free of charge for one year. Startups that are less than three years from their inception and have up to $1M in annual recurring revenue / total bookings are eligible. Descope helps developers add authentication, user management, and authorization capabilities to their apps with a few lines of code. Descope's drag-and-drop workflows, SDKs, and APIs abstract away the complexity of authentication so that apps can get to market fast and safe.
---
Expert Insights Section
Watch this space each week as Solutions Review editors will use it to share new Expert Insights Series articles, Contributed Shorts videos, Expert Roundtable and event replays, and other curated content to help you gain a forward-thinking analysis and remain on-trend. All to meet the demand for what its editors do best: bring industry experts together to publish the web's leading insights for enterprise technology practitioners.
Datto Partners with Solutions Review for Spotlight Series
Solutions Review is one of the largest communities of IT executives, directors, and decision-makers across enterprise technology marketplaces. Every year over 10 million people come to Solutions Review's collection of sites for the latest news, best practices, and insights into solving some of their most complex problems. With the next Solutions Spotlight event, the team at Solutions Review has partnered with leading managed service provider Datto to provide viewers with a unique webinar called Re-Imagining Endpoint Security with Datto EDR.
RSA Conference 2023 is Right Around the Corner…
RSA Conference is the premier series of global events and year-round learning for the cybersecurity community. RSAC is where the security industry converges to discuss current and future concerns and have access to the experts, unbiased content, and ideas that help enable individuals and companies advance their cybersecurity posture and build stronger and smarter teams. Both in-person and online, RSAC brings the cybersecurity industry together and empowers the collective "we" to stand against cyber threats around the world. Attend live or in person April 24th through the 27th.
Industry Experts Share Thoughts on Identity Management Day 2023
As part of Identity Management Day (April 12) Solutions Review called for the industry's best and brightest to share their Identity Management comments. The experts featured represent some of the top Cybersecurity solution providers with experience in these marketplaces, and each projection has been vetted for relevance and ability to add business value.
Quantum Security and Infrastructure: Risks and Benefits for the Energy Grid
Despite recent efforts on behalf of world leaders to cut energy consumption, global energy demand is projected to increase by 50 percent between 2022 and 2050. With this rapidly growing demand for energy comes the need for more connected devices to regulate the generation, transmission, and distribution of energy. Today's grid relies on a vast number of networked devices and sensors that constantly monitor energy inputs and outputs to optimize The Grid. While technology has greatly aided the energy sector with managing the flow of energy across the country, it has also created more devices and data points to manage and subsequently opened The Grid to a colossal number of cyber-attack surfaces for foreign adversaries to exploit. The development of quantum technologies has the potential to be both the antidote and kryptonite for The Grid's growing problem.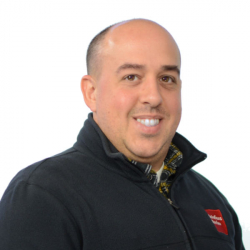 Latest posts by Mike Costello
(see all)