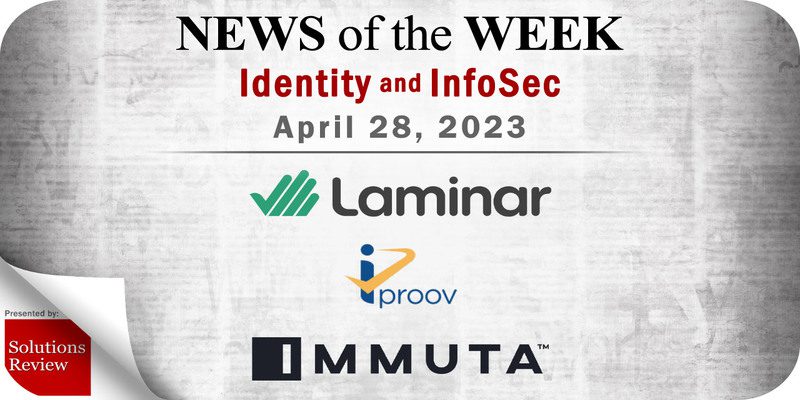 The editors at Solutions Review have curated this list of the most noteworthy identity management and information security news for the week of April 28. This curated list features identity management and information security vendors such as Laminar, iProov, Immuta, and more.
Keeping tabs on all the most relevant identity management and information security news can be a time-consuming task. As a result, our editorial team aims to provide a summary of the top headlines from the last month, in this space. Solutions Review editors will curate vendor product news, mergers and acquisitions, venture capital funding, talent acquisition, and other noteworthy identity management and information security news items.
Identity Management and Information Security News for the Week of April 28
---
Laminar Named AWS Security Competency Partner
Laminar, a data security platform, this week announced that it has achieved two important milestones in its relationship with Amazon Web Services (AWS). Laminar became the first pure-play DSPM to be named an AWS Security Competency Partner in the category of Data Protection in March. In addition, Laminar's DSPM solution received the Amazon Relational Database Service (RDS) Ready Product designation in February. The AWS Competency Program validates and promotes AWS partners who have demonstrated technical expertise and proven customer success in specialized areas, including various security use cases. Last year, the company introduced a new category within the Security Competency, Data Protection, at its AWS re:Inforce event, and Laminar is the first pure-play DSPM provider to earn this distinction.
Outpost24 Appoints Brendan Hogan as Chief Strategy Officer
Outpost24, a cyber risk management solutions provider, this week announced it has appointed Brendan Hogan as Chief Strategy Officer (CSO). Hogan is responsible for spearheading M&A Strategy, Corporate Development and Alliance strategy for the company. Hogan has over 20 years of strategy and corporate development experience across technology and security. In his new role as Outpost24 CSO, Hogan will drive the long-term strategy that enhances current product offerings, scale operations to support new growth opportunities for Outpost24's existing businesses and look to expand the technology across new global markets.
Token Debuts Next-Generation MFA at RSA Conference 2023
Token, an MFA solutions provider, debuted its new smart ring MFA solution at the RSA Conference earlier this week. Token's next-generation MFA solution is an easy-to-implement, passwordless, FIDO2-compliant, biometric wearable that stops phishing attacks and data breaches. Those that attended the Conference in San Francisco were given a demo of the ring in action.
iProov Named Winner at the Global InfoSec Awards During RSA
iProov, a leader in online facial biometric authentication is proud to have won the Biometrics Award at this year's Global Infosec Awards run by by Cyber Defense Magazine (CDM), the industry's leading electronic information security magazine. The award was announced at the 2023 RSA Conference. The judges are CISSP, FMDHS, CEH, certified security professionals who voted based on their independent review of the company submitted materials on the website of each submission including but not limited to data sheets, white papers, product literature and other market variables.
Nok Nok Partners with Carahsoft to Provide MFA Solutions to Government Agencies
Nok Nok, a passwordless authentication solutions provider, this week announced a partnership with Carahsoft Technology Corp. Under the agreement, Carahsoft will serve as Nok Nok's Master Government Aggregator, making the company's phishing-resistant multi-factor authentication (MFA) solutions available through Carahsoft's reseller partners, NASA Solutions for Enterprise-Wide Procurement (SEWP), Information Technology Enterprise Solutions – Software 2 (ITES-SW2), National Cooperative Purchasing Alliance (NCPA), and OMNIA Partners contracts. By providing access to numerous contract vehicles, Carahsoft will help streamline the procurement process for the Federal Government to acquire Nok Nok's S3 Suite and provide the integrated platform to its employees, contractors, partners, and public users.
Sift Launches Online Community, "Sifters", for Trust and Safety Professionals
Sift, a Digital Trust & Safety platform, announced the launch of its new online customer community, "Sifters." Previously available in a limited beta, Sifters hosts product documentation, discussion forums, education, and a network of global professionals. Sift customers can learn from, interact with, and share information with each other, including emerging fraud threats they encounter. Additionally, the community portal allows any Sift customer to engage directly with product experts and the Trust and Safety Architect (TASA) team, Sift's group of in-house advisors and advocates who previously held fraud prevention roles at companies such as Google, Facebook, Square, and Airbnb.
Immuta Launches New Data Security Features for Platform
Immuta, a data security solutions provider, this week announced new vulnerability risk assessment and dynamic query classification capabilities for the Immuta Data Security Platform. These new features enable customers to promptly identify and prioritize security gaps, protecting sensitive data based on the context and sensitivity levels. These new features will help customers protect, manage, and remediate data by making it easy to identify and dynamically protect sensitive data, monitor and measure data access risk, and provide "foolproof" data protection across the leading cloud data platforms.
---
Expert Insights Section
Watch this space each week as Solutions Review editors will use it to share new Expert Insights Series articles, Contributed Shorts videos, Expert Roundtable and event replays, and other curated content to help you gain a forward-thinking analysis and remain on-trend. All to meet the demand for what its editors do best: bring industry experts together to publish the web's leading insights for enterprise technology practitioners.
The 8 Best Coursera Courses for Cybersecurity in 2023
The editors at Solutions Review compiled and curated this shortlist for the best Coursera courses on cybersecurity in 2023 to give the aspiring cybersecurity expert a strong starting point in their career. The Coursera cybersecurity courses listed below are entry-level and can be a great starting point for anybody trying to kick-off their learning this year. They're also a great reference point for established experts looking to brush up on their knowledge. Whatever your motivation to learn more, Coursera will provide.
The Evolving Cybersecurity Landscape: M&A Activity, Quantum, and More
The cybersecurity landscape for businesses is constantly evolving, with new threats and vulnerabilities emerging all the time. In recent years, cyber-attacks have significantly increased, including ransomware, phishing, and supply chain attacks. Companies are also facing regulatory pressures to ensure data privacy and security, with new laws such as GDPR and CCPA. With the rise of remote work, businesses must also contend with securing devices and networks outside of traditional office settings. At the same time, emerging technologies such as AI and IoT offer both opportunities and challenges for security. To stay ahead of these evolving threats, businesses must take a proactive approach to security, including implementing robust security measures, providing regular employee training, and staying up to date with the latest trends and best practices in cybersecurity.
Automation: The Missing Link to Recession-Proof Cybersecurity
In an unprecedented threat landscape, a highly vigilant and prepared security team is an absolute necessity to ensure no suspicious activity slips through the cracks. However, improvements won't be made if security teams are still relying on manual processes and disparate point tools to address security challenges. As such, the key to building a recession-proof cybersecurity program will lie in the hands of automation.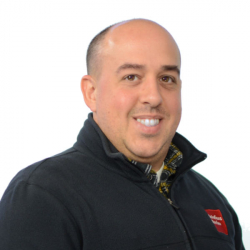 Latest posts by Mike Costello
(see all)