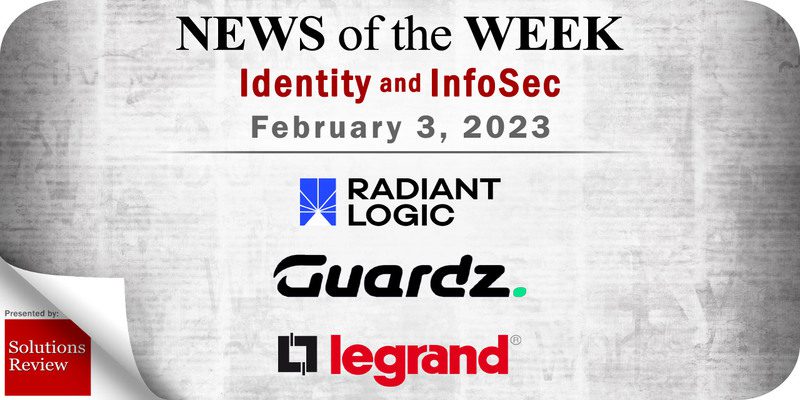 The editors at Solutions Review have curated this list of the most noteworthy identity management and information security news for the week of February 3. This curated list features identity management and information security vendors such as Radiant Logic, Guardz, Legrand, and more.
Keeping tabs on all the most relevant identity management and information security news can be a time-consuming task. As a result, our editorial team aims to provide a summary of the top headlines from the last month, in this space. Solutions Review editors will curate vendor product news, mergers and acquisitions, venture capital funding, talent acquisition, and other noteworthy identity management and information security news items.
Identity Management and Information Security News for the Week of February 3
---
Radiant Logic Signs Definitive Agreement to Acquire Brainwave GRC
Radiant Logic, an identity solutions company, announced this week that it has entered into a definitive agreement to acquire Brainwave GRC, a leader in Identity Governance and Analytics (IGA) headquartered in France. The acquisition will strengthen both Radiant Logic and Brainwave GRC's respective market positions as identity, analytics and intelligence experts by offering a new lightweight data-centric governance capability and a market-defining identity data intelligence platform. Brainwave will maintain independent operations for the near-time, while both platforms continue to be supported, invested in, and integrated over time. The transaction is subject to customary closing conditions. Terms of the acquisition were not disclosed.
Axiad Appointed to FIDO Alliance Board
Axiad, a passwordless solutions provider, announced it has been appointed to the FIDO Alliance Board of Directors. Karen Larson, Axiad's Senior Director, Strategic Partnerships and Alliances will serve as Axiad's Primary Board Delegate. In her new role as a FIDO Alliance Board Member, Larson will help set direction for the alliance focused specifically on the authentication needs of the enterprise and public sector.
Exabeam Research: "Organizations Prioritize Prevention Over Detection While Breaches Continue to Rise"
Exabeam, a SIEM solutions vendor, announced its State of the SIEM survey of 500 U.S. IT security professionals, revealing that 97 percent feel confident that they are well-equipped with the tools and processes they need to prevent and identify intrusions and/or breaches. However, according to recent security industry reports, 83 percent of organizations experienced more than one data breach in 2022.
Jumio Announces New Sales Leadership
Jumio, an identity and risk management solutions provider, announced the addition of Experian and Trulioo veteran Jon Jones as the company's new senior vice president of worldwide sales, and the promotion of Simon Winchester to vice president of global account management. Jon Jones has more than 25 years of experience in the fraud and identity space. He joins Jumio from Experian, where he most recently served as senior vice president of sales operations and focused on the company's fraud and identity, software, analytics and consulting product lines. Before that, he was president of Trulioo.
Varonis Announces Proactive Incident Response for SaaS Customers
Varonis, a data security platform, announced another milestone in its mission to deliver effortless data security outcomes with the launch of Proactive Incident Response. With this new offering, Varonis significantly reduces the pressure on customers' security operations teams and improves their ability to prevent data breaches. As part of their Varonis SaaS subscription, customers gain a global team of experienced incident response analysts who watch for suspicious activity, investigate alerts, and notify the customer of potential incidents.
Silverfort Releases Free Identity Security Assessment
Many organizations are struggling today with aligning their security controls with what underwriters now require in order to get insurance coverage against ransomware attacks. From the identity protection perspective, even the initial discovery of MFA and administrative access gaps to address can be a severe challenge, due to a lack of tools that can reveal the security posture of all admin users and service accounts. This is why Silverfort is launching a free identity security assessment offering– to assist organizations in this task and enable them to easily meet insurers' requirements.
Shift5 Expands Leadership Team with New Appointments
Shift5, a data solutions company, announced it has expanded its leadership team through the appointment of Ellen McDonald as General Counsel and the promotions of Mitchell Plonski to Chief Revenue Officer and Amanda Lampert to Chief People Officer. Among the growth of its executive team, Shift5 has appointed two federal marketing leaders, Vice President of Marketing, Colby Proffitt, and Head of Federal Marketing, Andy Oare.
Sentra Raises $30 Million Series A Financing
Sentra, a cloud data security company, announced the completion of a $30 million Series A funding round led by Standard Investments with participation from Munich Re Ventures (MRV), Moore Strategic Ventures, Xerox Ventures and INT3 as well as existing investors Bessemer Venture Partners and Zeev Ventures. The new financing, secured just 18 months after the company was founded, brings the total capital raised to over $53 million. The company also announced that Standard Investments' Peter Marturano, technology sector head, and MRV's Oshri Kaplan, managing director, will be joining its Board of Directors.
Guardz Emerges from Stealth with $10M for SMB Security and Cyber Insurance
This week, a startup called Guardz is emerging from stealth with a two-part offering aimed at protecting them: a SaaS-based set of low-code security tools designed for businesses using cloud services, designed to be implemented without any specific security or advanced technical expertise; and insurance to help cover organizations in cases where something is disrupted. The startup is launching initially in the U.S., and along with that, it's announcing $10 million in funding. The funding is coming on the heels of some very early traction. In a closed beta, Guardz says it has already picked up 300 customers.
Saviynt Raises $205M; Founder Rejoins as CEO, Appoints Seasoned President
Saviynt, a leading provider of intelligent identity and access governance solutions, announced that it has closed $205 million in growth financing from AB Private Credit Investors' Tech Capital Solutions group, an affiliate of global investment management firm AllianceBernstein. The company will use this funding to meet the market's growing demand for its converged identity platform and accelerate innovation. The company also welcomes back its founder Sachin Nayyar as the newly appointed Chief Executive Officer. Nayyar first led Saviynt from inception in 2011 to leadership in the identity governance market in 2018, exponentially increasing its revenue and customers during his initial tenure. Nayyar rejoins Saviynt after serving as founder and CEO of cybersecurity company Securonix, which he led to a $1 billion+ growth investment led by Vista Equity Partners in 2022. Seasoned executive Paul Zolfaghari joins Saviynt as President with over twenty years of software company operating experience. He was most recently a Managing Director at private equity firm Carrick Capital Partners. Prior to that, Zolfaghari was President of enterprise software company MicroStrategy. Former Saviynt CEO Amit Saha will be taking on the new role of Chief Growth Officer, where he will develop and execute on strategies to grow the company's converged identity platform and strategic relationships.
Legrand Building Control Systems Awarded ISO/IEC 27001 Information Security Certification
Legrand, global specialist in electrical and digital building infrastructures, announced that its building control systems (Legrand BCS) division has achieved ISO/IEC 27001:2013 certification, the world's renowned standard for information security management systems. This certification confirms that Legrand BCS has achieved the most rigorous international standards for protection and security within the software and firmware used for its connected devices, embedded systems, and IT systems that are created at its Carlsbad, Calif.; Pleasant Grove, Utah; and Richardson, Texas, R&D facilities. This includes the company's Legrand Shading Systems, Vantage, and Wattstopper brands.
---
Expert Insights Section
Watch this space each week as Solutions Review editors will use it to share new Expert Insights Series articles, Contributed Shorts videos, Expert Roundtable and event replays, and other curated content to help you gain a forward-thinking analysis and remain on-trend. All to meet the demand for what its editors do best: bring industry experts together to publish the web's leading insights for enterprise technology practitioners.
Blockchain and the Future of IT Security: A Quick Primer
Blockchain security, as a concept, is still in its infancy. We have a way to go before corporations can rely solely on the blockchain to safeguard their information. That said, the fundamentals of the blockchain – cryptography, distributed networks, etc. – warrant a close look. It's important to understand some basic principles of the blockchain and how these principles might be used to create what hopefully be tamper-proof and immutable records. But how secure is it?
AI and ML Tools: Alleviating Workforce Burnout Across Cybersecurity
While there isn't a one-size-fits-all approach for alleviating cybersecurity's multi-faceted skills shortage, the integrated adoption of artificial intelligence (AI) and machine learning (ML) tools can help organizations tighten the gap. Leveraging AI and ML security tools enables them to offset critical workforce challenges by automating repetitive tasks, streamlining human workflows, and driving higher levels of operational efficiency– allowing strained security teams to do more with less.
---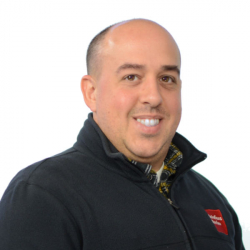 Latest posts by Mike Costello
(see all)