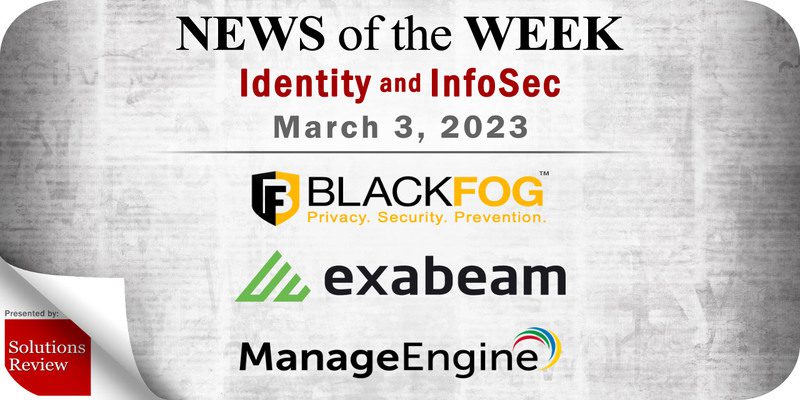 The editors at Solutions Review have curated this list of the most noteworthy identity management and information security news for the week of March 3. This curated list features identity management and information security vendors such as BlackFog, Exabeam, ManageEngine, and more.
Keeping tabs on all the most relevant identity management and information security news can be a time-consuming task. As a result, our editorial team aims to provide a summary of the top headlines from the last month, in this space. Solutions Review editors will curate vendor product news, mergers and acquisitions, venture capital funding, talent acquisition, and other noteworthy identity management and information security news items.
Identity Management and Information Security News for the Week of March 3
---
BlackFog Report: "The State of Ransomware in 2023"
Since 2020, BlackFog's state of ransomware monthly report measures publicly disclosed attacks globally. This year they are also introducing some new statistics based upon unreported incidents, which is a growing trend as organizations try to avoid regulatory penalties, reputation damage and class action lawsuits. In addition, they have also identified some of the key lessons learned from 2022 and what trends and best practices can be used to mitigate these attacks in the future.
Strata Identity CEO Invited to Present Breakthrough at The Montgomery Summit
Strata Identity, an identity orchestration company, announced that Eric Olden, its Co-Founder and Chief Executive Officer, has been invited to present at The Montgomery Summit 2023, where he will discuss how the company's Maverics platform is "disrupting the identity market with an orchestration fabric that makes incompatible identity systems work as one."
Biden Administration Unveils Long-Awaited National Cyber Strategy
The Biden administration released its highly anticipated national cybersecurity strategy Thursday, which is intended to provide steps it will take to protect the nation's cybersecurity ecosystem. The strategy outlined several key pillars it will focus on, including defending critical infrastructure from cyber-attacks, disrupting and dismantling cyber criminals, and forging international partnerships. The administration also said that it will shift the responsibility to defend the nation's cybersecurity away from individuals, small businesses, and local governments to "organizations that are most capable and best-positioned to reduce risks for all of us," including the federal government.
Exabeam Announces Winners of Third Annual 'Partner of the Year' Awards
This week, Exabeam, an information security solutions provider, revealed the winners of its third annual Partner of the Year Awards during the Exabeam Virtual Partner Awards Ceremony held on February 22, 2023. The award program recognizes exemplary Exabeam partners for 2022 who share the same passion for delivering successful security outcomes and helping organizations "Detect the Undetectable."
US Marshals Suffer Major Data Breach
The US Marshals Service recently suffered a data breach. This week, they revealed the extent of the damage, which includes returns from legal process, administrative information, and personally identifiable information pertaining to subjects of USMS investigations, third parties, and USMS employees. A senior law enforcement official familiar with the incident said the breach did not involve the database involving the Witness Security Program, commonly known as the witness protection program. The official said no one in the witness protection program is in danger due to the breach.
ManageEngine Launches Security and Risk Posture Management in Its SIEM Solution
ManageEngine, a cybersecurity solutions leader, this week announced that it has added a security and risk posture management dashboard to Log360, its unified security information and event management (SIEM) solution with integrated DLP and CASB capabilities. Enterprises can leverage this new feature to implement proactive security strategies and prevent cyberattacks before they occur. Log360 also has extensive machine learning-based user and entity behavior analytics that actively monitor user behavior and identity compromise. By combining all these features, Log360 offers comprehensive protection against account compromise and identity theft and facilitates quick action against potential breaches.
Solutions Review Teams Up With ManageEngine for Live Demo Day
On March 16th, Cybersecurity solutions provider ManageEngine will be appearing on Solutions Review's Solutions Spotlights series. In this demo, ManageEngine's Ray Manash will discuss how AD360, ManageEngine's IAM solution, can help strengthen your organization's cybersecurity posture. He will demonstrate how AD360 has a complete suite of products to help manage identities, secure access, and ensure compliance to help you overcome your IT challenges.
---
Expert Insights Section
Watch this space each week as Solutions Review editors will use it to share new Expert Insights Series articles, Contributed Shorts videos, Expert Roundtable and event replays, and other curated content to help you gain a forward-thinking analysis and remain on-trend. All to meet the demand for what its editors do best: bring industry experts together to publish the web's leading insights for enterprise technology practitioners.
Is 2023 the "Year of Zero Trust?" Well, Maybe…
Though it isn't new, Zero Trust is everywhere. From marketing campaigns to technical RFPs, it's clear organizations understand the criticality of implementing a successful Zero Trust initiative. So does this mean 2023 will be the "Year of Zero Trust?" Not so fast. Though the concept has been around for some time, its move to a pragmatic initiative complete with actionable guidance around deployment is still relatively new. At the same time, there are a number of market drivers creating more urgency for enterprises that have yet to deploy their Zero Trust project, or that are looking to scale a singular initiative across their business. Together with an expected increase in regulations that will mandate Zero Trust, these drivers will see an increase in new deployments as well as the maturation and scale of existing initiatives.
Holding the Keys to Identifying Who's Who in the Metaverse
Securing and managing digital identities is a complex undertaking for enterprises because the number of identities accessing data in the workplace continues to grow. In 2023, the situation will become even more complicated as the reality of interacting both as a consumer and employee in the metaverse inches closer to reality. Similar to today's internet, the hope for the metaverse is that it will use the same best practices for security and privacy, rooted in strong identities. If the metaverse is built on fragile identity security methods, adoption will suffer, and this virtual world won't reach its full potential.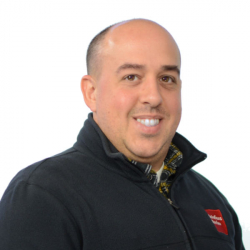 Latest posts by Mike Costello
(see all)